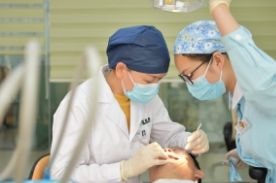 Dental assistants are important members of the team in a thriving dentist's office. They provide support for dentists, hygienists, and work closely with patients. If you're looking for a rewarding, in-demand career in healthcare, this could be the right job for you. But, besides knowing dental assistants support dentists, what, exactly, do they do?
What does a dental assistant do?
As a dental assistant, you'll spend most of your day working directly with the dentist and patients. From scheduling appointments and working with patients on payment and billing information, to sterilizing equipment and preparing the exam room, your role focused on keeping the office running smoothly.
In a normal shift, a dental assistant does other tasks such as
Keeping records of dental treatments for each patient
Instructing patients on oral hygiene
Processing x-rays and completing lab tasks, under the direction of the dentist
Preparing patients for treatment
Assisting the dentist with instruments during a procedure
Most dental assistants will work a full-time schedule, depending on their office hours.
When you start a career in dental assisting, you may also have the option to advance your training and work more with x-rays and other diagnostic tools, though each state may have different requirements for doing the work, such as licensing.
The difference between a dental assistant and a dental hygienist
Often, dental assistants and dental hygienists are considered to do the same job. Many think "hygienist" and "assistant" are just interchangeable terms for the role. That assumption, however, is far from the truth.
Both roles are vital to a well-run dentist's office. Everyone plays a part in ensuring a high quality of care and service for patients. But there are a few things that differentiate them.
Dental hygienists perform some of the same administrative and support tasks that assistants do, like taking patient information and preparing exam rooms. However due to their training, hygienists are also able to see patients themselves for routine dental health like cleanings. They can also administer anesthetic for procedures, take dental molds, and chart a patient's condition for the dentist to review.
To become a dental hygienist, students need to complete an associate or bachelor's degree in dental hygiene and may need to complete clinic externships, as well as passing state licensing exams.
Lean more: Dental Assistant vs Dental Hygienist
How to become a dental assistant
Becoming a dental assistant starts with education! Most assistants complete a career diploma or certificate online or in-person to build the foundational skills that can prepare them to confidently pursue a job in the field. To be a successful dental assistant, you'll need both soft skills and job-specific skills. Soft skills include things like customer service, teamwork, adaptability, and empathy. Job-specific skills are things like understanding dental office management, dental records, dental anatomy, preventative dentistry, and how to properly assist a dental hygienist or dentist.
After completing a dental assistant training course, you may also need to, or want to, obtain industry certification. While certification as a dental assistant isn't required in all states, it's a credential that can boost your resume and help you stand out when applying for jobs. The most recognized certification is the National Entry Level Dental Assistant (NELDA) exam from the Dental Assisting National Board (DANB).
On average, dental assistants earn $38,660 a year, but some can earn more than $50,000 a year in certain states.
When pursuing training, it's important to find a program that isn't only accredited – you also want a program that can help you prepare to sit for the DANB certification exam to ensure you have all the tools you need to start a rewarding career.
Find out what your state requires of dental assistants before enrolling into a training program.
Bite into a new career with Penn Foster
If you're ready to take the next steps toward a rewarding career, Penn Foster's flexible, online Dental Assistant Career Diploma Program could be the right fit for you. You'll learn about dental terminology and anatomy, preventative dentistry, and how to communicate professionally in the office - all on your schedule, from home. Reach out to our expert admissions specialists today at 1-888-427-6500 to get started!