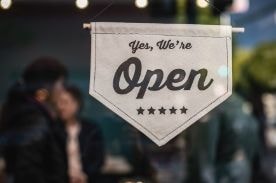 Planning to start your own business involves a few necessary steps to make sure you open on the right foot. From putting together a solid business plan to effectively marketing your services or products, you should have a clear idea of what you hope to accomplish. If becoming a successful new business owner is your dream job, here are four steps to getting started.
4 steps to start your own business
Starting a new business can be an exciting and worthwhile endeavor. You're about to be your own boss, make your own decisions, and build the business of your dreams. But in order to be successful, it's important to have a solid foundation to build from. Before you spread the word that you're open for customers, make sure you're ready with these four essential steps.
Research. Before starting your business, you have to do some important research. What kind of business are you hoping to start? What services or products will you sell? Look into other successful businesses that do similar work or sell similar products. Are they successful? What are some strategies they use to bring in customers? Use what you like for inspiration! Don't forget, you also need to research what paperwork you need to complete to get started. Depending on your business, you may need to have a license, submit tax paperwork, and register with your local government.

Plan. A successful business starts with a plan. That plan serves as your roadmap while you're getting started and can help you set goals and measure how well you're doing. When writing your business plan, you should consider questions like:

Will you be a digital business?
Do you want a physical storefront?
What kind of sales do you hope to see in your first quarter?
How will you ship products?
Market. Getting the word out is important. Marketing your business and setting up social media accounts can be vital to a successful launch. You can start small with Facebook and Instagram pages, as well as your own website. When you're starting out, you might not have too much money for a website or ads, so make sure to take advantage of free resources like website builders and reviews from satisfied customers.

Launch. You've got the foundations in place for your business and you're ready to open. Make a splash by announcing your opening day ahead of time and ask family and friends to spread the word. Before you launch, you should have everything ready to go from your social media pages and website to your business email. If you don't have the basics all set, push back your launch. You want to make sure everything goes smoothly from day one and being unprepared can start you off on the wrong foot.
Learn the skills to successfully start a business
You've got the ideas and the drive to be your own boss, but you may be worried you don't have the knowledge you need to get started. That's okay! First time business owners have to start somewhere and the best way to build your confidence is learning the basics before diving in. From creating your business plan to understanding effective marketing and reporting, having a foundational knowledge of running a business before you get started can boost your confidence. With flexible, online programs you can gain the skills and confidence to launch your first business - from home! Some courses that could help you prepare to be a business owner include
Small Business Management. Our Small Business Management Career Diploma can prepare you to build a strong foundation for your business, on your schedule. You'll learn how to choose what type of business to start, measure your success, and what legal requirements you should be aware of.

Starting Your Own Business. Focused on beginning an online business, you'll learn how to create a business plan, build your online presence, and manage your time and clients.

Business Management. The Business Management Associate Degree is a flexible, online four-semester program that can help you build an in-depth understanding of starting and running a business. Throughout your degree program, you'll cover principles of management, financial management, and more.
Penn Foster can help you prepare to start a business on your schedule
With Penn Foster's affordable, online courses, you can pick up the tools and knowledge to help you prepare to start your own business. With self-paced courses and no enrollment deadline, you can take the next steps toward being your own boss whenever you're ready. If you're not sure what program is the best choice for your needs, reach out to our expert Admissions Team to get started at 1-888-427-6500.