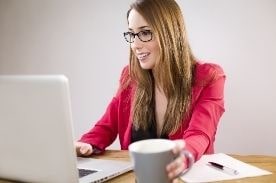 Freelancing can be a profitable way to be your own boss while doing work you enjoy. It can also offer opportunities to earn extra income from side gigs while still working full time for someone else. Starting a career as a freelancer, however, requires some work to get started. Besides having the relevant skills to complete the services you're offering, you need to understand how to set up your business, create a portfolio, decide on your fees, and get your name out there. Here's what to know about starting a successful freelancing career!
What is freelancing?
A freelancer is someone who is self-employed or does independent work outside of a company for multiple clients. Freelancers can be found in many fields, but many are skilled in creative or technical areas such as design, coding, writing, marketing, or digital art. However, almost any job that can be done remotely, on a flexible schedule, could be a possible freelance career. From providing transcription services for medical or legal practices, to offering bookkeeping or accounting services, there's a variety of roles that can allow you to find freelance work.
Why become a freelancer
Freelancing not only allows you to be your own boss or earn extra money on the side, it can be fun and challenging. Even better, it can help you build a strong resume! If you're someone who wants to be in charge, develop new skills, or strengthen your current ones while building a portfolio, freelancing could be the perfect job for you!
As a freelancer, you'll have the opportunity to choose what jobs to take, how you'll complete your work, and decide your own schedule – all while meeting the needs of your clients.
Starting a freelance business
Starting a freelance business involves a few steps before advertising your services to the world. In order to ensure you start out strong, you want to make sure you
Have a portfolio and/or website. You need to be able to easily provide examples of your work, as well as list clients you've done jobs for in the past if you have any. Creating a digital portfolio can allow you to quickly and clearly show off your talents to prospective clients. Having a website can also act as a sort of "resume" for freelancers, providing background information about you, your education, and what services you provide.
Know what fees you'll charge. If you're new to freelancing, figuring out how much to charge can be frustrating. Before officially launching your career as a freelancer, research the typical fees other freelancers in your area of expertise charge clients. Additionally, don't forget to decide whether to charge clients per hour or for whole projects. Depending on the level of difficulty of the work, you may want to be open to working one-on-one with clients to determine pricing.
Advertise your services. You're not officially a freelancer until you book your first job. Unless you already have connections or know of available work in your area, the best way to get started is by letting people know you're open to work. This can be as easy as creating a post on LinkedIn, Facebook, or Instagram. You can also use various freelancer sites like Fiverr to advertise your services.
4 jobs you can do as a freelancer
Whether you want to start freelancing to earn extra income or because you want to be self-employed, there are a few different jobs you can consider. Others have built successful freelance careers in fields like
Graphic design. Graphic designers create websites, ads, logos, and more for clients. Designers can work from anywhere with a strong internet connection and reliable computer. This is a perfect freelance job for artists and creative people who like to see their vision come to life.
Web design. Web designers create websites or update websites for clients. Not everyone understands how to create a beautiful, user-friendly website for their business or products, so an experienced and confident web designer is in-demand. This is a great freelance job for those who like seeing a clear outcome of their work, enjoy both creative and technical jobs, and like focusing on one project at a time.
Virtual assistant. Not all freelance jobs are necessarily in the creative or technical industries. Virtual assistants are long-distance, remote assistants for businesses, CEOs, and more. This job is great for those who like organization, working with others, and managing schedules.
Build a foundation for freelancing through education
With Penn Foster's online, self-paced courses, you can take the first steps toward building the skills and qualifications that can help you start a successful career or side gig as a freelancer. To find out which program is the perfect fit for your goals or get started, reach out to our expert Admissions team at 1-888-427-6500!