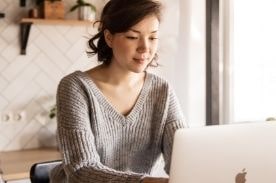 The events of this year have made a huge impact on how we work, where we work, and what jobs are in demand. Depending on your current career, you may have been laid off, had your hours cut, or decided that it just isn't the job for you anymore. While you're searching for your next opportunity or trying to decide the best steps to take in your career, taking time to build your skills and earn new credentials can boost your resume and help you move forward toward getting a job. Here's how to prepare for your next best job and why now is the perfect time to start planning for your future.
Discover a new industry that interests you
Ready to make a career change but not sure where to start? Taking the time to research new potential jobs can help you narrow down what you're interested in, and help you understand what's available. From jobs that are always in-demand to new careers that have been created because of the pandemic, there are tons of options! Through your research, you can find out how to get started in a new field and what education or certifications you need to qualify for that job.
Use your downtime to learn more
Whether you have a job or have been laid off, using your spare time to learn and grow can help you boost your confidence and prepare for a new career you love. As people across the country are opting to stay home to stay safe, it's the perfect time to take advantage of being stuck at home. With self-paced, online classes you can stay busy and study whenever it works for you!
Stand out by strengthening your resume
With more people than ever searching for a new job, it's important to stand out from other applicants. One way to do that is by building a strong resume. Education and certifications can help you catch the eye of hiring managers. When strengthening your background and skills, however, it's important that you don't just add random certifications to your resume. Consider what career or job you're interested in and focus on gaining the knowledge that can be vital to being successful in the role!
With Penn Foster's career diplomas and certificates, you can take the next steps building a strong resume – on your schedule. Whether you're interested in earning a promotion at your current job or looking for your next best career, you can develop the foundational skills to help you become career confident! Reach out to our expert Admissions Team to learn more about building your knowledge today at 1-888-427-6500!