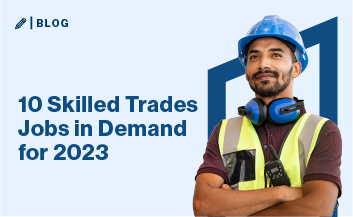 If you're ready to start a new career in 2023 and are looking for something that allows you to use your problem-solving skills and work with your hands, a job in skilled trades could be the perfect fit for you! There are plenty of opportunities to start a rewarding career in the skilled trades, so deciding which one to pursue may be a bit stressful. Check out this guide to the in-demand skilled trades jobs for 2023 to get started!
What skilled trades jobs are in demand?
Skilled trades jobs are expected to remain steady or grow over the next decade. From careers in construction to manufacturing, growth in available jobs means that there will be several opportunities for those looking to start a new, rewarding career in 2023. Some top, in-demand skilled trades careers include
1. Residential electrician
If you want to start a rewarding career that gives you plenty of opportunities to use your troubleshooting and problem-solving skills, becoming an electrician could be the perfect career path for you! It's also a great time to start training for the job, with over 700,000 new jobs in the field expected in the next decade.
Average electrician salary: $60,040
How to become an electrician: In order to become a residential electrician, you'll need on-the-job training and knowledge of the fundamental skills needed to perform the job. Many states also require you to be licensed to work as an electrician. Through our flexible, online Residential Electrician Career Diploma, you'll build the skills to become an electrician on your schedule in as little as 11-15 months!
2. Plumber
Plumbers play an important role in construction and home maintenance. Plumbing is a rewarding industry that allows you to work with your hands, solve problems, and use your troubleshooting skills. If you're interested in becoming a plumber or starting your own plumbing business, now's a great time to take the first steps!
Average plumber salary: $59,880
How to become a plumber: Most states require plumbers to be licensed, which means that earning a diploma from a program like Penn Foster's online Plumber Training can help you stand out to employers. And, with interactive videos, how-to demonstrations, and animations, you can apply what you learn to real-world situations to ensure you're ready for the field when you graduate. You can complete this program in as little as 8-12 months.
3. HVACR technician
HVAC technicians work on heating, ventilation, cooling, and refrigeration systems that control the temperature and air quality in buildings. They also install, repair, and maintain HVAC systems for both residential and commercial buildings. This career is a great fit for someone who enjoys mechanical problems, working with their hands, and working on a variety of projects.
HVAC technician salary: $48,630
How to become an HVAC technician: In order to become an HVAC technician, you'll need to have some education in the field and have the required EPA certifications to work in the field. Through the online HVACR Technician Program from Penn Foster, you'll build fundamental skills needed for success on the job while also preparing EPA certification so you can take the first steps toward the job you want after graduation. You can complete this program in as little as 7-11 months.
Read more: Your Guide to a Midlife Career Change
4. Construction/carpentry
Carpenters construct, repair, and install wooden frameworks in buildings and other construction projects. Many carpenters are self-employed, contractors, or can join the union and work for residential and commercial construction companies.
Average carpenter salary: $48,260
How to become a carpenter: Carpenters generally have a high school diploma or equivalent and then learn job-related skills through a combination of trade school and on-the-job training.
Read more: Construction Trades Careers and How to Find the Right One for You
5. Industrial engineering technician
As more goods are produced to meet demand, industrial engineering technicians will be needed to solve any problems affecting manufacturing and production. Industrial engineering technicians work to prepare equipment and machinery plans, design manufacturing workflows, and analyze production costs.
Average industrial engineering tech salary: $60,220
How to become an industrial engineering technician: To work in the field, you'll typically need a relevant associate degree.
6. Auto mechanic
As long as we rely on our vehicles for work and life, skilled auto repair technicians will be needed to make sure they run properly and fix any issues. Auto repair techs focus on maintaining, troubleshooting, and repairing vehicles and generally work in a shop or own their own business.
Average auto repair tech salary: $46,880
How to become an auto mechanic: Most employers prefer that auto repair techs have formal training in a trade or technical school that prepares them for the Automotive Service Excellence (ASE) certification exams.
Read more: What Are 4 Benefits of Learning Auto Repair Online?
7. Diesel mechanic
Diesel mechanics inspect and repair buses, trucks, and any vehicle that uses a diesel engine. Diesel mechanics often work in shops or transportation companies.
Average diesel mechanic salary: $48,690
How to become a diesel mechanic: Diesel mechanics need at least a high school diploma to work in the field, though more employers prefer hiring those who've completed a diesel mechanic training program. You'll also want to become ASE certified after working on the job for at least 2 years.
Read more: Is Becoming a Diesel Mechanic a Good Career?
8. Landscape designer
Landscape designers help residential and commercial clients design and build outdoor spaces, as well as maintain them. This requires knowledge of design, plants that work best in the local area, and hands-on maintenance such as mowing, clipping and trimming plants, and actual planting.
Average landscape design salary: $51,857
How to become a landscape designer: Landscape designers aren't required to be licensed or certified, but do require a strong knowledge of plants, soil, and how to layout a landscaping plan, which can be learned through formal training.
Read more: How to Start a Landscaping Business
What skilled trade is most in demand?
From this list, the most in-demand skilled trade job is residential electrician. Every homeowner or landlord needs a skilled electrician when there building a home or upgrading their electrical system for safety. Businesses and commercial properties also have need of electricians to troubleshoot any issues that arise. Over the next decade, the Bureau of Labor Statistics predicts that over 79,000 new electrician jobs will be added each year.
What is the highest paying skilled trade?
The highest paying skilled trades jobs are aircraft technicians, industrial engineering technicians, and residential electricians.
What trades are always in demand?
Trades that are almost always in demand include those that we rely on to make our everyday lives easier and better. That includes auto repair technicians to maintain and repair our vehicles, electricians to ensure our power works, and HVAC technicians to make sure our heating and cooling systems work properly.
HOW TO DECIDE WHICH SKILLED TRADES JOB IS RIGHT FOR YOU
With several options to pursue in the skilled trades, it might be hard to narrow down which career path is the right one for you. To help you decide, ask yourself these questions.
Do you want to work in a variety of settings? In many skilled trades roles, you may be required to see clients at their homes and businesses. You'll work in a variety of settings, sometimes outdoors in inclement weather, depending on your job. If you're someone who wants to stay in one workplace, such as doing maintenance for a business or school, becoming a plumber or electrician may be your best bet.
Do you want to be your own boss? Not all skilled trades allow you to start your own business. However, if you want to be your own boss, working as a plumber can help you do that! Plumbers often have their own small businesses, working with customers in their homes to fix issues that arise.
Are you interested in working on more mechanical projects? Not every skilled trades job is focused on mechanical applications and repairs. However, if you're more interested in work like that, becoming an HVAC technician might be the right fit for you! You'll work with HVAC systems, their mechanics, and troubleshoot machines.
Start your new career with Penn Foster in 2023
If you like working with your hands, have strong problem-solving skills, and excellent mechanical skills, a job in skilled trades could be your dream career. With Penn Foster's online trades training programs, you can prepare for an in-demand career on your schedule. To learn more or get started, reach out to our expert admissions team at 1-888-427-6500!