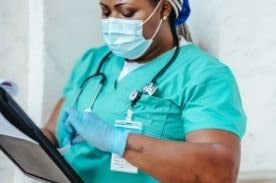 If you're interested in a career helping others, but aren't necessarily interested in direct patient contact, an administrative role in healthcare could be the right fit for you. Working in healthcare management, you can play a vital part in ensuring things run smoothly for both patients and doctors. Here's what you should know about the job and what you need to work in the field.
What is healthcare management?
Healthcare management is the management of larger facilities such as clinics or hospitals. Those who work in management ensure that everything runs smoothly for the facility, from overseeing the budget to making sure the clinic or hospital has enough staff. Healthcare managers may even be responsible for being the spokesperson for the facility, working with local media for interviews or news related to the facility they manage.
Healthcare management jobs can range from entry-level roles to those that require more education and experience.
What jobs can I get with a degree in healthcare management?
Healthcare management can offer a variety of career paths and work environments. For those just starting out in the field after graduating with a degree in healthcare management, an entry-level role can be where you would most likely start. There are several jobs you may qualify for, including
Administrative coordinator. An administrative coordinator is responsible for managing the administrative aspects of an office, along with a team of coordinators and administrators. This could mean working for health insurance, larger hospital or healthcare networks, or clinics.
Medical office administrator. A more focused role, medical office administrators work in doctor's offices managing staff, billing, communications, and more.
Office manager. As an office manager, you can find jobs in clinics, hospitals, and more specialized departments within healthcare systems, like medical testing or billing departments.
Health information manager. Health information managers are responsible for managing and maintaining records for patients, including ensuring that privacy laws are followed.
Depending on your previous work experience, there may be higher-lever roles you qualify for. And a big benefit of working in healthcare management is that there's often a clear path for career growth!
What is the career outlook for healthcare management?
Healthcare jobs have been in-demand for the last few years and that demand is only expected to grow. With an aging population and more patients with chronic illnesses, the Bureau of Labor Statistics predicts a 32% increase in open jobs for healthcare management roles, adding 133,200 new jobs by 2029.
What skills do I need to be successful in healthcare management?
In order to be successful in the healthcare management field, it often helps to have a certain set of skills that can complement your education and work experience. These skills include
Written and verbal communication skills
Analytical skills
Organizational skills
Leadership skills
If you're not confident you have these skills, don't stress— they can be learned! Throughout your degree program, besides building knowledge that is industry specific such as medical coding, you'll take courses in interpersonal communication, department management, and supervision and leadership.
Expand your career opportunities with Penn Foster
With the continuing growth in the need for healthcare workers in both administrative and patient-facing roles, now's a great time to start working toward a rewarding career in the field. With Penn Foster's online Healthcare Management Associate Degree, you can build industry knowledge and develop the skills that can help you prepare for success in a variety of roles — all on your own time, from home! To learn more about the program or get started, reach out to our Admissions Specialists at 1-888-427-6500!