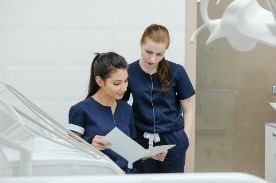 While certification isn't required by state and federal agencies to work as a medical assistant, having that credential on your resume can help you stand out to employers and even boost how much you can potentially earn. After completing an approved medical assistant course, along with finishing your externship, it's time to prep for exams. Check out these tips on studying for the Certified Clinical Medical Assistant (CCMA) exam.
Why become a certified medical assistant
Now more than ever, skilled medical assistants are in-demand. They play a crucial role in supporting and working with patients in hospitals, doctor's offices, and clinics. While most don't require certification to work as a medical assistant, some employers do prefer it, and it can help you stand out among other applicants. In addition to helping you stand out, certified medical assistants are also allowed to perform more tasks than those that aren't. According to the Centers for Medicaid Services, only those medical assistants who have valid certification can enter medication, laboratory, and radiology orders into the computerized provider order entry system. Being able to complete these additional tasks can help make you an in-demand medical assistant!
What are the different types of medical assistant certifications?
There are several different industry certifications that medical assistants can pursue. These include
The American Medical Technologists (AMT) Registered Medical Assistant (RMA) Certification
The Certified Clinical Medical Assistant (CCMA) certification offered by the National Healthcareer Association (NHA)
The National Certified Medical Assistant (NCMA) certification offered by the National Center for Competency Testing (NCCT)
The Clinical Medical Assistant Certification (CMAC) offered by the American Medical Certification Association (AMCA)
Each exam has eligibility requirements, such as work experience or approved training requirements, but pathways to certification can vary. Before registering for an exam, it's important to ensure that you meet the requirements and that the certification you're pursuing is right for you. Through Penn Foster's online Medical Assistant Career Diploma, you'll be able to prepare to sit for any of the above exams. However, many choose to sit for the CCMA after graduation because the cost of prep materials and the exam is covered in your tuition.
Tips for studying for the CCMA
The CCMA exam covers 150 scored items, including pre-test questions, and is broken down into 7 sections. Test takers are given 3 hours to complete the entire exam. When preparing for the CCMA, it helps to concentrate on the 7 sections the test focuses on. These are
Basic Science and Foundation Knowledge
Anatomy and Physiology
Clinical Patient Care
Patient Care Coordination and Education
Administrative Assisting
Communication and Customer Service
Medical Law and Ethics
While there are questions for each section, more than half of them are focused on Clinical Patient Care.
The best way to start studying for the exam is to refresh your knowledge in each section. This includes reviewing your notes from your classes, taking practice tests, and focusing on the areas in which you're not as strong. Last-minute cramming won't be as helpful when sitting for a certification exam, so you want to make sure you give yourself time to prepare. It can be best to give yourself up to eight weeks to review and study before your testing date so you're confident in your knowledge.
Since there's a lot of material to cover, dedicate a week to each section – two for reviewing clinical patient care! Depending on how you learn best, making flashcards and having friends or family members quiz you on terms and practice questions can help.
Another way to make sure you're ready to ace the test is to take advantage of practice exams. Most practice exams will be similar to the actual exam so you can gauge how long it takes you to complete each section, which areas you need to study more, and get comfortable with the test format.
Don't forget to register for your exam before you start studying. You'll complete your exam at a local testing center and, usually, exam dates are available months in advance.
Prepare to be a certified medical assistant with Penn Foster
If you're looking for new career that's rewarding and in-demand, medical assisting could be the perfect fit for you. Through our flexible, online Medical Assistant Career Diploma, you'll build the foundational knowledge that can help you be successful in the field while getting hands-on experience in your end-of-program externship! Learn how to get started today by talking to one of our expert Admissions Specialists at 1-888-427-6500!