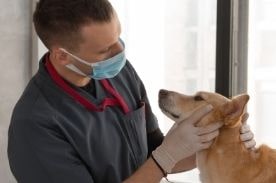 If you're passionate about helping animals, then you've probably considered a career in the veterinary field. With that in mind, there's no better time than now to take the next steps toward the career you want. As more people become pet owners, the need for passionate, skilled veterinary technicians is expected to grow 16% over the next decade, adding over 18,000 new job opportunities. In order to become a veterinary technician, you may need further education and training to help you prepare for the job. But if you don't have time to attend an in-person school to earn your degree, what options do you have? That's where Penn Foster's AVMA-accredited Veterinary Technician Associate Degree can help! Here's how the self-paced, online degree is designed to help you succeed!
How to become a credentialed veterinary technician online
To become a credentialed veterinary technician, you'll need to earn an AVMA-accredited degree and sit for the Veterinary Technician National Exam (VTNE). While there are some states that don't require veterinary technicians to be licensed or registered, many do, so it's important to ensure your education and training meet the standards in your state. As one of only a few online programs accredited by the AVMA-CVTEA, Penn Foster's Veterinary Technician Degree is designed to help you work toward a rewarding job you love.
Through our self-paced degree program, you'll take the first steps toward becoming a skilled veterinary technician by learning essential knowledge in classes like biology, anatomy and physiology, and pharmacology. You'll also focus on the skills you need on the job including clinical pathology, radiography, and veterinary nursing – all online. But you won't be building knowledge only through online study guides, digital textbooks, and exams in Penn Foster's program; you'll also learn through simulations, animated and interactive diagrams, and videos.
Apply what you learn online to real-world situations
Veterinary technician work is very hands-on. You'll work closely with veterinarians, other technicians, and veterinary clinic staff to examine pets or assist in surgeries. So how can you learn these skills in an online program and know how to apply them to the real-world situations you'll run into on the job?
Through our learn-practice-apply model, you'll be able to take what you read and apply it to different common scenarios through interactive content and simulations. You'll then be able to further apply what you learn in two externships throughout your degree while you work under the supervision of a credentialed veterinary technician at a clinic near you.
Our associate degree program combines reading, live-action videos, interactive practice exercises, animated videos, visual explanations, and animated graphics to reinforce knowledge that is vital to success in the field. Further, our vet technician degree focuses on skill mastery and units that are closely aligned to expected career responsibilities, so you can build career confidence.
Read more: The Difference Between a Vet Technician and a Veterinary Technologist
Support from expert veterinary faculty
While our online veterinary technician program is meant to be self-paced, independent, and flexible, that doesn't mean you're alone in your studies. Our expert faculty includes credentialed veterinary technicians and licensed veterinarians who have experience in the field and are here to support students like you. Through live webinars, an active Veterinary Technician Facebook group, and our Student Community, you'll be able to learn more about the industry, get study help, and stay motivated to complete your degree.
Prepare for the VTNE and career success
Our veterinary technician program has been designed to help students prepare to find success in the field as a credentialed veterinary technician. That includes being ready to sit for and pass the VTNE, which is a requirement to becoming licensed or registered. Through your coursework, webinars, and the VTNE prep class, you'll build the skills and knowledge needed to take the next steps as a vet tech. If you're ready to take the first steps toward the career you want today, reach out to our Admissions Team at 1-888-427-6500 or enroll online!