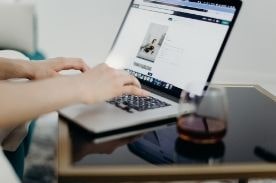 Furthering your education can be an investment that pays off! Besides having a diploma or degree that can boost your resume and help you prepare to qualify for more jobs, there are many training programs that you can pay off quickly – with what you earn from one or two projects after graduation! If you're looking for a program that you can pay off quickly, while helping you prepare to see a return on your investment, check out these affordable, flexible online classes.
Why is furthering your education a good investment?
The more you learn, the more you can earn! Furthering your education, whether with a career diploma or an online college degree, can potentially increase how much you can earn and what jobs you may qualify for. According to the Bureau of Labor Statistics, for example, someone with a high school diploma earns $154 more per week than someone without one, while a person who has some college or an associate degree can earn up to $141 more per week. If you're studying to prepare for a specific career that is in-demand, you can determine how much you can earn on average for that job. But even if you aren't sure what you want to do, the skills and knowledge you pick up in your education can be valuable in a number of jobs, helping you stand out to human resources managers when you're applying to companies.
Some training programs and jobs do have a clear return on investment, allowing you to earn back what you paid for your education within a short timeframe after graduation.
Invest in your career with skilled trades training
Skilled trades – jobs like plumbing, construction, or HVAC – can often be well-paid and in-demand careers. If you want to see a return on your investment in yourself and enjoy working with your hands, taking the next steps toward a career in a trade can be your best bet! Not only can you finish your training on your schedule with online programs, but you can also potentially earn back what you paid in tuition in a short period of time. Consider career diploma programs like these.
Plumber. Plumbers provide an essential service to businesses and homeowners. Whether you work for a plumber as part of a team, or decide to start your own business, you can earn a healthy income. The cost of hiring a plumber can range from $45 to $150 per hour and the average salary for a plumber is $55,160.
Construction. Construction and carpentry work can be very well-paid depending on the job, the location, and more. On average, the cost to hire a carpenter can range from $35 to $100 per hour and an entry-level carpenter can earn an annual salary of $48,330*.
HVAC Technician. HVACR technicians can find work in a variety of settings, from a local business to a large corporation. For those who make home visits, they can often charge anywhere from $75 to $150 per hour. On average, an entry-level technician* can earn an annual salary of $48,730 per year.
Jobs that allow you to start a business or side hustle
Maybe you've decided to be your own boss and start a business, or you'd like to earn extra money through a side hustle. These affordable online programs can help you take the next steps.
Interior decorator. Interior decorators can work for a company, start their own business, or do freelance work. Depending on the scope of the project you're hired for, you can earn anywhere from $500 to $10,000 per job! If you charge hourly for your services, that fee can range from $35 to $500 per hour.
Virtual assistant. Virtual assistants perform administrative work for clients and often run their own freelance businesses. This work is down remotely, so is a great work-from-home career path! On average, virtual assistants can charge anywhere from $15 to $45 per hour depending on the tasks they are required to do.
Tax preparation. Tax preparers are at their most busy during the regular tax season, but can find regular work outside of that with businesses and other clients. Depending on the kind of tax forms being prepared, someone in the field can charge clients anywhere from $100 to $800 for each return they prepare and submit.
Invest in your goals with Penn Foster
With Penn Foster's affordable online programs, you can invest in an education and job that can help you prepare to pay off your program quickly after graduation – and make a steady, healthy income! To learn more about our programs, which is the right fit for your goals, and how our tuition works, contact an expert Admissions Specialist today at 1-888-427-6500!
Sources:
https://www.bls.gov/ooh/construction-and-extraction/carpenters.htm#tab-5
https://www.bls.gov/ooh/Installation-Maintenance-and-Repair/Heating-air-conditioning-and-refrigeration-mechanics-and-installers.htm