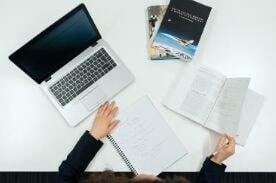 If you're interested in a career in the engineering field, you can dive in and develop your engineering skills and knowledge with an Associate Degree in Engineering Technology. This educational pathway is the first step for someone hoping to graduate and pursue a career in production, design, manufacturing or operations.
What is included in an engineering technology degree?
A degree in engineering technology is designed to provide you in-depth training so that you can be prepared to professionally help design, build, troubleshoot and repair a variety of production systems and products. In Penn Foster's online Engineering Technology A.S. Degree Program, you will also learn the skills necessary to speak and understand the language of the industry.
In your first semester, you'll start with a basic introduction to technical mathematics and learn to navigate a scientific calculator. Throughout the coming semesters, you'll advance deeper into this field as you learn to navigate relevant computer applications and professional software such as AutoCAD. By semester 4, you'll be immersed in learning the ins and outs of engineering technology- studying orthographic projections, rules for correct dimensioning and tolerancing, where to locate dimensional information for standard machine elements, and more. View a sample lesson from Penn Foster's online, self-paced Engineering Technology A.S. Degree Program to get a better look at the type of information you'll be studying as you go.
Why study Engineering Technology?
Overall, the goal of an Associate Degree program in Engineering Technology Degree is to prepare students for entry-level positions as engineering technicians. After you graduate from a program like this, you can begin on your career path to find work as a mechanical engineering or electronics technician.
This a well-compensated and interesting field for those with a passion for engineering and technology. As of 2021, the average salary for an engineering technician is $64,702 per year in the United States, with $7,500 overtime pay per year. The salary you earn will depend on where you live, the company you work for, and your experience.
Why study engineering technology with Penn Foster?
For one, Penn Foster is always investing in ways to improve the learning experience for their learners, one of which being through the addition of interactive learning aids throughout the curriculum. Several academic studies point to the fact that students truly learn and retain information better when they're exposed to interactive elements like these- and that the interactivity fosters heightened focus, critical thinking, and action-taking that truly immerses a learner.
Adding in these interactive learning aids is meant to help you learn foundational engineering concepts through video, whiteboard animations, and more. Ultimately, these more visual, easy-to-follow interactivity aids are meant to help better prepare you for success after completing the program.
Not only that, this program can be completed entirely online and at your own pace,- meaning that if you already work a full-time job and have a busy schedule, you won't have to put your life on hold in order to get started. You can work from online wherever, and whenever you have time to devote to your studies. To learn more about getting your Engineering Technology degree online, reach out to our Admissions Specialists at 1-888-427-6500.