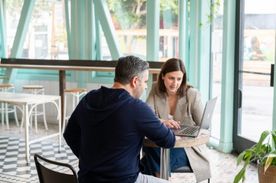 Business management is the organizing and planning of the necessary activities to run and manage a business efficiently. These activities include finances, accounting, customer service, and human resources. It takes skilled, qualified individuals to make sure these different departments are running properly. If you want to own or operate a business, understanding the ins and outs of each department and their processes is vital.
What does a business management degree require?
What's needed to earn a business management degree all depends on your career goals, but there are some general interests and skills you should master. Math and communication expertise along with confidence and leadership skills will be essential to starting out. A good education with a solid curriculum can then help you hone those skills, developing a broad understanding of business and the specific knowledge needed for businesses to operate successfully.

Penn Foster offers a few different options based on where you're at in your academic journey and career. If you think you'd like a career in business but aren't quite sure yet, or if you've already started your career but are looking to move up the ranks, a Business Management Associate Degree might be the right move for you. It can give you the foundations needed for entry level work if you're still exploring career options. Or, it can provide you with the credentials needed to go with years of work experience in order to help you on your path to a promotion.

If you're looking for a deeper level of education, a Business Management Bachelor's Degree can take your studies a step further. Your curriculum will cover the essential concepts used daily for entry-level management positions, like marketing and human resources, coupled with general education courses and electives to help you have a well-founded education in a variety of industries.

There are also a variety of undergraduate certificates, career diplomas, and career certificates available in business and human resources if you're looking to specialize without the time and financial commitment of a degree program. Check out our Business Management page to learn more about the options available.
Read more: Best Paying Online Degrees
How much does a business degree cost?
Since the requirements for a business degree vary depending on your objectives, so too do the costs of your degree. The longer the course, the more money it will cost. At public colleges and universities,
tuition can cost
upwards of $21,000 for an associate degree. A bachelor's degree at a public university is over $106,000, while a similar degree at a private college or university is nearly $166,000 on average. However, at Penn Foster, part of our mission is to make school accessible for everyone, so affordable tuition is offered at every degree level, with most programs costing
$125 or less per credit
and monthly payment plans available.
Plus, if you've already started a program somewhere else, you may be able to
transfer credits
on completed courses. If your school is nationally accredited and you've successfully passed the course, you may be eligible for credit, saving you even more.
Why should you study business management?
Businesses are a vital part of any community, which means the demand for individuals with business knowledge will never disappear. A business degree can also offer you many choices with regard to the field in which you work. Every industry from the sciences to the arts to commerce requires managerial and business expertise, so you don't have to limit yourself on the type of work you want to do. A business degree also opens doors for you to be your own boss, providing you with the tools needed to start and manage your own company.
In addition to job security, those who enter business fields with a degree can also look forward to potentially earning higher paying salaries. The Department of Labor found that the average salary for business and finance occupations in 2020 was
$72,250
, which was higher than the national average for all other fields. Business fields are only expected to continue growing through 2030.
Manage your future with Penn Foster
If you're ready to take the next steps towards starting your business degree, Penn Foster is here to help. Call an Admissions Specialist at 1-888-427-6500 to learn more about our self-paced, online business programs or
enroll online
now to get started.