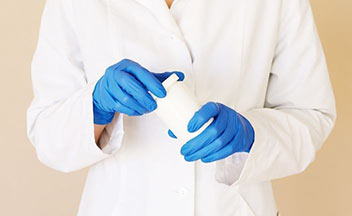 Skilled pharmacy technicians are vital to a well-run pharmacy, whether in a retail or hospital setting. As pharmacists take on more tasks, from vaccinations to patient consultations, pharmacy technicians will be relied on to handle more duties. With the need for pharmacy techs and an expected 37,000 jobs in the field being added each year for the next decade, there's no better time than now to get your foot in the door. But what's the first step to becoming a pharmacy technician? Are there certain requirements you need to meet to work in a pharmacy? Here's everything you need to know.
What are the requirements to become a certified pharmacy technician
While not every state requires pharmacy technicians to be certified, many do, so it's important to check your state's requirements before getting started on the path toward this career. Outside of understanding what your state requires, you'll also need to complete these steps to work toward certification and a job as a pharmacy technician.
Have a high school diploma or GED. A high school diploma or equivalent is often a minimum requirement for employers looking to hire pharmacy techs. Whether or not you're in a state that requires certification, earning this credential is important to ensure you qualify for the jobs you're applying for. For those who need or want to become a certified pharmacy technician, you'll also want to pursue further education at a recognized school. Note:

High school graduates earn more

money

on average than people who don't have their diplomas. Learn more about earning your diploma online, at your own pace.*
Attend an accredited pharmacy technician school. Becoming a skilled pharmacy technician involves education and training. To qualify to sit for certification in the field, you'll want to make sure you attend an accredited pharmacy technician school. While a regionally and nationally accredited school can work to help you prepare for this career, if you're looking to become certified or want to stand out when applying for jobs, a program that is American Society of Health-System Pharmacists (ASHP)/Accreditation Council for Pharmacy Education (ACPE) accredited makes a difference.
Sit for industry-recognized certification. The most recognized exam in the industry is the Pharmacy Technician Certification Exam (PTCE) offered by the Pharmacy Technician Certification Board (PTCB). You can also sit for the Exam for the Certification of Pharmacy Technicians (ExCPT) offered by the National Healthcareer Association (NHA). Certification allows you to not only qualify for jobs in the field but may also allow you to earn a higher starting salary.
Maintain active certification. Most certifications need to be renewed within a specified time period. PTCB and NHA certifications are required to be renewed every two years to maintain the credential. Renewing certification doesn't just mean taking another exam. You'll also be required to complete continuing education hours. These hours ensure your knowledge and skills are up to date. The PTCB requires 20 hours, while the NHA requires 10 hours.
Finding the right pharmacy technician education program
You're ready to pursue the next step toward becoming a pharmacy technician – attending a pharmacy tech program! But how do you decide which pharmacy technician school is right for you? Here's what to look for in a great pharmacy technician education program.
Accreditation. It can't be said enough – accreditation is vital to making sure what you learn is what you need to know, and that the education you receive meets the standards of regional and national accrediting bodies. For pharmacy technician programs, having industry accreditation from ASHP/ACPE goes a long way. This accreditation is the national standard for pharmacy technician training programs. ASHP/ACPE-accredited pharmacy technician training is now required or strongly encouraged by several state Boards of Pharmacy.
Instructors who've worked in the field. An instructor who's worked as a pharmacist or pharmacy technician knows more than just the book knowledge required to do the job; they know the ins-and-outs of the actual work you can expect to do in a pharmacy. Besides sharing their experience in the field, they bring another layer to education and training, providing students with insights they've learned from experience.
Up-to-date curriculum. The medical field changes rapidly as new technology, data, and more come to play. That includes the pharmacy industry. With an up-to-date curriculum, you can be assured you're learning what you need to know to be a pharmacy technician now, not five years ago.
Certification preparation. A program that is aligned to ASHP standards means that you're being prepared to meet all the requirements to become a certified pharmacy technician, from the skills and knowledge to work at a pharmacy to what you need to know to pass your certification exam.
Externship opportunities. Applying what you learned hands-on can be the most helpful when you're preparing to become a pharmacy tech. You'll take what you learned through your classes and exams and use that on-the-job in a real pharmacy. This helps reinforce your knowledge, as well as helping you get a foot in the door at a local retail or hospital pharmacy.
Some schools may have all of these. Many may not. When you're researching pharmacy technician schools and programs, be sure to check out all the information provided on the school's website and don't be afraid to call their admissions department with any questions. It's important that you can attend a legitimate program that meets your needs and can help you take the next step toward reaching your goals.
What should I expect during my pharmacy technician training
You've found the school you're going to attend, enrolled, and are ready to get started. What should you expect from your courses? While there may be some variety depending on the school you're studying with, most legitimate schools have a standard curriculum in common.
Besides an orientation to your program, you should expect to take classes covering pharmacology, body systems, pharmacy law, compounding, billing, and pharmacy management software. You'll learn about drug delivery systems, drug administration routes, drug classifications, and commonly used medications. You'll also cover what you need to know for your certification exam, as well as how to prepare for the exam.
For programs that have an externship component, you'll work with the school to set up and complete your hours, usually at a local retail pharmacy.
What are the required skills to become a pharmacy technician
Successful pharmacy technicians have strong customer service skills, interpersonal communication skills, and are detail-oriented. They work well with others, follow directions and supervision given by the pharmacist, and are capable of applying what they learned in school on the job.
Further, pharmacy technicians should be adaptable and able to work flexible schedules – especially when they're new to the job.
How much will I earn as a pharmacy technician
The average salary for new pharmacy technicians can vary based on where you live, who you work for, and even your education and credentials. The average entry-level pay was $35,100 in May 2020, while the highest paid pharmacy technicians were those who worked in state, local, and private hospitals, earning $39,290 per year.
How to seek employment as a pharmacy technician
If you completed an externship at a local pharmacy, the best bet is to ask whether they have any current open positions you can apply for if they don't just ask you to stay on themselves. The pharmacists and other techs you've worked with know you, your skills, and your passion for the job.
If you haven't completed an externship or are just hoping to get a job in the field before you graduate from your program, the best place to start when looking for a pharmacy technician job is making sure your resume is up to date. Often, students don't think education they haven't yet completed is relevant to potential employers, but it can actually help a lot when you're applying to jobs. It shows that you're currently working to earn the credentials and build the skills required to be an effective, successful employee.
After updating your resume, you'll want to dedicate time to your job search. Look for jobs and set alerts on sites like LinkedIn, Glassdoor, and Indeed. Besides seeing job posts in your area, you'll also get an idea of how that business is to work for, the average pay, and more.
When you're called for an interview, make sure to put your best foot forward and demonstrate what you've learned in school to show that you have the skills the employer is looking for. If you need help with your resume, you can reach out to the school's career services. They can help you update your resume, practice for interviews, and more!
Build a career as a pharm tech with Penn Foster
If you're ready to take the next step toward becoming a pharmacy technician, Penn Foster's online, ASHP accredited Pharmacy Technician Professional Program can help you prepare. Through our self-paced courses, you'll learn the essentials and required skills needed to work as a pharmacy technician. With the help of dedicated instructors with real-world experience, you'll work toward preparing for an externship with a local pharmacy while also getting ready to sit for your PTCE certification, the cost of which is covered by your tuition! Or, if you're looking to skip the externship and just earn your diploma while preparing for certification, our Pharmacy Technician Career Diploma could be right for you. For more information about becoming a pharmacy technician online, which program best fits your needs, or to enroll today, reach out to our dedicated Admissions Specialists at 1-888-427-6500!
*Source: U.S. Bureau of Labor Statistics