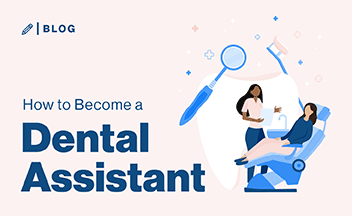 Reviewed by Jaime Nguyen, MD, MS, MPH and Director of Allied Health Programs at Penn Foster.
Becoming a dental assistant can be a rewarding career path, especially for those who want to work in the allied health and play an important role in patients' dental health. Good dental health is critical to a person's overall health since dental problems may lead to nutritional issues, other medical diseases, and poorer quality of life.
If you're considering taking the next steps toward starting a new job in this field, here's what you need to know. Click on the links below to jump through the article or keep reading to learn more about what dental assistants do, what the average salary is, and how you can become one today.
What does a dental assistant do?
If you're thinking about a job as a dental assistant, the first thing you may be asking yourself is "what does a dental assistant do?"
Dental assistants play an essential role in a dentist's office, working closely with the dentists and patients. Dental assistants are more involved in the administrative and business side of the office, such as scheduling appointments, following up with patients, working with insurance companies, and processing billing and payment information. They'll also play a role in the clinical aspects of the office by helping to prepare exam rooms, cleaning and sterilizing dental equipment, and processing x-rays. Other common duties of a dental assistant include:
Keeping records of dental treatments for each patient
Instructing patients on oral hygiene
Processing x-rays and completing lab tasks, under the direction of the dentist
Preparing patients for treatment
Assisting the dentist with instruments during a procedure
Dental assistants may have fewer duties or more clinical responsibilities depending on which state they work in. Different State Boards of Dentistry have established rules and regulations around what a dental assistant can do.
How do I become a dental assistant?
Becoming a dental assistant can take a few different paths. While there may be opportunities to learn how to be a dental assistant through on-the-job training depending on your state regulations, the journey often begins with education.
These are the most common steps to becoming a dental assistant:
Education. Most dental assistants learn foundational industry skills through formal training in a career diploma or certificate program. Dental assisting is a skilled trade that requires specialized knowledge and experience in order to succeed. Through your dental assistant education, you'll develop both technical and professional skills that can be essential to your success on the job. Skills you'll learn include customer service, teamwork, dental office management, dental anatomy, and preventative dentistry.
Certification. While not every state requires dental assistants to be certified in order to work, certification can potentially help you in your career. The most common dental assistant certification is the National Entry Level Dental Assistant (NELDA) exam from the Dental Assisting National Board (DANB). If you're planning on becoming certified or your state requires you to be a certified dental assistant, make sure the program you attend is approved by DANB and can prepare you to sit for the exam offered by DANB.
On-the-job training. In some cases, becoming a dental assistant can be done under a dentist's supervision. You'll learn how that specific dentist office operates, what software they use, and how appointment scheduling works. Opportunities for on-the-job training for dental assistants may be difficult to find since most dentists prefer to hire those who have completed an educational program and are already trained.
Not sure what your state requirements are for becoming a dental assistant? You can find information on what's required in each state on the Dental Assisting National Board website.
Note: Earning your high school diploma as an adult may be an important step to becoming a dental assistant, since a diploma can help you earn more*.
Related article: How Does Penn Foster Work?
How long does it take to become a dental assistant?
The amount of time it takes to become a dental assistant can vary based on several factors, including your state's requirements and whether you pursue formal training and education before trying to get a job. Entry-level dental assistants aren't necessarily required to earn an associate degree to work in the field; most take a career diploma program, which offers a shorter course of study to complete.
Most career diploma programs for dental assisting can take about a year to finish.
Can you work as a dental assistant without being certified?
It depends on where you live and your state's requirements for dental assistants. Some states, such as Pennsylvania, don't require you to be certified in order to work as a dental assistant. Others have different requirements and regulations around what specific job tasks you can complete without being certified. It's important to check your state's requirements for certification as a dental assistant.
In addition to becoming certified, dental assistants may become registered. Most registered dental assistants complete a dental assistant program accredited by the Commission on Dental Accreditation (CODA). Registered dental assistants generally require more education and are allowed to perform more tasks in the dental office.
Whatever your state requirements, it's never a bad idea to be certified. Dental assistant certification can help you stand out when applying for jobs and many employers may prefer to hire certified dental assistants over those who don't have an educational background in the field. In fact, dental assistant that are not certified or have not completed an educational program may be limited in their duties and responsibilities in the office.
You may also be able to earn more if you're a certified dental assistant. Mom of two Eiliana Garcia was already working in a dental office but wanted to advance in her career. After earning her career diploma online and receiving her certification, she earned a pay raise and became the Head Dental Assistant in the office.
Pros and cons to getting certified as a dental assistant
Potential pros to getting certified as a dental assistant include:
Certification may help you meet state requirements
Certification helps you stand out to employers
Certification affirms you have the knowledge you need to be successful in the field
However, potential cons to getting certified as a dental assistant include:
You need to pay to take a certification exam
Taking another, longer exam may not interest you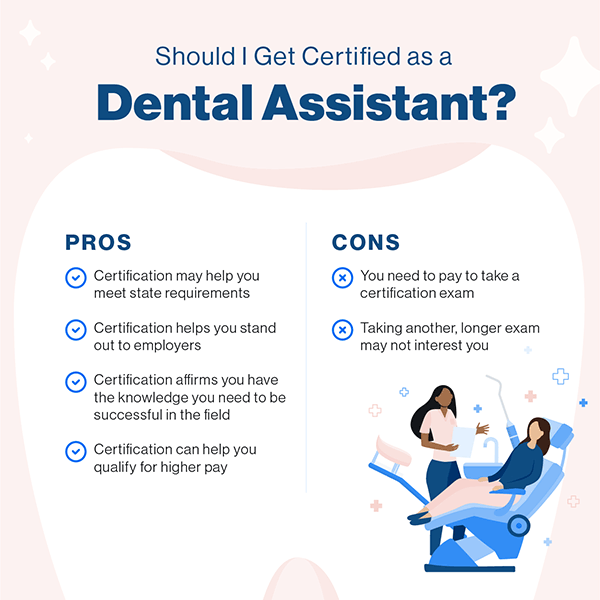 How to become a dental assistant with no experience
The best way to become a dental assistant with no experience is through education and training. An in-depth program can cover the basic knowledge and skills you may need to work in a dentist's office, from dental anatomy to dental office management. You'll also learn professional skills that can be relevant to any job, such as customer service, teamwork, adaptability, and more.
How to become a dental assistant online
Yes, it's possible to become a dental assistant online! Mom of two Severina Jimenez wanted to start working in the medical field and had several friends recommend dentistry. She was able to find an online dental assistant training program, which meant she was able to continue caring for her family and working full-time while completing a program online.
Severina points out that self-paced, online dentist assistant school is different from going to school in a traditional classroom environment. When you're online and not in a traditional classroom, you won't have a teacher in front of you. Instead, look for an online program that provides student support if you feel like you're struggling and can help motivate you.
A good online program will be accredited and offer courses such as:
Dental Terminology, Anatomy, and Charting
Preventive Dentistry and Ethics
OSHA and Radiology
Dental Front Office
Dental Specialties
These courses can help you prepare to gain the necessary knowledge and skills to find a job as a dental assistant. Depending on how much time you have to study, you can finish the program in as little as 4 months and take the next step toward becoming a dental assistant: certification!
Related article: Is Penn Foster legit?
Potential dental assistant career path
Your career path as a dental assistant can vary, but it might look like:
Finding an entry-level job as a dental assistant in an office
Becoming a Certified Dental Assistant (CDA)
Being promoted to dental office manager
Obtaining additional certification and becoming an expanded function dental assistant
Pursuing additional education to become a dental hygienist
Each step requires additional job experience, education, and certification, but likely includes a salary increase.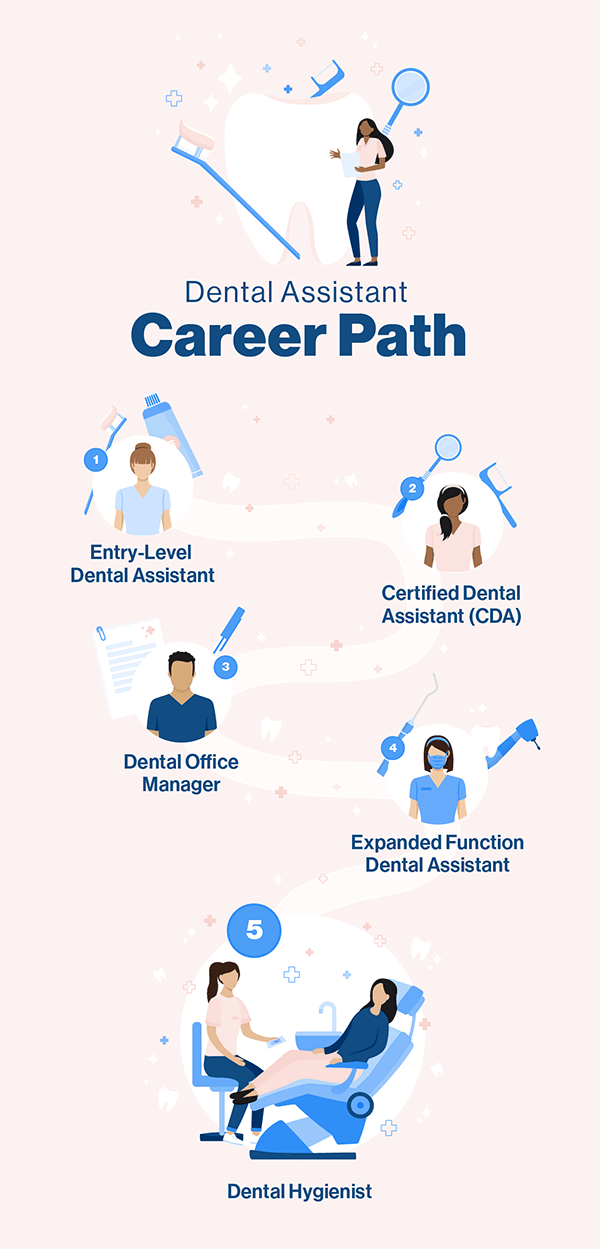 Is dental assistant a good job?
Dental assistants are currently in-demand, making it a great job for someone who is looking for a rewarding career. According to the Bureau of Labor Statistics, the need for skilled dental assistants is expected to increase 11% over the next decade, much faster than other jobs. That means that you can expect about 44,000 new job openings in the field each year until 2030, offering those looking to start a new career plenty of opportunities to find a job they love that offers security.
Besides the prospect of plenty of job openings in the next few years, becoming a dental assistant can be a great job for someone who knows they want to work a steady schedule. Most dental assistants work full or part-time, Monday through Friday. Since dentists' offices are generally open during traditional work hours – 8am to 5pm -you can expect to be home each day before dinner! It can be the perfect career for someone who wants a stable job that allows for work/life balance and a predictable work schedule.
Where can I work as a dental assistant?
90% of dental assistants work in a dentist's office.* This includes both private dental offices and group practices. Other places dental assistants work can include:
Hospitals
Insurance companies
Dental suppliers
Dental manufacturing companies
Dental assistants can also work in specialty practices, such as those that focus only on pediatric or geriatric dentistry.
You might also like: In-Demand Careers That Don't Require a Four-Year Degree
What is the growth potential for a dental assistant?
There can be plenty of growth and career advancement for ambitious dental assistants! Besides being an in-demand healthcare career, you can further your career in the field after starting an entry-level dental assistant job. Depending on your state's regulations and requirements, you may need to pursue further education and more advanced certification.
A typical career path for a dental assistant may look like this:
Entry-level dental assistant.
Certified dental assistant (CDA).
Expanded function dental assistant.
Dental office manager.
Dental hygienist.
Remember, what you can and can't do as a dental assistant can depend on the state you work in. In some states, you may not be required to have a formal education in the field or be certified to get an entry-level job. However, to advance to an expanded function dental assistant, which is an assistant who is allowed to do work like placing fillings, you'll need to have job experience and additional certification.
Becoming an expanded function dental assistant is the highest role you can reach as a dental assistant. However, that doesn't mean advancement stops there! With your experience, you may decide you want to take a management role in the office, becoming an office manager who hires and trains new assistants and is in charge of ensuring the office and appointments run smoothly.
Or you may want to be able to do more clinical work; becoming a dental hygienist could be the next step in your career. You'll need to go back to school to earn at least an associate degree and pursue further certification to practice as a dental hygienist. The benefit of starting your career as a dental assistant versus a dental hygienist is that, after time, your employer may be willing to pay for your dental hygienist training, saving you money in the long run.
You might also like: Your Guide to Becoming a Medical Transcriptionist (Salary, FAQs, and Requirements)
How much do dental assistants make?
On average, dental assistants make $38,660 per year, or about $18.59 per hour.*
Dental Assistant Salary by State
| State | Annual Mean Wage | Annual Hourly Wage |
| --- | --- | --- |
| Alaska | $50,640 | $24.35 |
| Alabama | $35,760 | $17.19 |
| Arkansas | $34,930 | $16.8 |
| Arizona | $41,950 | $20.17 |
| California | $46,060 | $22.15 |
| Colorado | $43,730 | $21.02 |
| Connecticut | $46,130 | $22.18 |
| Delaware | $44,690 | $21.49 |
| Florida | $40,820 | $19.63 |
| Georgia | $39,860 | $19.17 |
| Hawaii | $37,860 | $18.20 |
| Iowa | $44,360 | $21.33 |
| Idaho | $36,250 | $17.43 |
| Illinois | $42,400 | $20.39 |
| Indiana | $41,630 | $20.01 |
| Kansas | $38,330 | $18.43 |
| Kentucky | $38,160 | $18.35 |
| Louisiana | $33,560 | $16.14 |
| Massachusetts | $51,210 | $24.62 |
| Maryland | $44,410 | $21.35 |
| Maine | $43,960 | $21.14 |
| Michigan | $39,680 | $19.08 |
| Minnesota | $53,080 | $25.52 |
| Missouri | $40,030 | $19.25 |
| Mississippi | $36,170 | $17.39 |
| Montana | $39,060 | $18.78 |
| North Carolina | $44,320 | $21.31 |
| North Dakota | $47,780 | $22.97 |
| Nebraska | $40,930 | $19.68 |
| New Hampshire | $49,470 | $23.79 |
| New Jersey | $43,980 | $21.14 |
| New Mexico | $37,790 | $18.17 |
| Nevada | $38,020 | $18.28 |
| New York | $44,910 | $21.59 |
| Ohio | $43,440 | $20.89 |
| Oklahoma | $39,070 | $18.79 |
| Oregon | $48,780 | $23.45 |
| Pennsylvania | $43,540 | $20.94 |
| Rhode Island | $46,070 | $22.15 |
| South Carolina | $40,120 | $19.29 |
| South Dakota | $42,010 | $20.20 |
| Tennessee | $39,160 | $18.83 |
| Texas | $38,370 | $18.45 |
| Utah | $35,210 | $16.93 |
| Virginia | $43,570 | $20.95 |
| Vermont | $45,230 | $21.75 |
| Washington | $46,350 | $22.29 |
| Wisconsin | $42,310 | $20.34 |
| West Virginia | $36,830 | $17.71 |
| Wyoming | $41,140 | $19.78 |
Where do dental assistants make the most?
Depending on where you live, you may earn a higher starting salary than someone in another state. According to Zippia, the states in which dental assistants are the highest paid include:
Minnesota
Iowa
North Dakota
North Carolina
Indiana
Ohio
Illinois
Wyoming
Nebraska
Michigan
Dental assistants in Minnesota earn an average salary of $46,046 while those in Michigan earn $40,729 per year.
Which jobs pay dental assistants the most?
Expanded function dental assistants can earn the most, with an average salary of $45,576 per year. Dental assistants with orthodontics skills can make as much as $41,766 per year.\
Your salary as a dental assistant can also depend on your work experience, education, certifications, and employer.
Best Paying Industries for Dental Assistants
| | Hourly mean wage | Annual mean wage |
| --- | --- | --- |
| State government* | $24.12 | $50,170 |
| Specialty hospitals** | $23.18 | $48,210 |
| Home health care services | $23.04 | $47,930 |
| General medical and surgical hospitals | $22.68 | $47,180 |
| Federal executive branch | $22.10 | $45,970 |
*excluding schools and hospitals
*except psychiatric and substance abuse hospitals
Become a dental assistant online with Penn Foster
If you've decided that becoming a dental assistant is the right career for you, you don't have to wait to take the next step toward reaching your goals. Through Penn Foster's online Dental Assistant Training, you can build the skills that can help you be successful in the job while also preparing to sit for the DANB's Certified Dental Assistant certification exam. To learn more about starting a career as a dental assistant or to start your training, reach out to our Admissions Specialists today at 1-888-427-6500!
Source:
*Bureau of Labor Statistics, U.S. Department of Labor. "Dental Assistants." Occupational Outlook Handbook. Accessed June 29,2022.
Statements found in the United States Department of Labor Occupational Outlook Handbook are not a guarantee of any post-graduation salary, in part because the data used to create the Occupational Outlook Handbook includes workers from differing educational backgrounds, levels of experience, and geographic areas of the country