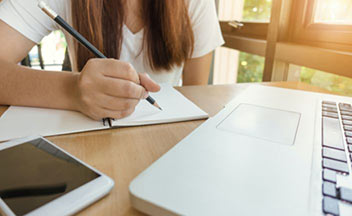 Whether you're considering transferring from your current high school, you're a parent who wants to enroll your child in an at-home education program, or you're an adult who wants to finish their diploma, online high school can be a great, flexible solution. But is online school right for you? Here's everything you need to know about what it's like to be an online high school student!
Who goes to online high school?
Online high school can be a great option for many people who want to earn their diploma their way or help their career. From traditional aged students just starting the ninth grade, to older adults who never had the time or opportunity to graduate, flexible, accredited online classes can be done on your schedule, from home.
A completely online high school gives you access to your classes 24/7 so can work through them at the speed that works best for you. Even better, you set the pace and determine your own schedule, whether that means studying every day or just once per week. This makes online high school a great solution for people who have packed schedules, work, family responsibilities, or are invested in pursuing their passion for sports and other hobbies.
Is online high school different than traditional high school?
Online high school and a traditional public school have a few things in common, as well as some big differences.
Like a public high school, Penn Foster is regionally accredited. Accreditation is essential to ensure what you're learning meets local and national education standards. Also similar to traditional high school, Penn Foster's high school classes follow a standard curriculum, with math, science, English, history, and elective courses.
Unlike a regular public high school, there's no set schedule – students like you decide when and where to log in and study. You also work on classes one at a time, so you're not juggling English, math, science, and everything else all at once. This gives you the opportunity to really focus on the subject you're learning!
What is your daily routine in online education?
Since you're in charge of your schedule as a Penn Foster High School student, setting up a daily routine to keep yourself on track can be your best bet for success in an online school. Managing your time and sticking to some sort of schedule will help you to keep moving forward, so you'll want to make sure you take the time to figure out what sort of daily or weekly schedule works best for your life.
Not everyone needs or wants to follow a traditional schedule, but for younger students, sticking to something similar to what they're used to from public school can be helpful. For adult high school students, the study timeline might look completely different, depending on their work schedule, how much free time they have, and what other responsibilities they have.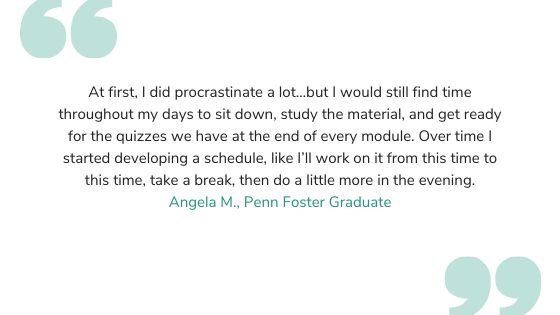 Not sure how to start figuring out an effective study schedule? Check out these examples:
Sample daily schedule for online high school students (14-18 years old)
7am-8am. Wake up, eat breakfast, and get ready for the day.
8am-9am. Get ready to start your studies. That means gathering any materials you need and heading to your dedicated study space. Log in to your Student Portal.
9am-12pm. Dig into studying. Pick up where you left off in your study guides, read your assigned reading, and take notes. If you're ready, you'll also take exams and work on assignments.
12pm. Lunch.
1pm-2pm. Finish up any studying you have to do for the day and take the time to figure out what you need to work on the next day. From there, you're free to go to work, spend time on hobbies and extracurricular activities, and other responsibilities. You can also keep working on your studies if you want to – after all, it's self-paced!
Sample daily schedule for adults in online high school (who work during the day)
7am-8am. Wake up, get ready for the day, head to work.
9am-5pm. Work. As an online student, you may be able to get some study time in during your breaks and lunches.
5pm-6pm. Commute home, get dinner on the table, take care of other responsibilities.
7pm-8pm. Log in to your Student Portal and pick up where you left off from the last time you studied. Read study guides, take notes, and take exams when you're ready.
8pm-?. Your daily study sessions will often last as long as you feel they need to, but you may not have time to dedicate more than an hour per day to your studies, and that's okay. You've got a lot going on. Don't forget to take time to do things you enjoy, too, like watching your favorite TV show, reading a book, and spending time with friends so you don't get burnt out.
How many hours a day should I do online school?
Depending on your graduation goal – the date you want to have all of your classes completed by - and how much time you have, the hours you study per day can vary by person and circumstance. There's no hard and fast rule to how many study hours you need to do each day. Some students can spend five hours a day studying, while others may be lucky to get in an hour per week and that's perfectly fine! Even an hour of studying is still making progress.
However, if you want to follow a rule of thumb, it can be best to talk to other high school students who are working on their diploma online. That's where Penn Foster's Student Community can help. You can talk to other students who are in the same classes, learn more about what schedules work from them, and get advice from students who are ahead of you.
Does online school make students lazy?
No, online school doesn't make students lazy. Some may say that it does because, with no set schedule and no teachers to report to, who's going to make sure you're staying on track? But that's the best part of online high school – you base your study time and progress around your life and your goals, not a predetermined, one-size-fits-all schedule. You're not lazy if you can only focus on school for a few hours. Take the time you need to really learn the information you're studying.
Learn how to stay motivated and manage stress in online school.
Is online learning good for high school students?
Besides being self-paced, online learning offers a lot of other benefits to high school students. This can be especially true for traditional aged students! While a regular public high school will manage time for learners, online learning is independent. Outside of what they learn in their classes, online high school students need to learn time management, adaptability, and how to manage themselves – all skills that are great for the "real" world.
HEarn your diploma your way with Penn Foster High School
Anyone anywhere can attend online high school with Penn Foster – you just need to be at least 14 years old and have finished the eighth grade to get started!
Online high school can be a great solution for students who may just not fit in a "normal" high school setting. Whether you're a traditional student who needs a self-paced schedule or an adult trying to earn their diploma between work and life, Penn Foster High School's online, self-paced classes can help you take the first steps toward reaching your goals – your way. To learn more about our high school curriculum or how to enroll, reach out to an Admissions Specialist today at 1-888-427-6500!