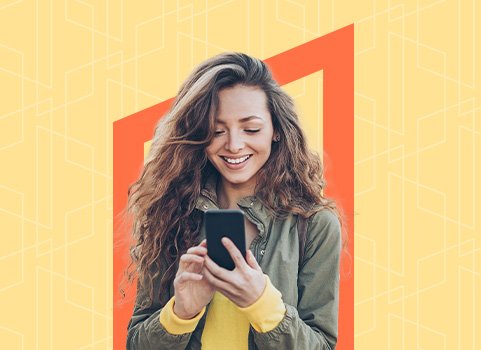 High School
Online Learning
Must Have Apps for High School Students
Beginning a new learning experience can be daunting but there are ways to make your experience easier and utilize the technology that is directly in your hand, your mobile phone. Here's a list of apps that can help you along your education journey.
Earning your diploma through online high school courses can be a rewarding experience. However, outside of an accredited curriculum, having the right tools on hand can be one of the best ways to make sure you absorb everything you learn, get better grades, stay on track to meet your goals, and prepare for the next step after graduation. As an online student, having a handful of helpful apps at your fingertips can help you make the most of your education. Here are some of the best apps for online high school.
These apps are for taking notes
When you're taking online high school classes, it's important to make sure you take great notes! Even though you're not sitting in an in-person lecture, you'll still want to write down or record essential info to study later. If you want to keep things fully digital, these apps can help.
1. Evernote
Evernote is known as one of the premier cloud-based document storage apps for phones and tablets. And Evernote has continued to innovate with Evernote Peek, a digital version of the flashcard. This app works great on both phones and tablets, and can help online high school students memorize important facts and figures.
2. OneNote
OneNote is another great note-taking app for students. It's a Microsoft product, so if you have an Office365 account, it can sync with your current documents and emails, keeping everything together in one place. Besides that, it offers a lot of great tools to help you stay organized, write or draw your notes, highlight important information, and more. You don't need an Office365 account or subscription to use the app, but it can be helpful if you want to use some of the premium features of the app.
3. Simplenote
Simplenote is exactly that: simple! It's one of the most straightforward note-taking apps, with an easy-to-use platform that still allows you to sync your notes across all of your devices.
Read more: 12 Biggest Myths About Online High School
Apps for high school math classes
Whether you're a math whiz or struggle with numbers, a good calculator is a must. The calculator app that's preinstalled on your smartphone works well for the basics, but as an online high school student, you may need something a little more advanced. You may also get stuck on problems and just need a little extra guidance. Here are a couple apps that can help.
1. Graphing Calculator
In the past, high school students were forced to spend $100 or more on a graphing calculator that they would likely only use for a couple of classes. Fortunately, the Graphing Calculator app allows online high school students to get all the functionality of a traditional graphing calculator at a fraction of the cost.
2. Mathway
Mathway is a problem-solver app that can help students solve tricky math problems when they're studying. It doesn't just compute the answer for you; with a subscription, it also walks you through step-by-step solutions so you can see how they got the right answer and learn how to do it yourself.
Read more: Top 4 Tips for Being Successful in High School
Apps for help with writing essays and papers
Writing an A paper or essay involves more than just knowing what you're talking about. There are often a bunch of rules to follow, from grammar to properly citing your sources, to basic formatting that can make or break your paper. These apps can help!
1. RefMe
One of the toughest parts of writing a paper is figuring out the right way to cite your sources. RefMe is an app that gives you access to a bunch of resources you can use in your papers but, even better, it can automate citations for you in the right style so you can make sure you cite your sources, create the perfect bibliography, or include an accurate reference list in your work.
2. Grammarly
Grammarly is an amazing app that can be used to check your grammar and spelling in your writing (not just papers – you can use it for emails, letters, and more!), as well as tone, word choice, and checking for plagiarism.
3. Google Docs
If you don't have access to Office365 or Microsoft Word, you may be worried about how, exactly, you're going to write that paper you're assigned. That's where Google Docs can help! All you need is a Gmail account to use it and you can write and format your papers just like you would with Word.
Apps that can help you keep track of your life and studies
One big part of being a successful online student is managing your time well. It's especially important when your program is self-paced; there are no set due dates and deadlines or strict teachers to keep you on a schedule – you set your own. Not sure how to keep everything organized? There are a bunch of apps for that!
1. Remember the Milk
If you're looking for an easy-to-use task management app, Remember the Milk is a great option. With the app, you can create to-do lists, individual tasks, set reminders and due dates, and be reminded of it all by email, text, or mobile notifications.
2. Google Tasks
If you use Google Drive for everything, from email to docs to Google Calendar, you can add another one to the list: Google Tasks. Google Tasks is a simple to-do list application so it's very straightforward and easy to use. You can download the app or just use it through your Gmail account.
3. Your phone's current note or reminder app
You want to keep things super simple and easy? You can also just use the Notes app that comes preloaded onto your phone. You can make checklists, create tables to organize your tasks, and check things off when you're done. If you don't want to forget anything, you can also set reminders in your phone that notify you with an alarm or notification!
Read more: How to Apply to College After High School
Penn Foster app
As a Penn Foster student, you may have searched for a school app that you can use to log in, keep track of your lessons, and take tests. While we don't have a downloadable app, you do have access to your courses and exams on any smart device, tablet, computer, or phone that connects to the internet so you can study wherever you go. All you need to do is log in!
If you're a new student and aren't sure where to start, here's what you need to know about the Student Portal.
Your Penn Foster login page
You can log in to your Student Portal from any website browser, on any device with access to the internet. You'll go to the Penn Foster website and click on the small button at the top that says "login." All you'll need is the username and password you set up when you enrolled. It looks like this: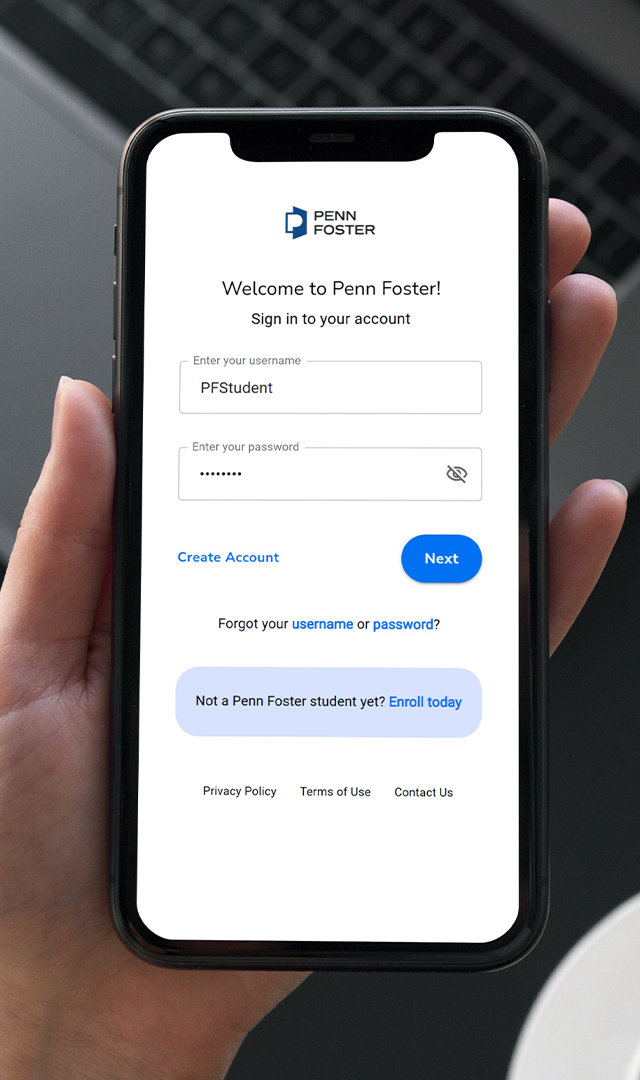 Once you hit that "next" button, you'll be officially logged in to your program!
The Penn Foster Student Portal
Everything you need to succeed in your online high school classes is available right from the Student Portal. You'll be able to access your classes, see individual lessons, and do other tasks such as
Access digital textbooks
Set a study timeline so you can create a graduation goal
Pay your tuition
Access the Student Community
Check out helpful learning resources
Click on the "Help & Support" button to contact instructors
Take exams
Submit papers and projects
View your progress and grades
If you're not already a Penn Foster student, you can get a preview of what the Portal looks like in this intro video!
Use online tools to help you succeed in high school
These are just a few of our favorite apps that can be helpful to you as an online high school student, but there are thousands of helpful apps, tools, and resources available so make sure to search for the ones that fit your needs best!
Want more tips on being a successful online student? Check out these blogs: