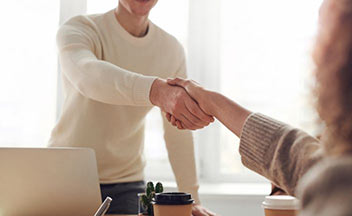 A strong resume can mean the difference between getting a call from a company you applied to and hearing nothing back at all. You want to make sure you show your experience and education in an eye-catching way while standing out from other applicants. Before applying to another job opening, learn these 5 secrets to write a strong resume that can help you appeal to hiring managers.
How to write a good resume
A resume isn't just a list of places you've worked and schools you've attended. It's an introduction to an employer or hiring manager on who you are. It's the first thing they look at to decide whether or not you should get an interview.
Even if you have amazing, relevant work experience, that alone might not be enough to get a chance at the job. Writing a strong resume is important for showing off your experience and convincing a hiring manager to take the time to meet with you.
To write a good resume, you want to make sure it is
Clear and concise
Proofread
Visually appealing
Customized for the job
Demonstrating relevant skills
1. Write a clear, concise resume
Your resume shouldn't be a novel, but it also shouldn't be the bare minimum of information. It should clearly display your work experience, skills, and relevant education. While the normal "rule" is to keep your resume to one side of one page if you're just starting out, the length it needs to be could vary based on the industry you've worked in or the specific job you're applying to. However, more than two pages is probably a little too long!
To keep your resume concise and clear, stick to including only the past ten years of work experience unless you have done a specific job that is very relevant to the new role you're applying for. For each job you list, make sure you include the dates you worked there and list them in chronological order, with your most recent position first.
You'll also want to only include 1-2 sentences describing your job duties and tasks. You can use your cover letter to go into more detail about projects you've worked on or skills you developed that make you a good fit for this new position.
2. Create a visually appealing resume
While formatting for resumes isn't standardized, there are some rules to follow to make sure yours is visually appealing and easy to skim. Most hiring managers won't read your resume in detail the first time they see it, so it's important to make it easy for them to skim and pull out key skills and relevant experience.
As a rule of thumb, it's best to use simple fonts for your resume such as Arial or Calibri. Times New Roman, while considered classic, isn't as in favor for resumes anymore. You'll also want to make sure your font is size 12 – this makes it easy to read without taking up more space than necessary on the page.
Unless you're a designer or artist, it's best to keep your resume clean and straightforward – no bright colors or new styles of formatting. If you don't want to start with a blank slate, you can find easy to edit templates on the internet, in Word, and even in Google Docs.
3. Customize your resume for the job you're applying for
A resume isn't "one size fits all." It's important to make sure you tweak and customize your resume for the different positions you're applying for. The best way to do this is to review the job description and qualifications for each job. You'll notice some keywords included in the post, maybe terms like self-starter, motivated, detail-oriented, etc. Include these keywords in the descriptions of your past work experience where relevant and honest. Besides showing that you paid attention to the job post, you're showing a potential employer that you have the exact skills they're looking for.
Additionally, many large companies run resumes through software systems to sort through applications and determine which applicants should have their resume looked over by a hiring manager. The software is often programmed to pick out those resumes that display certain key words and phrases.
4. Display the skills employers are looking for
Even if you're applying to jobs in an entirely different industry than you've worked in before, there are some universal skills that can help you stand out anywhere. These include verbal and written communication, teamwork, and adaptability skills. You can demonstrate that you have these through the descriptions of your previous job duties. Were you responsible for working in a team to meet goals? Did you have to regularly work and communicate with customers or clients? These skills are all applicable to a variety of careers.
You can also use a section of your resume to list relevant skills. Things you can list include familiarity with Microsoft Office, social media, or email. Again, the skills you list should be relevant to the job you're hoping to be hired for and things they're actually looking for.
5. Proofread your resume before submitting it
You could be perfect for the job you're applying for, but one typo or mistake on a resume could take you out of the running. Every time you submit your resume, make sure to proofread it carefully even if you only made small changes. Make sure to look out for misspelled words, that you're using punctuation correctly, and that what you wrote makes sense.
Add industry-recognized skills to your resume today
Besides writing and proofreading, you can strengthen your resume by adding industry-recognized skills and certificates. While a college degree may not be required for jobs you're applying for, there may be some skills specific to the job that you can't learn on your own. Completing a career diploma or certificate program online can help you take the first steps toward developing those skills and show employers you're ready for a career in the field! To learn more about Penn Foster's online training programs, reach out to our Admissions Specialists today at 1-888-427-6500.