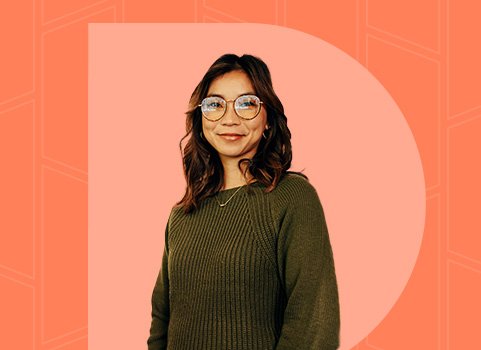 Career Advice
How To Find A Job After Being Laid Off
Getting laid off never feels good. In fact, it may lead you to panic. What are you going to do? How will you pay your bills? What does this mean for your career? If you've been laid off or think you may be getting laid off soon, take a moment to breathe and then consider your next steps. If you're not sure where to start, here's your guide to finding a new job after you've been laid off.
We follow strict quality and ethics policies to make sure our content is honest, accurate, and helpful. Learn more about our editorial guidelines.
Being laid off, made redundant, or let go feels like a big deal. You've just lost your job. Whether you have been working for the company for a few months or a decade, it hurts. And, beyond the hurt and disappointment, you may be scared this will have a negative effect on your career plans. It's okay to worry; that's normal. But before you panic, take a minute to breathe. There are other jobs out there that you may like just as much as your previous one. Here's your guide to finding a new job after you've been laid off.
What does being laid off mean for my career?
While being laid off means losing your job, it's very different from being fired. Being fired is usually a result of not meeting performance expectations or other issues. Layoffs usually happen because a company needs to cut costs, it's a seasonal business, or due to an economic downturn like a recession. That means it's not your fault you were laid off and it shouldn't hurt your chances of continuing your career somewhere else or even starting an entirely new career in a different industry.
Should I tell hiring managers I was laid off?
In general, unless your interviewer or a hiring manager asks about gaps in your job history or why you left the company, you don't have to mention anything. However, being laid off is nothing to be ashamed of and it could be a good opportunity to talk about how you handle difficult situations in life.
If an interviewer asks about why you left your last job, be open and honest about being laid off. Explain what happened with your company (for example, you can say: My last company had to lay off several employees and I was one of those affected), but don't forget to also mention your great work with them. What did you do before you were laid off? What were some successes you had? What skills really helped you on the job?
At the end of the day, hiring managers are pretty understanding about layoffs and are more interested in what you can bring to their company and the current job you're being interviewed for.
How hard is it to get a job after layoffs?
Finding a new job after being laid off can be a different experience for everyone. Some might find a job right away, while others may take months to get a job. On average, it can take about two to six months to find the job that's right for you and get hired.
While finding a job after being laid off may not be hard, the disappointment or stress of going to interviews and not getting hired can be tough. It's important to remember that you will find the right job for you eventually and that all your hard work, updating your resume and cover letters, applying to and interviewing for open positions, and even getting rejected are all part of the process.
Read more: 8 Online Degrees That Pay Well and You Can Start Today
7 steps to take after being laid off
After layoffs, you might be feeling a bit lost as to what you should do next. Your first instinct is probably to jump right into searching for a job. However, it also makes sense to take a little time to recover before you look for your next position and start applying. The following steps can help you prepare to successfully weather a layoff and get back on your feet.
1. Take some time for yourself
While you probably want to jump right into the job search, you might be reeling from losing your old job and that's okay! That's normal. Instead of dropping applications to every open position that you qualify for right away, it's important to make sure you're okay and in a good place. So, first, take some time to breathe.
This is especially important if you're feeling really negative about what happened. If you're doubting your skills and your hard work, it'll be tough to convince a hiring manager that you're excited and ready to start a new job. Take time for a reset and time for self-care. A week without job searching won't set you back.
Besides using the time to process what happened, it's a good idea to start thinking about your career. Was your job something that you still want to do, but at another company? Do you even want to work in the same industry? Think about your career goals and what might really make you happy going forward.
2. File for unemployment
Unemployment benefits exist for these very circumstances and are especially helpful if you don't have other income or savings to fall back on. You may be out of work for a week or for months. Worrying about your finances and how you're going to cover your bills while you're looking for a new job can leave you stressed and unable to focus on what you need to do to find your next position. Unemployment can help you ease that stress and stay on top of everything.
The process for applying and eligibility requirements can differ in each state so check out the information available on your state's website for next steps.
3. Update your resume
As you prepare to start searching for a job, you want to make sure your resume is ready to go. If you want to find a position similar to the one you had previously, you may not have to do much more than update your employment dates at your former job. However, even if you updated your resume within the last year, it's still a good idea to reread it with fresh eyes. Make sure you look for any typos and don't forget to update any accomplishments or big projects you worked on and include that information in the description under your last job.
Need help putting together the perfect resume?
Read this: 5 Secrets to Make Your Resume Stand Out
You'll also want to make sure to update your LinkedIn profile. You can even change your settings to show recruiters and connections that you're looking for work.If you're thinking about changing careers and working in a different industry, you'll want to think about the skills you need to qualify for jobs in a new industry. You may need to consider going back to school or picking up some new skills through certificate programs.
4. Build new skills to stand out
Whether or not you're planning on looking for jobs in the same industry, going back to school or signing up for some quick training programs to learn new skills can help you stand out to hiring managers. If you want to stay in the same industry, completing a short certificate program or two can help you refresh your current skills and show potential employers you're invested in your career.
If you want to change industries entirely, you'll want to start by figuring out what exactly you may want to do. Depending on the career you're interested in, you may need to complete a diploma or degree program to gain the skills you need to qualify for the job. An online school like Penn Foster, which offers over 100 career-focused programs, can allow you to learn while you're searching for jobs.
Read more: How to Market Your Skills to Potential Employers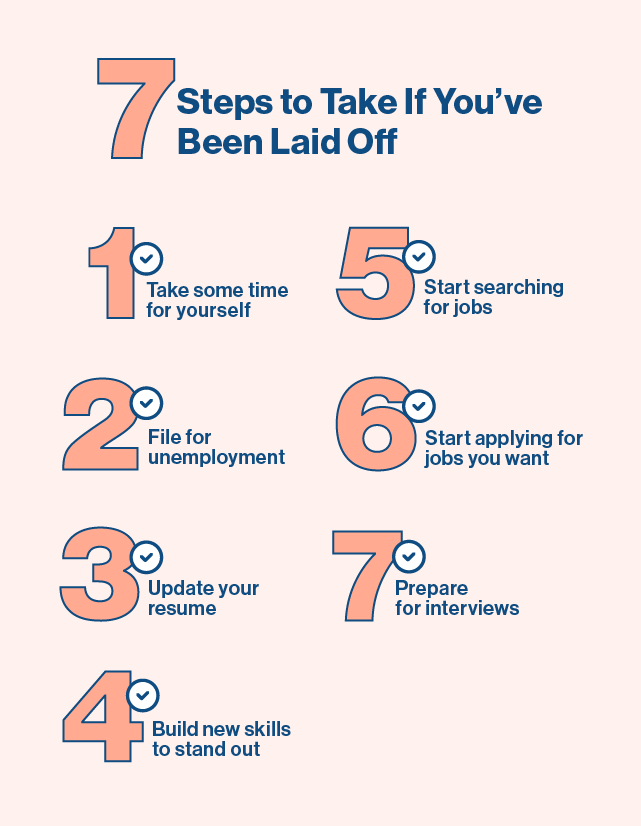 5. Start searching for jobs
Even if you're still not 100% sure what you want to do next, searching for jobs in your area – or remote jobs – can give you a better sense of what careers are in-demand and what you might want to pursue. That can help you decide on your next steps: going back to school or putting in applications.
When you're searching for jobs, don't limit yourself to looking in one place. Use all the job search websites available to assess your options. These include Monster, Indeed, Glassdoor, LinkedIn, and more!
6. Start applying for jobs you want
If your resume is up to date and you know what you're interested in doing, it's time to start applying for jobs. It doesn't hurt to apply to every position you're interested in, but make sure you tailor your cover letter to each job. Having a generic cover letter can set you back and hiring managers may disregard your application, even when you're a perfect fit. You'll even want to customize your resume for each job you're applying for.
According to Kristen Schenck, a talent acquisition associate at Penn Foster and an expert at what makes a strong resume, customizing your resume and cover letter to each position you're applying for can increase your chances of getting an interview.
"This doesn't mean you need to completely rewrite your resume for each job," Kristen said. "Instead, you'll want to pay attention to what keywords and skills the job description uses and tweak how you describe your experience and qualifications."
Your cover letter can also be a good place to explain why you're no longer working for your previous company, any gaps in your job history, and why you're interested in changing careers or the specific position you're applying for.
"You'd write a customized cover letter," she said, "expressing your interest in the role, what skills you have that relate to the role, and explaining your time away from work."
7. Prepare for interviews
You may not hear back from many of the companies you submit your resume or application to. While it's disappointing, you want to focus on the ones you do hear back from because they're probably going to want to set up an interview. That means preparing to make the best impression possible. To prepare for each interview you get, you'll want to
Research the company. Take a good look at their website, check out their mission and history. You'll want to know as much as possible about the company so you can ask informed questions at the interview. Your research can also help you decide if this is really the company you want to work for.
Practice interviewing. While roleplaying can feel awkward, it can really help you have a successful interview. Ask a friend or family member to act like the interviewer. They should ask the questions most interviewers do, like "why do you want to work for X company" and "why do you think you're a good fit for this role". By practicing your answers to these questions live, you'll be better prepared and sound more confident when you're in the actual interview.
Prepare to do online interviews. Whether you're applying to remote or in-person jobs, you may have to do your interview online in video chat. To have a successful online interview, you'll want to make sure your computer is working, you have a quiet space to do the interview in, and make sure there are no interruptions that can interfere with your conversation. You'll also want to make sure you dress professionally, even if the interviewer is only going to see you from the shoulders up.
Why being laid off can be a good thing
Getting laid off may lower your confidence and cause you to worry about your future. But being laid off can almost be a good thing, especially if you were in a career rut. It causes you to reconsider your career goals and what you really want, helping you focus on and find the right next job for you.
Being laid off can also give you some time to decompress and recover from any burnout or stress you may have felt in your former position, allowing you the time you need to be the best version of yourself in your upcoming interviews.
While it can be tough at first, try to keep a positive mindset and put that into your job search.
Read more: 5 Ways to Feel Happier Right Now
Prepare for a new career
After being laid off, it's important to really think about what you want to do next. That might mean preparing for a new career, even if you're looking to stay in the same industry. Not sure how to go about it? Check out our blog, Your Guide to a Mid-Life Career Change, to set yourself up for success.
If you're still not sure what job or industry is right for you, take a look at our career guides to start thinking about what your next move should be:
You can also find helpful guides, tips, and tricks to starting a successful new career in the Career Planning section of the Student Life Blog!