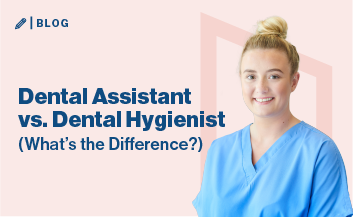 Many people often think that dental assistant and dental hygienist are different titles for the same job. However, while there may be some similarities, at the end of the day these are two very different roles with different education requirements, duties, and salaries. Learn more about the differences between a dental assistant and dental hygienist and find out which job is right for you.
What is the difference between a dental assistant and a dental hygienist?
The biggest differences between a dental assistant and a dental hygienist are the education requirements to become one, what they are allowed to do, and how they interact with patients. In both jobs, you'll work under the supervision of a dentist with hygienists taking on more clinical tasks and assistants focusing more on the administrative side.
Read more: What Does a Dental Assistant Do?
What does a dental hygienist do vs a dental assistant?
Dental assistants are more involved in the administrative side of a dental practice. Their typical duties include
Scheduling patient appointments
Following up with patients
Working with insurance companies
Processing billing and payment information
Keeping patient records up to date
Preparing patients for treatment
Cleaning and organizing tools and equipment
Depending on the state's regulations, dental assistants may also be able to take and process x-rays, though this often requires additional training and certification.
Dental hygienists are more involved in the clinical work of a dental practice. Their typical duties include
Examining patients
Cleaning teeth to remove tartar, stains, and plaque
Apply sealants and fluorides to help protect teeth
Take and develop dental x rays
Assess patients' oral health and report findings to dentists
Document patient care and treatment plans
Educating patients on proper dental hygiene, including brushing and flossing
Dental assistant vs dental hygienist schooling and requirements
One of the biggest differences between becoming a dental assistant and becoming a dental hygienist is the education you need to get the job.
Dental assistants often do not need as much formal education and training to start a career in the field. Most states only require assistants to complete some formal secondary training in either a career or certificate program, while some states don't require formal training at all to qualify for the job. Many dental assistant training programs can be completed in under a year.
Dental hygienists, on the other hand, are required to have at least an associate degree in dental hygiene, which can take two years or longer to complete.
Additionally, all states require dental hygienists to be licensed in order to work. To become licensed, dental hygienists must complete the minimum required education at a Commission of Dental Accreditation (CODA) approved school, sit for and pass the National Board Dental Hygiene Exam (NBDHE), and pass their state's specific clinical-based exam.
Dental assistants aren't necessarily required to be licensed to work, but some states do require they be certified. To become certified, they'll need to sit for and pass the National Entry Level Dental Assistant (NELDA) exam from the Dental Assisting National Board (DANB).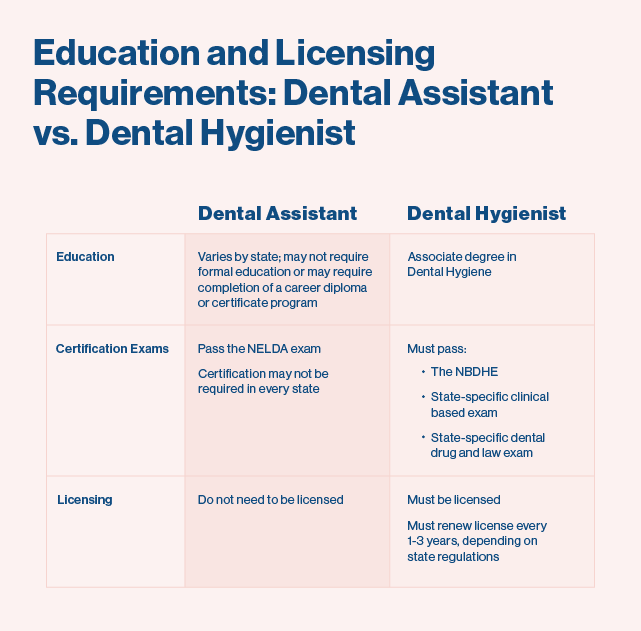 Read more: In-Demand Careers That Don't Require a 4-Year Degree
How much does a dental assistant make an hour vs how much does a dental hygienist make an hour?
Dental assistants make $18.59 per hour on average.
Dental hygienists make an average of $37.41 per hour.
Can a dental assistant clean teeth?
No, dental assistants can't clean teeth. Cleaning a patient's teeth requires specialized training that isn't covered in the majority of dental assistant training programs. Additionally, most states have other regulations surrounding what, if any, clinic tasks dental assistants can complete, so it's best to check with your State Board of Dentistry to find out what you can and can't do on the job.
How can a dental assistant become a dental hygienist?
Becoming a dental assistant is a great way to start an entry-level job in the field and get your foot in the door of a dental practice. But, after gaining experience, you may decide that you want to take on more responsibilities at work, advance your career, and do more clinical tasks. One path you can take in your career is to become a dental hygienist.
Transitioning from a dental assistant to a hygienist, however, takes time and work. Because the education and licensing requirements are more extensive, you'll need to go back to school to earn your associate degree. If you know this is the career move for you, though, you'll want to start preparing as soon as possible!
The first step is to consider how you'll get the education you need. For many people working full-time jobs, going back to school with a traditional, in-person degree program might be hard to manage. The good news is that these days, there's always at least one or two online options that can fit your schedule and goals. Do your research to find the right school and format for you and remember that, whether you go the online or in-person route, you want to make sure the program you enroll in is CODA accredited.
While the work ahead may seem daunting - do you really want to add school to your list of responsibilities? One benefit of starting out as a dental assistant is that you already have experience working in a dental office. You've also worked with dental hygienists in your current role, so you have a good idea of what they do every day.
As you're considering taking the next step in your career, make sure you talk to the hygienists you work with so you can get some advice from people who've gone through the necessary training. It's also a good idea to talk with your boss/the dentist who owns the practice to see if they offer any education benefits that help you pay for your education!
Is it easier to become a dental assistant or dental hygienist?
It can be easier to become a dental assistant than a dental hygienist because it takes less time. Dental assistants complete career training or certificate programs that can help them prepare for a job in the field in about a year or less. Becoming a dental hygienist takes longer, involves more in-depth clinical education, and passing several exams.
How long does it take to go from dental assistant to dental hygienist?
Most dental assistant programs can be completed in around a year or less, while it takes at least two years for someone to complete a dental hygienist associate degree on average. That means that if you finish your dental assistant training, get a job, and then immediately decide to enroll in dental hygienist school, it will take you around two years to go from dental assistant to dental hygienist.
Can you become a dental hygienist without being a dental assistant?
Yes, you can become a dental hygienist without starting your career as a dental assistant. You aren't required to have any on-the-job experience before enrolling in a dental hygiene associate degree program and you'll learn everything you need to through your education.
What's the next step in a career in dental medicine?
If you're just starting out, haven't worked in a dentist's office before, and aren't sure that you want to dedicate two or years to education, becoming a dental assistant could be your next best step. With an online program like Penn Foster's Dental Assistant Career Diploma, you can learn the basics and prepare for NELDA certification in as little as 4-7 months.
If you're already a dental assistant and want to take advance in your career, you have a few options. If the administrative side of things is a better fit for you, you can move on to become an office manager. However, if you know you want to be more involved with patients and clinical work, you can take the next steps toward becoming a dental hygienist and enroll in your associate degree.
Becoming a dental hygienist doesn't have to be the end of the line, either. If you want to advance your career past that, you can go back to school to earn a bachelor's or master's degree and work in research or teaching.
If working in dental medicine doesn't seem like the right fit for you, you can explore other options through our helpful career guides:
How to Become a Preschool Teacher
Your Veterinary Assistant Career Guide
Guide to Becoming a Medical Transcriptionist