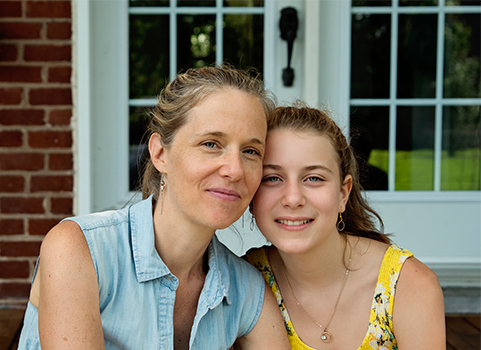 High School
Parents of High School Students
High School for Teens
Here's Why One Parent Chose Penn Foster High School
Paula Peper needed a school that worked with her family's agricultural lifestyle. She made the decision to enroll her daughter, Madison, in Penn Foster's online High School Diploma Program. Here's how Penn Foster helped them.
Paula Peper enrolled her daughter, Madison, in Penn Foster's online High School Diploma Program. Our flexible, self-paced program allows Madison to do what she loves while earning an education, something that's also attracting other dedicated high school students as well. Paula believes Penn Foster has given Madison confidence and has helped her to enjoy learning. Here's what she had to say about their decision to enroll.
Why did you choose Penn Foster?
Paula: We chose Penn Foster [because of a recommendation] from a friend that is currently using the program. Our kids went to public school together. I loved the self-paced program, and it really helps us for our busy agricultural lifestyle we have.
How has your student's Penn Foster experience been?
Paula: My daughter has never been so stress-free. School was a constant drama and educators were not helping the children. Our daughter had COVID in December and didn't go to school for three weeks.
How do you keep Madison motivated?
Paula: Madison is self-motivated to learn. She struggled with classes [in traditional school] but she seems to love going online and learning.... She is achieving every assignment.
What does Madison's study schedule look like?
Paula: She is at the barn washing and blow-drying her show cattle from 6 AM until about 4 PM. She takes a dinner break, then starts on her studies. She wraps up her day with schoolwork and starts the same process the next day. Sunday is a day off in the cattle barns, so she usually starts after breakfast on Sunday.
You may also enjoy: A Day in the Life of an Online High School Student
How has an online education helped Madison?
Paula: Madison has been more outgoing, more relaxed, and not stressed. She actually likes schoolwork and is excited to learn.
How would you compare traditional high school to online high school?
Paula: So, in short, she has more free-reign with online high school and she boasts about it to her friends that she wished she would have gone to Penn Foster two years ago.
If you help Madison with her studies, how do you feel about the Penn Foster student experience?
Paula: Penn Foster is quick to answer any questions that we, or she, may have. I feel like they are hands on when needed and such a beneficial part of the learning experience.
How did Penn Foster hold up to your expectations?
Paula: They are amazing. I almost enrolled her into two different schools until my friend reached out to me. Her son has Asperger's, and he has exceeded so well with your education that he is a sophomore in college now!
Why would you recommend Penn Foster to other parents?
Paula: The self-paced learning, the curriculum, the ease that the child understands, and actually GETS it, is amazing. She is so happy, and it has brought out such a difference in her.
What's your favorite thing about being the parent of a Penn Foster student?
Paula: Her happiness is truly the most important.
How did Penn Foster help Madison succeed?
Paula: She feels like she is accomplishing so much in such a small amount of time, she wants to hold back and graduate a year later. She is the youngest junior, not turning 17 until September, and she really feels like she has missed out on a lot because of COVID and missing an entire show year. With the help of the self-paced program of Penn Foster, she may never want to leave it!
What's Madison's plans after graduation?
Paula: Madison wants to go to Lubbock Christian University where she can focus on agricultural management and teaching in an agricultural environment, such as a county extension agent. She is truly excited with this experience and hopes to gain more from it.
Learn more about self-paced high school.
Penn Foster High School program offers a self-paced, online way for your student to learn. Learn more about how to transfer to an online school, or contact one of our helpful admissions specialists at 1-800-275-4410 to get started.