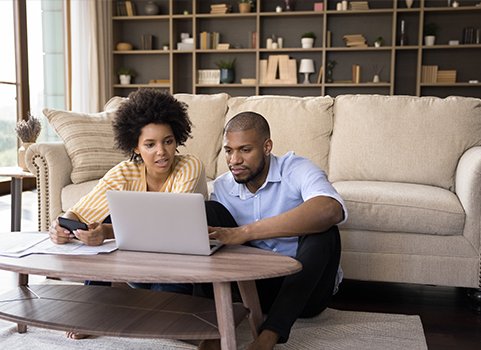 High School
Online Learning
How to Transfer to an Online School
Whether you're looking to finish high school or college, odds are you know that no two learners are exactly alike, including you. Penn Foster offers courses that are completely self-paced and online so you can learn when and where it works best for you. If you're ready to transfer from a traditional public school to an online school, you might be wondering how difficult it is and what exactly you have to do to make the switch. Penn Foster can get you started with some helpful tips.
Whether you're looking to finish high school as a teenager or go back to high school as an adult, odds are you know that no two learners are exactly alike, including you. The set schedules and firm due dates that come with traditional, in-person learning may not work towards your strengths or lifestyle, making you wonder if you should transfer to an online school.
Online courses allow you to study at your own pace and on your own schedule. This flexibility can work well for students who work, have chronic illnesses, are military children, those who choose to work ahead and finish school more quickly, or those who need a little more time. It's also a good option for students who prefer to focus on one subject at a time instead of juggling multiple courses at once.
Check out the tips below to learn how you can transfer to online school so you can tailor your education to work specifically for you.
1. Research what you need to transfer schools
The idea of switching schools can be intimidating, but it doesn't need to be complicated. There are a few important steps you'll want to take before making the leap.
Learn your state requirements. Each state has different educational requirements regardless of what level of education you're pursuing. You must check with the Board of Education to find out what your home state's specific laws are regarding classes, credits, transfers, and enrollments.
Find out the admissions requirements. First things first, you need to know what the rules are with regard to transferring. Penn Foster offers High School, Career, and College programs, so the requirements are different depending on which program you'd like to enter.

For high school, you must be at least age 13 and have completed eighth grade. If you're over the age of 18, you still must have completed eighth grade. There is no upper age limit to enroll!
If you choose the career school, you again must have completed eighth grade. While students aged 17 are accepted, some states require a minimum age of 18 for enrollment in career programs. Additionally, a GED or high school diploma is needed for some programs.
Those pursuing a college degree must be at least 17 and have earned a GED, high school diploma, or High School Equivalency program to enroll. Specific programs also have prerequisites that need completion prior to enrollment.

Choose a program. If you're entering a career or college degree program, there are various fields from which to choose as well as different tracks including certificates, career diplomas, associate, and bachelor's degrees. Your choice will depend on your career and educational goals. In addition to a high school diploma, career-minded students may also choose the High School Diploma with Career Pathway track to get a jump start on real-world job skills.
Enroll at Penn Foster. Enrolling in a course or program at Penn Foster is an easy process. Just fill out the online enrollment and payment forms or call us at 1-800-230-7206. Since classes are online and self-paced, there's no enrollment deadline, so you don't have to worry about missing your chance and having to wait for any reason.
Unenroll from your current school. Whether you're in high school or college, you'll need to unenroll from the school you currently attend. This is another step that can vary from state to state, school district to school district, or college to college, so it's important to get in touch with the right offices to answer any questions you have and get the paperwork started.
Get your transcripts. One of the most important steps in the transfer process is to obtain your academic transcripts. You've already worked hard and you shouldn't lose that, so financial and academic credit is offered on any credits that are transferable. You can transfer up to 15 credits for high school and 75 percent of required credits for college.
2. Get credit for work you've already done
The process for transferring high school credits is fairly easy, though there are still accreditation requirements to be met. Thankfully, Penn Foster has evaluators who will ensure which classes you'll receive credit for based on your transcripts. College programs, however, have a little more detail involved. You will need to have attended a school that corresponds to Penn Foster's standards as well coursework eligibility. For each course you've taken, you must have received a minimum grade of C to qualify for credit. Contact your college or university's registrar's office to email an official electronic transcript or mail an official copy to Penn Foster College.
Keep in mind that even if you've completed a number of courses, it doesn't necessarily guarantee your credits will transfer to Penn Foster. There are minimum grades required to receive credit as well as specific academic standards that must be met. In addition to grades, you must be transferring from an accredited institution to ensure educational standards have been met. To further explore what's needed to transfer your credits, check out our Guide to Transfer Credits at Penn Foster.
3. Start preparing
Regardless of whether you're starting online high school or online college, all of Penn Foster's programs are self-paced, meaning you build your own schedule. Working at your pace is a great way to make the most of your studies but requires a lot of discipline (here's how to stay motivated in online school).
Prepare for your start by figuring out what type of learner you are. Do you work better in mornings or evenings? Do you prefer working in long stretches or smaller, more frequent periods? Once you establish this, set a daily routine for yourself to keep on track. It also helps to set a designated workspace, so you can keep your schoolwork separate and organized from everything else. Importantly, know that you're not alone on this journey.
You can also learn more about how to prepare for college while you're in high school and how to apply for college after high school.
The Student Community is a great way to meet other Penn Foster students to gain advice, share experiences, or just connect with your peers.
Make the switch with Penn Foster
If you want to make the leap and study affordably, online, and at your own pace, Penn Foster is here to get you started. Whether you want to enroll in high school or college, our admissions team is ready to help. Call 1-800-427-6500 to get started.