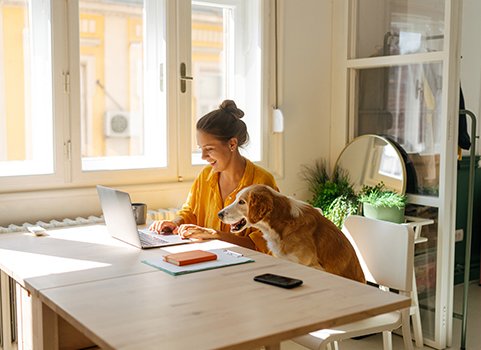 Career Advice
How to Decide What Skills You Need for the Job You Want
If you know what job you want or at least what field you want to go into, how do you decide what skills you need to get an entry-level position? Do you need to earn a college degree, or can you learn what you need to know through other types of training programs?
Today, not every job may require a four-year college degree, but almost all of them require that you have certain skills to qualify for the role. Even for those jobs that don't necessarily require you to be a master of the needed skills when you apply, you still need something to help your resume stand out from the crowd, showing that you have some interest and experience in what you'll be doing.
If you know what job you want or at least what field you want to go into, how do you decide what skills you need to get an entry-level position? Do you need to earn a college degree, or can you learn what you need to know through other types of training programs?
How to decide what credential you actually need
Sometimes, it can be hard to know exactly what requirements you need to meet to qualify for the career you want. Here's what you can do to find out if you need to pursue a specific educational or training path to reach your goals.
Look up current job posts. One of the easiest ways to know if you need a degree or other education is to read current job posts for the role you want. What skills does the job description emphasize? What, if any, education requirements do they list? If the majority of posts you read list a particular degree, certification, or license, then that's something you'll want to look into. If most job posts you're interested in ask for specific skills, make note of those.
Do research. Some jobs that, in the past, required a degree may no longer do so. As more and more companies move away from degree requirements to a focus on relevant industry skills, there are a lot of opportunities to build the career you want. However, despite not requiring a degree, their job posts may still list it in open positions. That doesn't mean you shouldn't apply! If you can't exactly meet the degree requirement, find ways to highlight your relevant skills in your resume and cover letter. Use your cover letter to explain how your skills and experience qualify you for the role.
Develop the skills you need. You've done your research and know what you need to do to get the job you want. The next step is to develop the skills you'll need to get your foot in the door and complete your day-to-day tasks. If you don't need a degree, you may be unsure of what, exactly, you should do to prepare. While it can depend on the career, there are a few different paths you can take to learning new skills!
Read more:
10 Jobs You Can Get With an Online Degree
How to gain the skills you need for the career you want without on-the-job experience
Learning the right skills for a job you want might not always take a traditional route. After all, if the job you're hoping for doesn't require a college degree or technical school, why would you spend the money to earn something that won't be helpful to your goals? Instead, building skills through certificate programs, certifications, and shorter career diplomas could be the best bet for you. But what kind of skills should you focus on? There are two main types employers are looking for.
Soft skills. Soft skills include things like being able to work well with others, being adaptable, and how to be a leader. Almost every job requires soft skills, so look for things in job descriptions like customer service, communication, and the ability to work independently. Being able to be an effective part of a team can help you stand out during training and quickly get up to speed on the responsibilities of your new job. Soft skills can be learned on the job and in real life, the key is knowing how to identify the ones you're strongest at and work on the ones you're not – and then highlight them to prospective employers.
Hard skills. Hard skills are the skills you need for the actual job you're doing. That could be understanding how to install pipes as a plumber or how to take a patient's vitals as a medical assistant. These skills are what you'd learn in a program designed to prepare you for a job in the field.
Learning the hard skills you need for the job you want doesn't have to be a long process. Whether you're looking to enter the medical field, become a veterinary technician, start your own business, finish your high school diploma, or work in a skilled trade, you can build skills online, at your own pace. Penn Foster's flexible programs allow you to reach your goals your way – while helping you take the next steps toward being career ready. Through interactive simulations, up-to-date content, and more, you'll be able to apply what you learn to real-world job responsibilities.
Read more:
Dental Assistant vs Dental Hygienist (Which is Right for You?)
Start gaining skills with Penn Foster
Whether you want to learn new skills or refresh your current knowledge, Penn Foster's online programs allow you to learn from home, on your schedule. Take the first steps toward preparing for the career you want today by speaking with one of our admissions team at 1-888-427-6500!