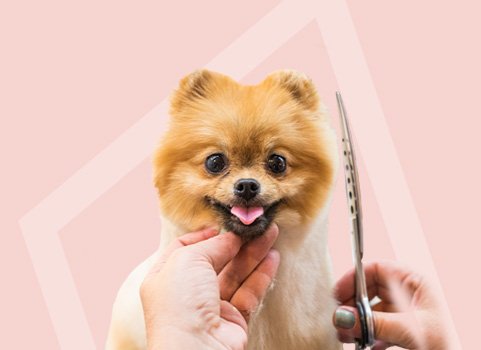 Veterinary
Start Your Own Mobile or In-Home Pet Grooming Side Hustle or Business (Guide)
If working with animals is your dream and you want to be your own boss, becoming a dog groomer could be a great fit. In this blog, learn more about dog groomer salary, how to start a business, and more.
If you want to be your own boss and love working with animals, becoming a pet and dog groomer could be the perfect career for you. Learn more about how to become a pet groomer, starting your own in-home or mobile dog grooming business, the steps you need to take to work toward success, and whether or not starting a business is the right move for you.
What are the pros and cons of starting a dog grooming business?
When you're thinking of starting your own dog grooming business, you want to make sure you're confident that it's the right choice for you. Like any job, there are pros and cons to starting your own business you should consider before investing your time and money into the next steps.
Pros of starting a dog grooming business
The pros of starting your own dog grooming business include
Being your own boss. When you own your own dog grooming business, you're the boss. You get to decide when you work, how much you charge, and what your workday is like.
Doing something you love. As a pet groomer, you'll work with a variety of cute animals.
Lots of variety. This is especially true if you decide to have a mobile dog grooming business. Your days will often involve seeing different clients and completing different tasks, so no two days are really every exactly the same.
Having a hand in every aspect of business. As a business owner, you don't just make decisions, you also get to be involved in every aspect of owning a dog grooming business from hiring to marketing.
Cons of starting a dog grooming business
The cons of starting your own dog grooming business include
The cost of starting a business. Startup costs can be expensive. That's true for any business. You'll need to consider expenses like rent or mortgage if you own the building you're working from (or for your vehicle if you go the mobile route), insurance costs, marketing costs, supplies, payroll for employees, and more.
Being your own boss. Being the boss isn't for everyone. As the one in charge, whether you hire employees or work alone, you're responsible for every decision, win, and loss involved with your business.
Dealing with difficult clients and pets. Dogs are cute! But not every dog is easy to work with. And their pet parents can be even more demanding. You may often find yourself working with tough-to-handle pups and the customer service aspect of dog grooming can be stressful.
How much do dog groomers make? 
The average salary for a dog groomer is around $36,701 per year for groomers who work for salons, veterinary clinics, or pet stores. For those who decide to start their own business or start a mobile dog grooming service, the salary can vary widely depending on several factors, including how much you charge clients. On average, self-employed dog groomers can make up to $61,620 per year. Income for dog groomers who own their own businesses, however, can range anywhere from $15,000 to $100,000.
How much you charge for your services can really depend on what you offer clients, including the skills and experience you bring to the table. When you're starting your own business, you'll also want to get an idea of what competitors charge in your area so you can set reasonable, competitive prices.
How profitable is a dog grooming business? 
Dog grooming can be very profitable, but how profitable can depend on the decisions you make and other factors that may be out of your control. It can also take years of dedication and hard work before you see a real profit from your business. Remember, there are startup costs involved, as well as getting out word that you exist. It may take time to build up a client base and earn back what you put into the beginning of your business.
Things to consider to make sure you start off on the right foot and increase your chances of profitability include
Your standard fees. Dog grooming can cost anywhere from $40-100. You'll want to make sure you price your services based on the size of the dog, the work that needs to go into grooming it, and the length of time it will take to complete the service. You should also look at the average prices of other dog groomers in your area, research their services and experience, and price what you offer accordingly. You don't want to charge less than your work deserves just to pull in customers, but you also don't want to overcharge and drive them away. Also consider adding in "extras" that customers can purchase when having their pets groomed, such as seasonal and custom photos that can be taken after grooming, specialty shampoos and styles, and more.
Investing in marketing. Whether you decide to start a mobile dog grooming business or a stationery one, one of the most important things to your success is making sure that the customers who would use your services know you exist. That means investing time and money into marketing your business. That could be as simple as creating and maintaining a presence on social media platforms, purchasing some targeted social media ads, and advertising in your local paper. If you have more funds and want to be more aggressive about marketing when you start out, you can also consider doing radio and television commercials. Don't forget that word of mouth is also a great form of advertising. The happier your clients are, the more likely they are to recommend you to their friends and family.
Putting in a ton of time and work. As a new business owner, you'll need to put in a lot of time and hard work to get your dog grooming business going. But the hard work doesn't stop after your grand opening – especially if you want to make your business your full-time job. You'll likely need to put in long hours, continuously work on promoting your business and seeking new clients, and constantly work to improve your skills.
Can pet grooming be a side hustle?
Yes, pet grooming can be a great side hustle for those who don't want to make it their full-time career. Keep in mind that there may still be startup costs associated with starting even a part-time business, but dog and pet grooming as a side job can be a good way to do something you're passionate about and earn a little extra money.
Being a mobile dog groomer could be the best fit if you're looking to do the job part-time; why invest in renting a storefront or facility if you don't need to? As a mobile groomer, you'll take your services to the client – often visiting them in their homes. Because you're going to them, you can potentially also charge more for your services since it's a convenience you're offering your customers.
Do you need to be certified to be a dog groomer?
No, certification isn't required to be a dog groomer. However – especially if you're starting your own dog grooming business – being certified can help you attract more clients and potentially earn more money. Certification shows that your skills meet certain standards and can act as proof to new customers that you know what you're doing!
You also don't need to be licensed to work as a pet groomer. You will need a business license, though, if you plan on owning your own dog grooming service. Generally, you can apply for a license through your state or local government website.
You'll also need professional liability insurance to protect yourself and your business. While you never intend accidents to happen, you want to make sure you're protected in case a pet you're grooming gets hurt or ill during the appointment.
Read more: How to Become a Pet Groomer
What is the best dog grooming qualification?
One of the most recognized dog grooming qualifications is certification from the National Dog Groomers Association of America (NDGAA). To earn certification, you'll take a written exam and need to demonstrate practical grooming skills. Once you've passed, you can call yourself a Certified Master Groomer. Having this credential can give your clients confidence in your work and even attract new clients to your business.
Besides the NDGAA certification, you could also pursue other credentials to add to your resume, such as certifications from the American Kennel Club. The AKC has strict guidelines for proper grooming of pedigreed dogs, so having AKC grooming certification can allow you to appeal to clients who are willing to spend more to have their purebred dogs looking their best!
It could also be helpful – and provide peace of mind for anxious clients – to have animal CPR certification.
10 steps to starting a mobile or in-home pet grooming business
So, you've considered the risks and rewards, pros and cons, of starting your own mobile or in-home pet grooming business and you're ready to get started. Where do you begin?
1. Learn how to groom dogs
If you want to start your own mobile dog grooming business, you need to know how to groom! Before you even start researching your competition or adding supplies to your shopping cart, look into a trusted program that can teach you the basics. With a school like Penn Foster, you can
learn pet grooming online
through our Pet Grooming Certificate Program! You won't have to leave your current job or family responsibilities behind while you prepare for the future you want since your grooming classes are all self-paced and can be done around your schedule.
2. Get certified
While certification isn't required, it can help you stand out as a groomer and build confidence in your skills.
3. Create a business plan
Starting any business requires a plan! You want to make sure you're prepared and have everything you need to start off on the right foot and build a successful business. For a mobile pet grooming business, that means understanding the need for groomers in your area, the insurance and licenses you may need, what kind of vehicle you'll need, and more.
4. Research groomers in your area
What do other groomers offer in your area? What makes you stand out as a business? By researching other groomers where you intend to open your business, you can get a sense of what you can do better and whether there's a need for more grooming services. You can also start to figure out how much you'll charge for your work based on the average prices other groomers in your local area charge.
5. Determine what startup supplies you need and the cost
Starting a mobile pet grooming business will take some money. You'll need to invest in supplies, like shampoos, shears, nail clippers, and even a van if you plan to do grooming out of your vehicle. You'll also need to know how much you'll need to spend on insurance and maintaining a business license.
6. Come up with a creative name and business branding
One of the most fun parts of starting your own business is coming up with the name! You'll want something that tells customers what services you offer, while also being creative and allows you to stand out from your competition. When naming your business, you'll want to think about what services you plan to offer, what kind of brand you want to be (Fun? Serious and professional? Upscale?), and anything you offer that other groomers may not.
Simple names can work well, so if you don't want to waste time thinking up catchy names, go with something like The Best Grooming Service or Quality Dog Grooming. If you want to have more fun with it, you can do that too! Many dog grooming businesses have names that play on the services they provide like Bubbles N Barks, Happy Tails, or include punny references to "pets," "fur," and "paws."
This is YOUR business, so take your time to find the name that makes you happy! But remember, before officially deciding on a name, you'll want to make sure that there aren't any businesses in your area already using it. Besides legal concerns, sharing a name with another pet grooming service in your area could be confusing for potential customers and negatively impact your business.
7. Apply for any business licenses and insurance you need
Before you can open for business, you'll need to have a business license or permit. Most of the time, you can apply for a license directly through your state or local government's website.
8. Market your business
The key to getting customers is to let customers know you exist! Even before you open your business, it's a good idea to start marketing it. Make a Facebook page and professional Instagram. Reach out to Google to get your business listed as a local groomer. And don't forget to let your friends and family know to spread the word you'll be opening soon.
Once you do open, you'll want to keep customers and potential clients aware of what you offer by posting regularly, sharing examples of your work, and sharing reviews you get from satisfied clients.
9. Volunteer your services
When you're a new business, it also helps to get your name out there by being part of your community. Volunteering your services for local events can help with that and it also allows you to build connections with potential clients.
10. Get started and keeping working to build your business
Once you start your mobile dog grooming business, the hard work is only beginning. To make sure you become successful, it's important to keep working to build your brand and your reputation. That means regular posts on social media, continuously looking to improve your skills, and offering the best service you possibly can to your clients.
Be your own boss as a pet groomer with Penn Foster
Ready to get started? You can learn how to become a pet groomer on your schedule with Penn Foster's online Pet Grooming Certificate. You'll learn about different breeds of dogs and grooming styles, how to work with animals like cats, and business practices that can allow you to take the first steps toward being your own boss! To learn more about the program or get started today, reach out to our expert Admissions Specialists at 1-888-427-6500!