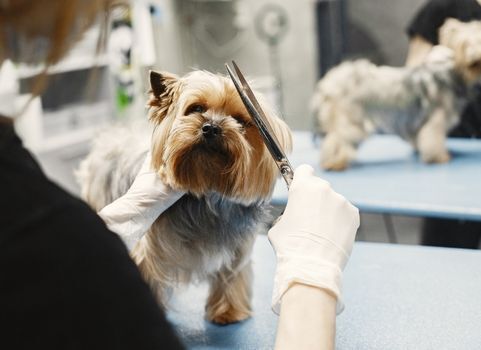 Veterinary
How To Become A Pet Groomer
Pet groomers offer an essential service to pet owners, keeping their furry friends well-groomed and healthy. If you're interested in a career in the field, here's what you should know about becoming a pet groomer.
Pet groomers offer an essential service to pet owners, keeping their furry friends well-groomed and healthy. They work with dogs and cats, generally in vet clinics, kennels, pet stores, and professional grooming salons. If you're interested in a career in the field, here's what you should know about becoming a pet groomer.
What does a pet groomer do?
Pet groomers work with clients to make sure that their pet looks and feels good! They are responsible for bathing pets, clipping their nails, and cutting or trimming their fur. While most groomers generally work with dogs, some also provide services for cats as well.
Common pet groomer duties include
Bathing, conditioning, and trimming pets' fur
Trimming nails
Brushing teeth
Cleaning ears
Cutting and styling fur according to owner's preference
What skills are needed to be a pet groomer?
To be a successful pet groomer, you'll need to have a certain set of skills and knowledge. As a groomer, you should
Have basic knowledge of dog breeds and their various coats
Know some common haircut styles, and to which breeds the style is best suited
Grooming skills such as carding, stripping, and thinning fur
Basic animal CPR and first aid skills
Understand animal behavior in order to keep pets calm and safe during grooming
Be able to use customer service skills to work with a variety of clients
Be patient and able to handle difficult pets and situations
The work can be physically demanding, including lifting and sometimes restraining larger dog breeds. Because it can be so demanding, it is important that you love animals and love what you do in order to set yourself up for success in the field.
Do you need a license to be a pet groomer?
Generally, pet groomers do not need to be licensed or certified to work in most states and formal education isn't necessarily required to get a grooming job. With that being said, many employers do prefer to hire groomers who have experience or relevant training, so having a diploma or becoming a certified pet groomer can help you stand out when you're applying for jobs.
Read more: Top 11 In Demand Jobs in Business, Creative, and Tech Fields
What pets do groomers work with?
Groomers can work with a variety of animals, but they most commonly work with dogs. Dogs need grooming and coat maintenance to be happy and healthy. Regular grooming prevents fur from becoming knotted and matted and helps fend off potential skin irritation that can lead to bigger health issues if left untreated.
Skilled pet groomers can also work with cats, but this is less common. Cats are naturally inclined to keep themselves neat and clean, so there is less need for regular, professional grooming services. However, cats with longer coats require brushing and grooming to prevent matting and painful knots. That's where a cat groomer comes in!
Cat groomers need to have most of the same skills as a dog groomer, but they also need to have a strong understanding of feline temperament and breeds. Cats can be much more difficult clients, so knowing how to handle an angry or scared cat will be essential to success as a groomer.
Is becoming a dog groomer a good career?
Dog grooming can be a great career, especially if you love working with animals. It's also a job that is expected to be in demand over the next decade, with the Bureau of Labor Statistics predicting a 29% increase in the need for animal service workers by 2031. With more people than ever adopting pets – about 70% of Americans now own at least one - and pet owners more devoted to their furry friends' well-being, there are plenty of opportunities for skilled groomers to start a rewarding career!
Dog groomer salary
The salary for dog groomers can vary widely, depending on several factors, with the average groomer salary ranging from $28,500-$47,000 per year. How much you earn as a pet groomer can depend on where you work, your experience, and your level of skill.
Where you can work as a groomer
Groomers can work in a few different settings, giving you several options for where you'd like to start your career. You can find dog groomer jobs in places such as
Pet grooming salons
Pet stores
Kennels
Veterinary offices
Mobile pet grooming services
Pet groomers can also choose to start their own business, which is a great choice for those who prefer to work independently!
How to become a pet groomer
While formal training and education isn't necessarily a requirement to become a pet groomer, it can absolutely help you qualify for more jobs and stand out against other applicants who don't have training or experience. The typical steps to become a pet groomer include
Complete a training program. A good pet groomer training program should help you build fundamental skills that you'll need on the job, including knowledge on different breeds of dogs and cats, animal behavior, and standard grooming techniques.
Get on-the-job training. After finishing your pet grooming classes, you'll want to further develop your skills through training on the job. You can start with an entry-level grooming job and go from there.
Pursue certification or continuing education opportunities. To grow in your career as a pet groomer, pursuing industry certification or looking for opportunities to learn more can help. Certification isn't necessary to start a job in the field, but it can definitely be helpful when you're planning on advancing your career!
Learn about pet grooming online
You don't have to attend in-person classes that clash with your busy schedule to become a pet groomer. With an online Pet Groomer Training Program like the certificate offered by Penn Foster, you can learn about pet grooming techniques, various breeds, animal behavior, and more – all at your own pace, from home. To learn more about becoming a pet groomer, reach out to our dedicated Admissions Specialists at 1-888-427-6500!