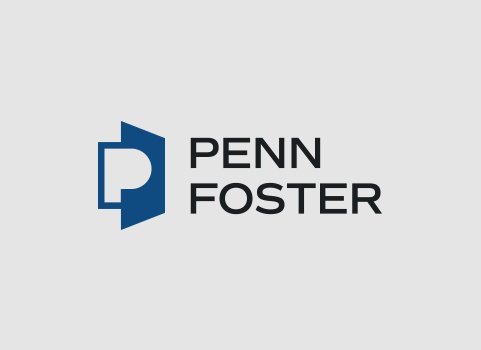 High School Pathways
High School
Jump-Start Your Future With High School Career Pathways
No one's life path is the same. Your High School experience should be unique just like you! Learn more about HS pathways that can help you get excited about school and ready for your next step after graduation.
Start Working Toward a Career While in High School
You're unique, your path through high school should be too! If you already know what career you want, there's no need to wait until you graduate to start learning essential skills. With Penn Foster Career Pathways you can work toward the career of your dreams while you earn your high school diploma.
You'll take some regular high school classes complemented by courses focused on your career of choice. In most cases your career-focused credits transfer directly into one of our Career School or College programs. So earning your high school degree is just the beginning!
Penn Foster offers nine different career-focused degree pathways plus an Early College pathway for students who want to be as prepared as possible for college. Here's a quick introduction to the career pathways you can choose from:
Pharmacy Technician - Over the next few years, demand for pharmacy technician jobs is expected to grow faster than most other jobs in the United States. Get a jumpstart on this great career with the Pharmacy Technician Career Pathway. You'll work toward your high school diploma while also building skills that pharmacy technicians need. Learn the basics of pharmacy practice, body systems, and drug basics. Practice pharmaceutical calculations and understand how the law affects healthcare practitioners. Even better, some of your electives for your high school diploma may be transferable to the Penn Foster Pharmacy Technician Career Diploma program.
Healthcare - The healthcare industry is projected to grow over 20% by 2014. Get started on a career in this growing field while you earn your high school diploma online. You'll learn about ethics and confidentiality, body systems, and basic pharmacology. Plus your electives are transferable to a Penn Foster career diploma program in Medical Administrative Assisting, Medical Transcription, or Medical Billing and Coding.
Automotive - If you love cars, this might be the career pathway for you. Take the first steps toward working in the automotive repair industry while you earn your high school diploma. You'll learn about what it takes to be an automotive repair technician including the parts of an engine, safety procedures, and how to use equipment. Understand basic electrical concepts, principles and functions of HVAC systems, and computerized gasoline-engine controls. When you're done, your credits are transferable to the Penn Foster Automotive Repair Technician Career Diploma Program.
Carpentry - Whether you want to build houses or one day pursue a structural engineering degree, the carpentry pathway can give you an introduction to essential skills. Get a head start on the basics of the carpentry industry while earning your high school diploma. You'll learn practical applications of math in carpentry, how to interpret construction drawings and understand building codes, and the principles of framing and exterior construction. You'll also get an inside look at common tools and materials. Your electives also transfer to Penn Foster's Carpenter Career Diploma Program.
Plumbing - Get ready for a career that keeps things flowing with the Plumbing Career Pathway. Learn about safe working habits, tools and residential plumbing systems. Understand the math you need, how to design plumbing systems, and the work plumbers can do on heating, ventilation, and air-conditioning systems. When you're done, your electives can transfer to Penn Foster's Plumber Career Diploma Program.
Electrical - Keep the lights on with the Electrical Career pathway. Learn best practices, electrical components and essential elements of the National Electrical Code. You'll also get an inside look at heating and climate control systems and understand how to interpret blueprints and schematics. Your electrical electives can transfer the the Residential Electrician Career Diploma and help put you on the path to becoming an electrician's helper in your state.
Child Care Professional - If you love taking care of kids, the Child Care Professional Career Pathway might be right for you. Learn how environment and biology influence kids and understand how to keep them safe and healthy while they're under your care. You'll also start to build an understanding of the child care workplace by learning observation techniques to assess children, how to plan developmentally appropriate activities, and effective management strategies in a child care setting. When you're done, the credits you've earned can transfer to the Penn Foster Child Care Professional Career Diploma Program.
Culinary Arts - Cook up some job skills with the Culinary Arts Professional Career Pathway. This program will equip you with the basic skills to do great things in the kitchen. Explore a career as a chef while learning the basics of the culinary industry. You'll learn how to cook meets, soups, shellfish and more. You'll also try your hand at different preparation techniques. When you're ready to take your cooking to the next level, your credits can transfer to Penn Foster Career School's Catering program.
Information Technology - Learn Microsoft Office Suite and build an understanding of basic computer programming and logic principles. From there, you'll learn about HTML - the basic building block of the internet and database technologies that help keep everything organized. Your elective credits can transfer to the Associate Degree in Computer Information Systems program at Penn Foster College or to a Technology Career Diploma program at Penn Foster Career School.
Early College - If you know that college is going to be part of your journey, why wait until you finish your diploma to get started? Earn early college electives that help you prepare for the demands of college courses. Your early college electives are evaluated by ACE, an organization that more than 2,000 schools recognize as an authority on whether credits should transfer to their degree programs. Learn essential computer applications, English composition, foundational skills in math, and the essentials of psychology and economics. Penn Foster College is licensed in Arizona.
Whatever career pathway you choose, you'll be making the most of your high school education. There's no need to wait until you graduate to get started on your dream career. Put yourself on the right path today. Contact Penn Foster to learn how you can earn your high school diploma online while exploring the career you've always wanted.