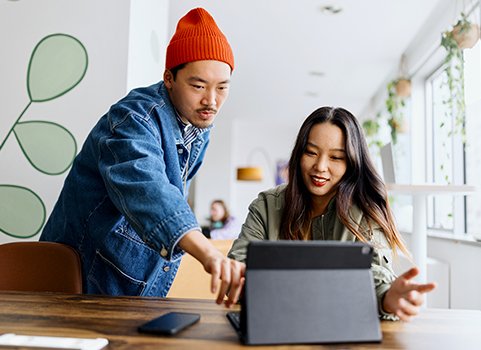 High School
High School Pathways
What Is the High School Diploma with Career Pathways?
Penn Foster's High School Diploma with Career Pathways allow you to complete your diploma while preparing for a career or further education. Learn what a career pathway curriculum looks like, how it works, and which pathway is right for you.
Penn Foster's High School Diploma with Career Pathways combine standard subjects like English and American History with job-specific elective courses to equal your required 21.5 credits. This allows adults going back to high school and traditional learners to complete their diploma while preparing to take the next steps toward a career they're interested in or toward furthering their education post graduation. But what exactly does a career pathway curriculum look like, how does it work, and which pathway is the best fit for you?
Explore your career pathway options
Part of the high school journey is figuring out what you want to do after graduation. If you have many interests, it may be hard to pin down exactly what you see yourself doing. With online career pathway electives, however, you can start exploring and preparing for life after graduation while finishing your high school diploma. Your pathway options include
Early College Pathway. The early college pathway is focused on helping you prepare for college with academically challenging electives. You'll choose five electives from courses like English Composition, Essentials of Psychology, and Economics.
Healthcare Pathway. The healthcare career pathway option can help you prepare to work toward a career in many in-demand healthcare roles, like medical billing and coding. Your elective classes will include Office Procedures, Basic Pharmacology, and Body Systems Terminology.
Information Technology Pathway. Penn Foster's IT career pathway can give you a head start on learning the basic knowledge to prepare you for a rewarding career in information technology. You'll take electives like Advanced PC Applications and HTML Coding.
Veterinary Assistant Pathway. If you love animals and want to make a difference in their lives, the veterinary assistant career pathway diploma can help you take the first steps toward a career helping pets.
There are a total of 12 different pathways you can choose from in industries like skilled trades, childcare, and more.
How Penn Foster's career pathways work
Our self-paced, online high school diploma is regionally and nationally accredited and students are required to earn a total of 21.5 credits to graduate. 16.5 of those credits come from standard courses like English, math, history, and science, while the last five credits are earned through electives. With Penn Foster's general high school diploma, students can choose from a variety of available electives—usually a mix of classes that suit their interest or graduation goals. The career pathways option is very similar, with one big difference: what electives you'll take!
To help you explore an in-demand field you might be interested in, your five electives will be classes focused on building foundational knowledge in that industry. For example, with the healthcare pathway, you'll take five electives that will be relevant to a career as a medical biller and coder, medical administrative assistant, and more. Each career pathway program has a set five elective classes to help you prepare for that specific industry.
Bonus: after successfully completing all your courses and graduating, your electives can possibly transfer to a Penn Foster career or college program, giving you a head start on earning a career diploma or degree.
Choosing the best career pathway for you
With a few different options, it can be hard to narrow down what you really are interested in pursuing. Use these questions to help you decide what the best career pathway program is for your goals!
Do you like helping others? The pharmacy technician, healthcare, childcare, or veterinary assistant pathways could be your best bet.
Do you like working with your hands? The automotive, carpentry, electrical, or plumbing pathways could be a great fit!
Do you like working with computers and technology? Sounds like the information technology pathway could spark your interest.
Do you want to begin a culinary career? There's a pathway for that!
Do you want to prepare for college? The early college pathway offers classes that can challenge you and get you ready to crush college level studies in the future.
Whether you just want to try on a career or know exactly what you want to do after graduating, the career pathways offer a flexible option to learn some industry basics while finishing your diploma.
Prepare for your future today with Penn Foster
Penn Foster's online high school is a self-paced, regionally and nationally accredited program that allows learners of all ages to finish their diploma. Take the next steps toward your future—whatever that may be—today by talking with our expert Admissions team at 1-888-427-6500!