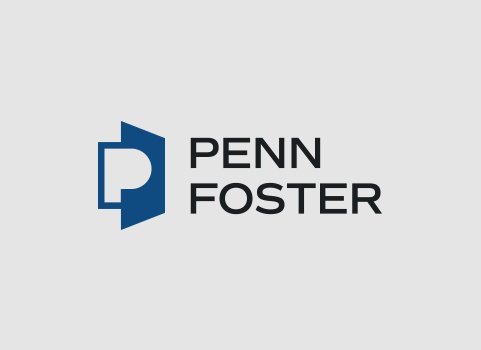 Penn Foster FAQs
How Does Penn Foster Work?
Online classes seem like the best option for you to reach your goals while still living your life, taking care of work and family responsibilities. You've never done an online course before though, and you're worried about what it's like to study outside a traditional school setting. Here's how enrolling and studying with Penn Foster works.
What you need to know about Penn Foster.
You're interested in finishing or furthering your education because you have goals you want to accomplish. Whether that's completing your education for personal satisfaction or because you want to change careers or move ahead in your current one, you know a traditional school won't meet your needs. Online courses seem like the most flexible option, but how exactly does a school like Penn Foster work? Here's what you need to know.
How do you enroll at Penn Foster?
Enrolling in school usually involves an application process, right? You fill out the application, attach important documents, and wait to hear whether or not the school will accept you. At Penn Foster, depending on the program you're interested in and as long as you meet age requirements or prerequisites, you can start high school or your career or college program the same day you enroll. Two ways to get started:
Enroll online. Know what you want to do and anxious to get going? You can enroll online 24/7 by simply filling out a form.

Enroll by phone. Want someone to guide you through the process and answer any questions you may have? Our Admissions Team can help you get set up and logged in 7 days a week by calling 1.888.427.6500! You can reach them Monday through Friday from 8 AM Eastern to 11PM Eastern, Saturday from 10 AM to 10PM, and Sunday from 10AM to 6PM.
Learn more: Are Online High Schools Legitimate?
Do you need to have official copies of your transcripts from previous schools to enroll?
Depending on what program you are enrolling in, you may need to send in transcripts from a previous school or proof you completed high school. In general, it works like this:
If you're enrolling in Penn Foster High School —
Whether you're currently in high school and interested in transferring to Penn Foster, or you're an adult student who wants to finish your education, you don't need to send in official transcripts to get started. However, if you do have transcripts, you should! Our online high school program is flexible and self-paced, so isn't broken down into "grades." All of your high school courses, from the 9th-grade level to the 12th, are available for you to complete around your schedule. Any classes you completed at a previous high school could possibly transfer. That means you don't have to retake a class you've already completed and you have even less to finish up to graduate. Whether you left high school a month ago or it's been twenty years, if your school has your official transcripts, they can be sent in for evaluation.
Again, those transcripts are in no way necessary to enroll but transferring over eligible classes can help save you time and possibly some money. You can ask our Admissions Team if you're eligible for a no-cost transcript evaluation.
If you're enrolling in Penn Foster Career School or Penn Foster College —
If you are enrolling in a program that requires you to have completed high school or your GED, you will be asked to fill out a form with information about your high school completion or when you passed the GED. You don't need to send in transcripts or paperwork from your school.
If you're taking a college degree program and have completed coursework at another college, you'll want to send your official transcripts in for an evaluation so you don't have to retake general education classes you've already successfully completed!
You've enrolled. Now what?
You're a Penn Foster student now! It's time to dig in and get studying. The first step? Logging in to your Student Portal for the first time.
Before jumping straight into taking your first exam, take time to get familiar with everything in the Portal. This will be your home base for your program, so you want to know it like the back of your hand. Understanding how everything works from the get-go can help you prepare to crush your studies and ace your exams! Here's where to get started:
When you log in for the first time, take a look at your information in the portal. Make sure your name is correct at the top of the page and that your student ID matches the ID you received in your welcome email.

Check out all the tabs in your portal. You should see tabs for your program, grades, billing information, forms, and help and support. Take a second to go to each section and get to know your space.

Program & Courses is where you'll find your lessons, access your exams, and more.

Grades is where you can look over the grades you've gotten for your exams and submitted assignments.

Billing & Payments is where you can control your flexible tuition options. If you're on a monthly payment plan, you can make your payments through here! You can also set up automatic payments if you didn't do so when enrolling.

Help & Support can assist you in finding answers to the questions students like you often ask! You can also send a message to your instructors if you can't find the answer you need.

Forms & Resources is where you can find any forms you might need to fill out for your program. Not all courses will have required documents, so if you don't see anything in this tab, don't stress!

Set your graduation goal. Your program is self-paced, so there are no deadlines to complete exams, but having a goal in mind can help you keep moving forward. In your Student Portal, you can decide how fast you want to complete your studies and the dates on your exams will be adjusted accordingly!

Check out the Penn Foster Student Portal tutorial and frequently asked questions for help and information on using your program home base.
Take your first exam!
Taking your first exam can feel exciting and stressful at the same time, but once you get that first one out of the way, you'll have a better idea of how Penn Foster works. The first exam you'll take is your Starting Your Program test. This is a short exam meant to help you understand your Student Portal even further, and get you used to how online exams work!
For college students, before you can jump into your degree, you'll have two skills exams you'll need to pass before getting to your first course. You'll complete a Basic Reading and Basic Math Assessment test to make sure you're all set for college-level classes. Once you get that out of the way, you can start studying with confidence.
Where to find help when you need it.
No matter how confident you are about the subject you're studying, once in a while, you'll run into something you just can't figure out. That's what your instructors are here for! If you get stuck on a lesson, assignment, or textbook chapter, you've got some resources you can turn to. Through your Student Portal, you can access
A digital library you can use for research and supplemental materials to help you study.

The Help Center where you can find answers to your most pressing questions, or send a message to your instructor if you need a hand.

Our Learning Resource Center that offers tips, tricks, and study help.
And if you need help with your account, don't forget that our Student Advocates are here to support you. You can give them a call Monday through Friday, from 9 AM to 6 PM Eastern at 1.888.427.1000.
Connect with classmates and alumni.
Online school doesn't have to be a lonely experience! When you're first starting out, having support and encouragement from other students going through the same thing can be helpful! On the Penn Foster Student Community, you can connect with students, alumni, and our Student Ambassadors to get inspired, share your experience, and more.
Don't forget to follow Penn Foster on social media, too. When you need some motivation, want to see other students' success stories, or just want to know what's happening with your school, Facebook, Twitter, Instagram, and Pinterest are where it's at. Besides stories, blogs, student shout outs, and school news, you can check out our bi-weekly Facebook Lives for advice, fun facts, and interesting information.
Take the first step toward reaching your goals.
You've enrolled in your program, explored your portal, passed your first exam, and networked with some classmates. Now it's time to focus and take the next step toward your goals: graduation and a new career. When you're working on your classes, remember what you're working for! You're motivated, determined, and ready to reach for success. We know you've got this and you can make your dreams a reality.