Go to HVAC School on Your Own Time
Gain skills to help you prepare for work as an HVACR Technician with Penn Foster College's online HVAC training. Learn when it works best for your schedule, study where you want, and at your own pace. Designed to help you prepare for HVAC Certification, our affordable training program also includes an EPA Certification preparatory manual, an EPA Certification test voucher, and exam registration.
The HVAC Industry Is Growing
With an average yearly salary of $48,730,¹ now is a great time to take the first steps toward a career as an HVACR Technician. Join the 80% of alumni who've seen their quality of life improve after graduating from our HVAC school and learn the foundational skills that can help you find success in an entry-level technician position. Our HVACR alumni have found rewarding positions at companies such as the Federal Aviation Administration, Electrolux, and Intel. Jobs you could pursue after graduation can include:
HVAC Technician
HVAC Installer
Refrigeration Mechanic
Refrigeration Transporter
Refrigeration Technician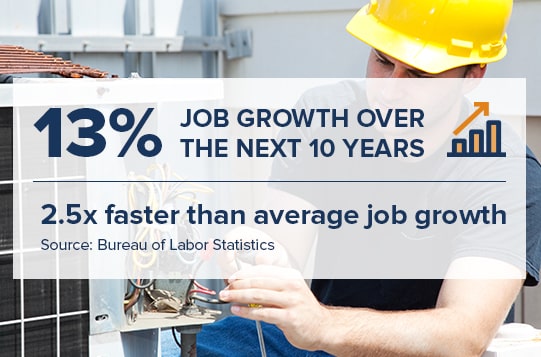 Why Choose Penn Foster College?

Start and Study When You Want
Learn at home or on the go through our custom-designed, mobile-friendly student portal, available 24/7.

A Committed Support System
While you can study at home, you're not alone! Our dedicated Student Services Department, Student Community, and instructors are just a call or email away.

Curriculum for Success
Get the skills, tools, and training you need to help you prepare for a career as an HVACR Technician.

Set Your Goals and Pace
Customize your study schedule with progress-tracking and goal-setting tools that keep you moving forward with your HVAC training.​

Proven Reputation
With 58,000 + graduates in 2019 from our accredited high school, career school, and college, you're in good hands!

Connect with Other Students
Connect in real-time with other HVAC students as part of the​ Penn Foster Community.
HVAC Classes
Our online HVAC training covers topics such as the nature of electricity, refrigeration systems, electrical systems, HVACR system design and installation, and more to help you succeed in the HVACR repair field. See this
sample lesson
for what to expect!
Tuition
With our flexible, affordable payment options, you can get started on your online HVAC Technician training today. EPA Certification preparatory manual, an EPA Certification test voucher, and exam registration are all included in the program cost.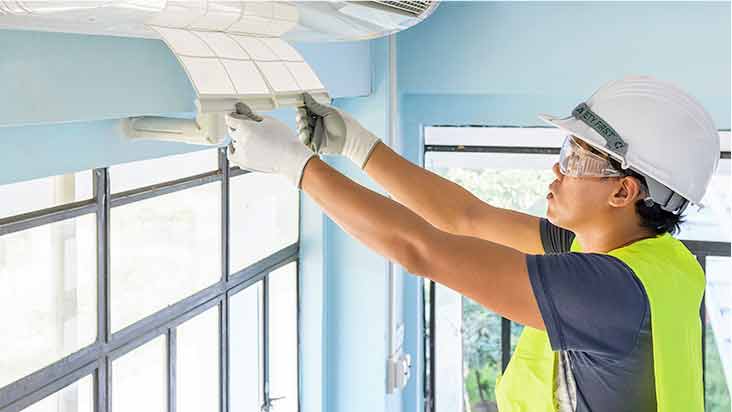 "The program is able to be done at your own pace and is broken out in a way that helps you understand the lessons."

Christopher P.
HVAC Graduate
Q. How much do HVAC Technicians make per hour?
A. Credentialed HVAC Technicians made an average of $22.89 per hour in 2018, or $47,610 per year.¹ Salary and hourly pay for technicians can vary based on experience, the state you live in, and your employer.
Q. Do you need a High School Diploma to become an HVAC Technician?
A. Yes. To work as an HVAC Technician, most employers require applicants to have successfully completed relevant education like a career training program and many – if not all – require licensing to handle refrigerants. To qualify for admission to a training program, online and traditional schools require either a high school diploma or high school equivalency exams.
Q. What is the job description of an HVAC Technician?
A. HVAC Technicians work on heating, ventilation, cooling, and refrigeration systems that control the temperature and air quality in buildings. Daily work can include installing, cleaning, and maintaining HVAC systems, inspecting and testing systems, and repairing worn devices. Technicians can find themselves working on both industrial and residential HVAC systems depending on their employer.
Q. Why become an HVAC Technician?
A. If you're looking for a career in a hands-on field that offers the opportunity to work on a variety of projects, becoming an HVAC Technician could be the job for you. Besides allowing you to use your technical and problem-solving skills, the demand for HVAC Technicians is projected to grow much faster than average over the next ten years, adding over 46,000 new jobs.