Earn Your Electronic Medical Records Certificate Online
If you're seeking to learn new job skills, refresh or refine existing healthcare knowledge, or prepare for industry certification, Penn Foster Career School's online Electronic Medical Records Certificate can help you take the first step. Boost your career confidence and refresh your resume from home, on your schedule in as little as 3 months!
Why Learn Electronic Medical Records Management Skills?
Records and Health Information Management careers are projected to see higher than average job growth through 2026.¹ Prepare to take the first steps toward a new career, or advance your current one, in a variety of healthcare settings with Penn Foster's self-paced, online certificate. At Penn Foster Career School, you can use current EMR systems and software to complete your education from wherever you are. Our EMR training program can also help you prepare to take the National Healthcareer Association CEHRS (Electronic Health Record Specialist Certification) exam!
Why Choose Penn Foster Career School?

Start and Study When You Want
Learn at home or on the go through our custom-designed, mobile-friendly student portal, available 24/7.

Dedicated Success Coaches
You're guided by Certified Instructors, Success Coaches, Teaching Assistants, and Student Support Staff - all working to help you succeed.

Curriculum for Success
Get the skills and knowledge you need to help you learn how to manage medical records in a healthcare setting.

Set Your Goals and Pace
Customize your study and exam schedule with progress-tracking and goal-setting tools that keep you moving forward.​

Proven Reputation
With 44,000 graduates in 2017 from our regionally and nationally accredited High School and Career School and nationally accredited College, you're in good hands!

Connect with Other Students
Connect in real-time with your peers in your career area in our discussion boards.
A Customized Learning Experience
With mobile-friendly² coursework, progress-tracking and goal-setting tools, virtual simulations, informative videos, and personal coaches to help you succeed, the Penn Foster Experience (PFx) is online learning like no other.
Electronic Medical Records Certificate Course Details
Penn Foster's online, flexible Electronic Medical Records course can help you learn to manage medical records in a healthcare setting. You'll cover an introduction to the health information industry, as well as building an electronic health record, the managerial features of the Simcharts for the Medical Office on Canvas LMS and more!
Tuition
With flexible, affordable payment options, you can get started on your Electronic Medical Records training online today.
I decided to take this program because I have been a nursing assistant for over 13+ years and I wanted to combine the knowledge of my computer skills and my medical knowledge to go further in my field.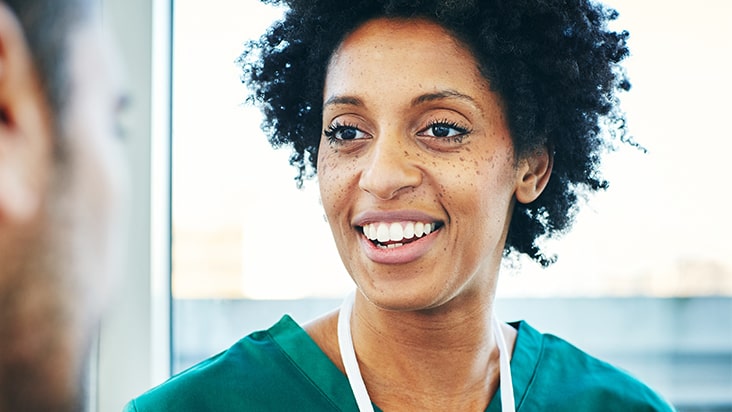 Ready To Enroll?
Get started today on your path toward career confidence and prepare to sit for industry-recognized certifications exams with Penn Foster Career School's online Electronic Medical Records Program.
Enroll Now
Hundreds of leading employers and workforce organizations partner with Penn Foster to attract, develop, and retain talent for today's in-demand middle skilled occupations.