Human Resources Management Essentials
Online Human Resources Certificate
If you are looking to refresh your current human resources knowledge or supplement your business skills and education with HR classes, our online Human Resources Management Essentials Certificate can help prepare you to take the next steps in your career. Through flexible online classes, you'll cover human resources essentials on your schedule, from home.
Our online Human Resources Certificate can prepare students who have relevant previous experience in business or human resources to refresh or refine their skills and knowledge in the field.
Online classes cover topics such as managerial decision-making, labor relations, employee benefits, and compensation management.
Our online programs are flexible enough for you to finish them at a pace that works for you, based on how much time you can dedicate to your coursework each week.
Cost of Program
$787
$997 Save $210
or
$49/month, Start for as low as $29
800-275-4410 (9AM - 9PM EST)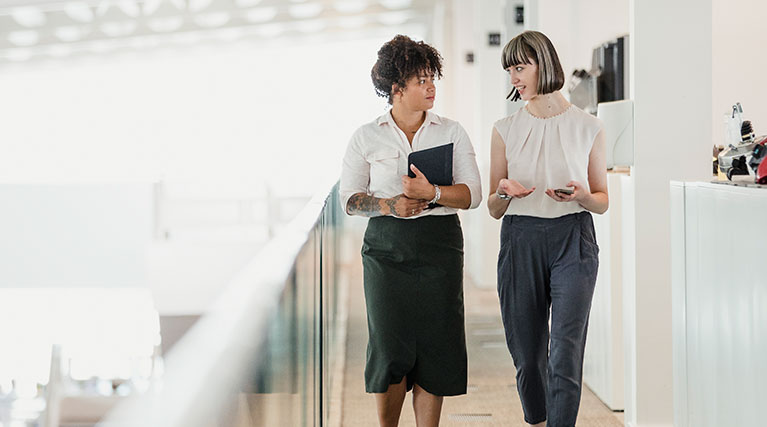 What You Will Learn
How to plan training methods to bring out the best in employees within the workplace.
How to understand various compensation strategies, calculate appropriate pay increases, and analyze features of total compensation.
How to make effective decisions as a manager and a leader.
How to understand and discuss various types of employee benefits including health insurance, pension plans, and more.
Full Program Goal & Outcomes
HR Management Essentials Career Outcomes

Human resources professionals are needed in every industry to hire, train, retain, and manage the type of employee talent that can help businesses succeed. The completion of a certificate-level program does not typically qualify a student for employment. However, combined with previous relevant work experience or education, our online Human Resources Management Essentials Certificate can help prepare you to refresh your HR skills or learn new skills that can help you advance in your career.
State Licensing Requirements
Licensing and/or certification requirements for jobs in certain fields are not the same in every state and may include educational, testing, and/or experiential requirements beyond those offered by your Penn Foster Program. You should contact the state professional licensing board or similar regulatory body in the state(s) where you plan to work to determine their requirements before enrolling in your program. See the State Licensing page for contact information for state licensing/regulatory boards and certain industry licensing information.

Please review your state board requirements that are applicable to your field of study. State boards may impose a variety of different requirements.
Human Resources Certificate Student Stories
Penn Foster's online Human Resources Certificate Program can help prepare you to refresh current skills or gain new ones that are relevant to taking the next steps toward a career in HR. This program has helped recent graduates learn at their own pace and find new jobs. Learn more about Penn Foster graduates' experiences and how Penn Foster worked for them.
View Student Success Stories
Severina J.
Penn Foster Graduate, 2021
"Trying to work full time to support a family and follow your dreams is hard but with having the option to do it online is a lifesaver."
Online Human Resources Certificate Curriculum
5 courses
52.2 continuing education units (CEUs)
21 exams
2 submitted projects
Estimated completion time:
Fast track = 8 months
Average time = 12 months
With Penn Foster, you can learn at whatever pace works best for you. Some learners will be more comfortable moving faster, and dedicating more time, and the fast track estimate will apply to them. The average track will apply to most learners who can dedicate a few hours per week to completing their coursework.
In our Human Resources Management Essentials Certificate courses, you'll cover foundational HR topics that can help you prepare to refresh your current skills or add new ones to your resume to advance in your career. Your online HR management classes include:
Principles of Management
Human Resources Management
Compensation Management
Employee Benefits
Show Full Curriculum
Looking for training for your workers?
Penn Foster currently works with hundreds of leading employers to meet their unique organizational needs.

Learn More
Online Human Resources Certificate Tuition
Take the first steps toward learning new skills or advancing in your current career with our online Human Resources Management Essentials Certificate. Simply choose from one of our low-cost customized payment plans below and get started today!
Cost of Program
Best price. Best value.
Pay the full cost today
No monthly payments
Enroll Now
Cost of Program
Pay $49 per month
Start for $29 down
Credit card, PayPal, or ACH from bank account
Enroll Now
cost of program
Pay $49 per month
Start for $39 down
Mail your payment using coupon book
Enroll Now
Need more info or ready to enroll?
Looking for more information on transfer credits, military benefits, or our refund policy? Find this information and more about tuition and enrollment here.
Tuition & Payment Options
Our Proven Human Resources Management Learning Model
Empowering students to reach their professional goals
Flexible
Start anytime
No exam due dates
Self-paced
Interactive
Digital study guides
Self-check quizzes
Simulations and videos
Connected
24/7 access to online resources
Online student community
Student Portal Help Center
Supportive
Expert faculty
Dedicated student services
Robust learning resources
Online Human Resources Certificate FAQs
How can earning this certificate help me with my career in HR?
Those working in HR come from a variety of educational and work backgrounds. Many start with a degree in human resources or a similar field, like business management. Adding an HR credential to your resume can potentially help you stand out when applying to human resources jobs. However, since it's a certificate-level program, it may not qualify you for a job in the field without a relevant work background or degree. For those already working in HR, our online Human Resources Management Essentials Certificate can act as a refresher course, allowing you to refine and update your HR skills.
What is the current outlook of the HR field?
Every industry requires a human resources department, so there are often many opportunities to work in the field. While career outlook can vary based on where you live, what company you work for, and more, the outlook should remain positive for most positions in the workforce.
Can I work in HR from home?
Generally, those working in HR tend to work in an office workplace setting. This can be especially important in HR roles that require you to work one-on-one with employees and their managers. However, more than ever before, many industries are reconsidering what jobs can be done remotely. With that in mind, depending on your employer and your position, you may have the opportunity to work from home on a limited or even permanent basis.
What types of soft skills are required for the HR field?
Since those working in HR deal closely with employees and managers, people skills are a must. From strong verbal and written communication skills to an ability to handle conflict, HR employees need to be able to seamlessly move between offering advice to employees and working to meet the hiring needs of managers.
On average, learners can complete their program in as few as 12 months. Faster learners, or those with more time to dedicate to their coursework, can finish in as little as 8 months. If you don't have lots of time to dedicate to your program, that's ok too! You can learn at the pace that works for you and your schedule.