Human Resources
Undergrad. Cert.
9 months
Human Resources Undergraduate Certificate
Whether you're looking to refresh your HR skills or build upon your current education, Penn Foster College's online Human Resources Undergraduate Certificate Program can help you take the next steps toward preparing to advance your HR career. With flexible online classes, you'll build your human resources knowledge on your schedule from home.
This course helps students currently working in HR to refresh essential skills or provide a pathway to furthering their human resources education with a college degree.
Students earn college credit while covering human resources fundamentals such as training concepts, compensation management, and more.
Our online programs are flexible enough for you to finish them at a pace that works for you, based on how much time you can dedicate to your coursework each week.
First Semester
$2,399
$2,899 Save $500
or
$89/month, Start for as low as $1
1-800-471-3232 (9AM - 9PM EST)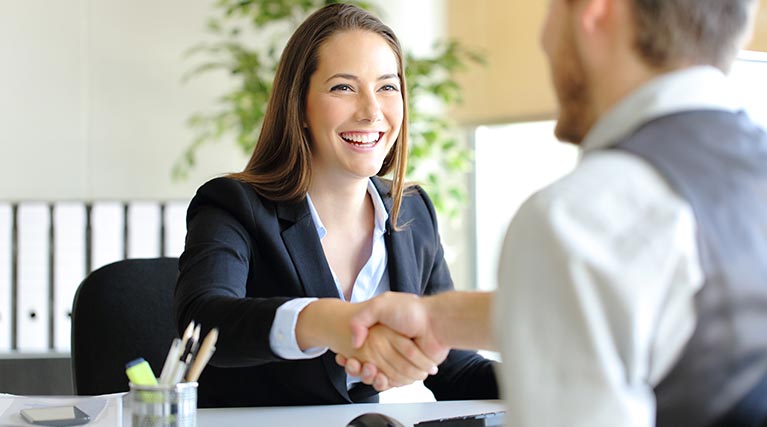 What You Will Learn
How to understand and apply the factors that are considered regarding how employees are paid, including legal requirements, performance-based pay, commissions, salaries, and benefits.
How to write professional for business, including memos, emails, reports, and proposals.
How to develop, evaluate, and implement effective training strategies.
How to make effective decisions as a manager and a leader.
Full Program Goal & Outcomes
HR Undergraduate Certificate Outcomes

Our online Human Resources Undergraduate Certificate Program is geared towards students who want to refresh the HR skills they already have, supplement their education with additional credits, or even take the first steps toward furthering their education. While a certificate-level program alone doesn't qualify a graduate for a job in the field, it can enhance your resume with relevant industry skills that can help you stand out to employers.
State Licensing Requirements
Licensing and/or certification requirements for jobs in certain fields are not the same in every state and may include educational, testing, and/or experiential requirements beyond those offered by your Penn Foster Program. You should contact the state professional licensing board or similar regulatory body in the state(s) where you plan to work to determine their requirements before enrolling in your program. See the State Licensing page for contact information for state licensing/regulatory boards and certain industry licensing information.
HR Undergrad Certificate Student Stories
Penn Foster's Human Resources Undergraduate Certificate Program can help prepare you to refresh your current skills or add new ones to your resume. This program has helped recent graduates find new jobs, and learn the fundamentals of human resources. Learn more about Penn Foster graduates' experiences and how Penn Foster worked for them.
View Student Success Stories
Ciera H.
Penn Foster Graduate, 2021
"I doubted myself for so long... Penn Foster changed my life. I gained so much confidence in myself and achieved one of my goals."
Human Resources Undergrad Certificate Curriculum
22 credits
8 courses
38 exams
5 submitted projects
Estimated completion time:
Fast track = 9 months
Average time = 12 months
With Penn Foster, you can learn at whatever pace works best for you. Some learners will be more comfortable moving faster, and dedicating more time, and the fast track estimate will apply to them. The average track will apply to most learners who can dedicate a few hours per week to completing their coursework.
In our Undergraduate Certificate in Human Resources Program, you'll cover fundamental human resources skills while earning 22 college credits. Your online classes include:
Human Resources Management
Business and Technical Writing
Training Concepts
Labor Relations
Show Full Curriculum
Looking for training for your workers?
Penn Foster currently works with hundreds of leading employers to meet their unique organizational needs.

Learn More
Human Resources Undergrad Certificate Tuition
Take the first steps toward refreshing your current skills or preparing to advance in your career with our online Human Resources Undergraduate Certificate program. Simply choose from one of our low-cost customized payment plans below and get started today!
Cost of Program
Best price. Best value.
Pay the full cost today
No monthly payments
Enroll Now
Cost of Program
Pay $89 per month
Start for $1 down
Credit card, PayPal, or ACH from bank account
Enroll Now
cost of program
Pay $89 per month
Start for $59 down
Mail your payment using coupon book
Enroll Now
Need more info or ready to enroll?
Looking for more information on transfer credits, military benefits, or our refund policy? Find this information and more about tuition and enrollment here.
Tuition & Payment Options
Our Proven Human Resources Learning Model
Empowering students to reach their professional goals
Flexible
Start anytime
No exam due dates
Self-paced
Interactive
Digital study guides
Self-check quizzes
Webinars and discussion boards
Connected
24/7 access to online resources
Online student community
Student Portal Help Center
Supportive
Expert faculty
Dedicated student services
Robust learning resources
Human Resources Undergraduate Certificate FAQs
How long does it take to earn a certificate in HR?
The length of time it takes to earn a certificate in HR can vary by school and by student. However, with Penn Foster's online Human Resources Undergraduate Certificate, classes are self-paced, meaning you can study when you want. With that in mind, on average, most students can earn their undergraduate certificate in as little as 15 months.
What is the difference between an undergraduate certificate and an associate degree?
An undergraduate certificate is generally a shorter, focused set of college courses geared toward students who are looking to supplement their current education and skills, or learn industry-specific skills. Students still take college-level classes and earn college credit, without completing a full degree program. An undergraduate certificate can also act as a stepping stone toward furthering your education with an associate degree. An associate degree is a four-semester, two-year degree program that combines general education coursework with subject-specific classes. Students earn a full associate degree after successfully completing the program, which can be better suited to students who do not have relevant work experience or education in a specific role.
Will credits from this course carry over to other Penn Foster courses?
Students who successfully complete the online HR certificate can potentially carry these courses over into Penn Foster's Associate Degree in Human Resources Management Program. Upon enrolling in the degree program, students will have their credits from the undergraduate certificate evaluated and transferred over. It's important to note that not all classes may transfer over depending on a variety of factors including grades, class content, and how long ago you completed the certificate.
What are the education requirements to earn an undergraduate certificate?
An undergraduate certificate in any subject teaches college-level material so in order to enroll in the program, students should have a minimum education level of a high school diploma or equivalent. You'll be required to fill out a high school completion form, located in your Student Portal, to verify your level of education.
Transferring Credits to our Associate Degree in Accounting
In order to transfer the credits earned in our Accounting Undergraduate Certificate to the accounting degree, students must meet certain requirements. A minimum grade of "C" is required for transfer credit and approved transfer credits will be deducted from your tuition.
Read more about Penn Foster's credit transfer policy here.
On average, learners can complete their program in as few as 12 months. Faster learners, or those with more time to dedicate to their coursework, can finish in as little as 9 months. If you don't have lots of time to dedicate to your program, that's ok too! You can learn at the pace that works for you and your schedule.