AutoCAD® Essentials
Autocad® Online Certificate
If you're looking to add drafting skills to your resume or want to better understand computer-aided design, our AutoCAD® Essentials Certificate can help you take the first step. You'll cover foundational CAD skills in flexible, online classes you can complete from home.
Students enrolling in the program should possess a solid background in a Windows®-based PC environment and should also have an educational or work-related background in basic drafting.
Those who don't have this background should consider enrolling in Penn Foster's Drafting with AutoCAD Career Diploma.
The online drafting courses provide students with a background in using AutoCAD® software functions and commands to create geometric objects and 3D drawings. Upon completion of the program, students will be able to create mechanical and architectural drawings using AutoCAD® software.
Our online programs are flexible enough for you to finish them at a pace that works for you, based on how much time you can dedicate to your coursework each week.
Cost of Program
$399
800-275-4410 (9AM - 9PM EST)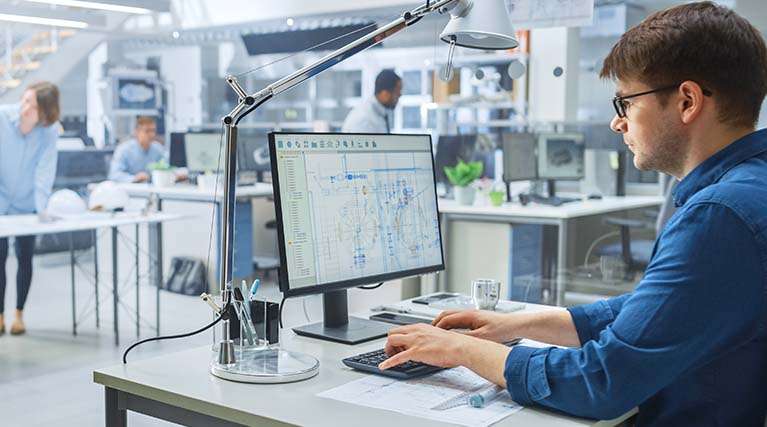 What You Will Learn
How to use basic AutoCAD® functions to create simple line drawings, drawing templates, and modify plot layouts.
How to create and modify drawing layers, tables, and fields.
How to use polylines to draw complex objects and shapes.
How to create a drawing using various AutoCAD® tools and settings.
Full Program Goal & Outcomes
AutoCAD® Essentials Career Outcomes

Professionals across many industries use AutoCAD® for design and technical drawings including the manufacturing, automotive, and construction industries. By understanding how to work with AutoCAD®, the most widely used computer aided drawing software, you can enhance your skills and strengthen your resume to advance in your career. However, it's important to note that completion of a certificate-level program alone won't necessarily qualify you for employment as a drafter. Instead, it can be used to enhance skills you already have, add new skills that are relevant to the career you're currently in, or simply for personal and professional enrichment.
State Licensing Requirements
Licensing and/or certification requirements for drafting jobs are not the same in every state and may include educational, testing, and/or experiential requirements beyond those offered in the Penn Foster Program. Prospective students should contact the state professional licensing board or similar regulatory body in the state(s) where they plan to work to determine their requirements before enrolling in this program. See the State Licensing page for contact information for state licensing/regulatory boards and certain industry licensing information.
AutoCAD® Essentials Success Stories
Penn Foster's AutoCAD® Essentials Certificate Program can help prepare you for the first step in enhancing your skills and resume. This program has helped recent graduates advance in their careers or start their own businesses while learning at their own pace. Learn more about Penn Foster graduates' experiences and how Penn Foster worked for them.
View Student Success Stories
Kimberly Q.
Penn Foster Graduate, 2021
"I am truly grateful for Penn Foster and the education that this school provides. I have excelled in my career and education since being a student here."
AutoCAD® Online Certificate Curriculum
2 courses
19.8 continuing education units (CEUs)
11 exams
2 submitted projects
Estimated completion time:
Fast track = 5 months
Average time = 11 months
With Penn Foster, you can learn at whatever pace works best for you. Some learners will be more comfortable moving faster, and dedicating more time, and the fast track estimate will apply to them. The average track will apply to most learners who can dedicate a few hours per week to completing their coursework.
In our AutoCAD® Essentials Certificate Program, you'll take AutoCAD® classes that will teach you the basic functions of the software and how to construct geometric objects. You'll also learn to insert lines and text, study dimensioning, plotting, and printing, and digitize and customize drawings. Your online drafting classes include:
AutoCAD® - Basic Commands
AutoCAD® - Blocks and Layers
Show Full Curriculum
Looking for skilled trades training for your workers?
Penn Foster currently works with hundreds of leading employers to meet their unique organizational needs.

Learn More
AutoCAD® Online Certificate Tuition
Take the first steps toward enhancing your drafting skills with our online AutoCAD® Essentials Certificate Program. With affordable tuition, you can start learning when you're ready!
Cost of Program
Pay the full cost upfront
No monthly payments
Credit card, PayPal, or ACH from bank account
Enroll Now
Need more info or ready to enroll?
Looking for more information on transfer credits, military benefits, or our refund policy? Find this information and more about tuition and enrollment here.
Tuition & Payment Options
Our Proven AutoCAD® Learning Model
Empowering students to reach their professional goals
Flexible
Start anytime
No exam due dates
Self-paced
Interactive
Digital study guides
Self-check quizzes
Submitted projects
Connected
24/7 access to online resources
Online student community
Student Portal Help Center
Supportive
Expert faculty
Dedicated student services
Robust learning resources
AutoCAD® Essentials Online Courses FAQs
What are the main features of AutoCAD®?
AutoCAD® is a computer-aided design software developed by the company Autodesk that allows users to draw and edit digital 2D and 3D designs. The files can also be easily saved and stored in the cloud, letting you access drawings from any computer, any time. The main features of AutoCAD® software include:
3D Modeling and Visualization
Photorealistic Rendering
Solid, Surface and Mesh Modeling
Visual Styles
PDF and DGN Import/Export/Underlay
Through your online AutoCAD® essentials training, you'll learn to use Autocad and its basic functions in order to take advantage of the main features and understand how you can apply them to drafting work in a variety of industries.
How long does it take to learn AutoCAD?
Like any software, there will always be updates and continuous learning. However, learning the basics of using AutoCAD software with an online AutoCAD certificate program doesn't need to take long. With Penn Foster's AutoCAD classes, you can learn to use AutoCAD on your schedule. Students usually finish the program within three to seven months.
Is AutoCAD a good skill to have?
If you work in manufacturing, technology, or even interior design, understanding how to use AutoCAD® is a great skill to have. Professionals in a variety of industries use the software to more quickly and accurately draft schematics, blueprints, and more. Adding AutoCAD® knowledge to your skillset and resume can help enhance your resume if you're looking to advance in your career or make your current role easier.
What careers use AutoCAD®?
AutoCAD® is used in a wide variety of industries. Careers that use AutoCAD® include jobs in architecture, manufacturing, engineering, construction, utilities, and interior design. Some common job titles that require an understanding of CAD software include:
CAD Designer
Civil Engineer
Electrical Drafter
Environmental Engineer
Interior Designer
Insurance Surveyor
Technical Illustrator
and more!
Students enrolled in the program can download a fully functional student version of AutoCAD® from the Autodesk website, which is operational for three years.
On average, learners can complete their program in as few as 11 months. Faster learners, or those with more time to dedicate to their coursework, can finish in as little as 5 months. If you don't have lots of time to dedicate to your program, that's ok too! You can learn at the pace that works for you and your schedule.