Graphic Design
Undergrad. Cert.
15-19 mo
Graphic design courses
If you're looking for a creative career working in design and technology, Penn Foster's online Graphic Design Undergraduate courses can help you take the first steps. With flexible online classes, you can build industry knowledge at your own pace, from homes.
Study web graphic arts, electronic publishing, corporate design, typography, photo editing, color theory, and more essential graphic design skills.
Learn digital arts basics- from layout design to production- using Adobe® software.
Graphic designers are paid a competitive salary. According to the Bureau of Labor Statistics, the average salary for a graphic designer is currently $53,380 per year.
Cost of program
$2,524
$2,764 Save $240
or
$89/month, Start for as low as $129
1-800-471-3232 (9AM - 9PM EST)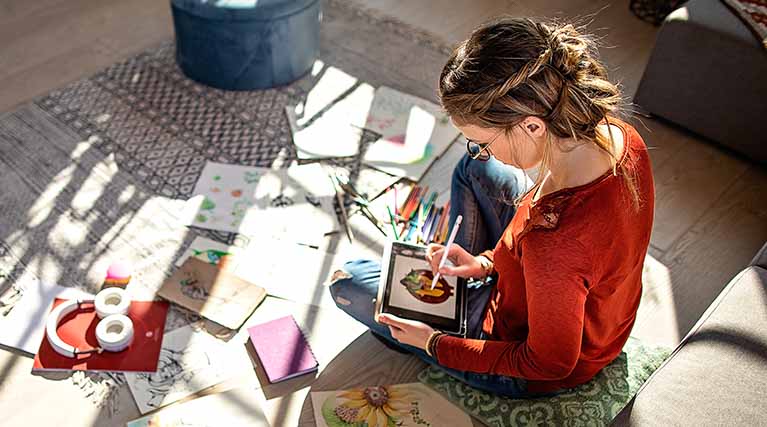 What You Will Learn
How to identify different career options available to digital artists.
How to understand the correct use of color and its effectiveness in creating designs.
How to describe the formal elements of design; including line, shape, form, direction, texture, value, color, and composition.
How to use Adobe Illustrator® to create graphics illustrations for print, multimedia, and the web.
Full Program Goal & Outcomes
Graphic Design Career Outcomes

Our online Graphic Design Certificate Training is designed with career readiness in mind. Through interactive lessons, simulations, and how-to videos, you'll build the foundational knowledge and skills that can help you prepare for an entry-level career as a professional graphic designer.
State Licensing Requirements
Licensing and/or certification requirements for jobs in certain fields are not the same in every state and may include educational, testing, and/or experiential requirements beyond those offered by your Penn Foster Program. You should contact the state professional licensing board or similar regulatory body in the state(s) where you plan to work to determine their requirements before enrolling in your Program. Please click here for contact information for state licensing/regulatory boards and certain industry licensing information.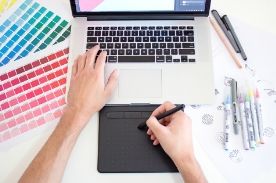 Should I Become A Graphic Designer?
Graphic Design Student Success Stories 
Graduates from our online courses, including the Graphic Design Undergraduate Certificate Program, have started new careers or advanced in their current roles. Learn more from their experiences.
View Student Success Stories
Severina J.
Penn Foster Graduate, 2021
"Trying to work full time to support a family and follow your dreams is hard but with having the option to do it online is a lifesaver."
Online Graphic Design Courses
11 Courses
1 Proctored Exam
In Penn Foster's online Graphic Design Certificate course curriculum, you'll learn the skills and knowledge needed to prepare for an entry-level job through interactive animations, simulations, and videos. The program is self-paced, meaning you can learn on your own schedule from home. Your online courses include:
Color Theory
Introduction to Graphic Design
Graphic Design and Production
Photo Image Editing 1+2
Corporate Design and Web Design
Portfolio Development
Show Full Curriculum
Looking for training for your workers?
Penn Foster currently works with hundreds of leading employers to meet their unique organizational needs.

Learn More
Graphic Design Certificate Tuition
Our online Graphic Design Undergraduate Program tuition is designed to fit your budget. With affordable payment plan options, you can get started today!
Cost of Program
Best price. Best value.
Pay the full cost today
No monthly payments
Enroll Now
Cost of Program
Pay $89 per month
Start for $129 down
Credit card, PayPal, or ACH from bank account
Enroll Now
cost of program
Pay $89 per month
Start for $129 down
Mail your payment using coupon book
Enroll Now
Need more info or ready to enroll?
Looking for more information on transfer credits, military benefits, or our refund policy? Find this information and more about tuition and enrollment here.
Tuition & Payment Options
Our Proven Art and Design Learning Model
Empowering students to reach their professional goals
Flexible
Start anytime
No exam due dates
Self-paced
Interactive
Digital study guides
Presentations and animations
Simulations and videos
Connected
24/7 access to online resources
Online Student Community
Supportive
Expert faculty
Dedicated student services
Robust learning resources
Graphic Design Program FAQs
What qualifications do you need to be a graphic designer?
To become a graphic designer, you'll typically be required to complete at least entry-level education and produce a beginner's portfolio of your work. Many graphic designers learn the foundational knowledge needed for the field through a combination of post-secondary education and hands-on training.
How can I learn graphic design at home?
In Penn Foster's Graphic Design Program, you can study online, from anywhere, at any time- as long as you have access to the internet.
What are the top qualities of a Graphic Designer?
A good graphic designer is someone who is able to combine creative qualities with an ability to use technology proficiently. The top qualities of a graphic designer include creativity, computer skills with graphic design software, and time management skills.
What are the most popular graphic design career opportunities?
Graphic designers can work as self-employed freelancers, in marketing and advertising agencies, or as employees in a wide array of industries. Graphic designers frequently work in logo and visual identity design, web design, marketing and advertising design, photo-editing, publishing and layout design, and can serve as creative or art directors.