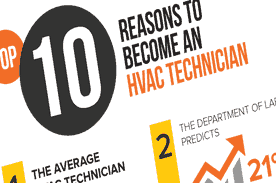 If you're mechanically-inclined and want a chance to work with your hands, consider becoming an HVAC technician. When it comes to the skilled trades field, few professionals are as highly in demand as those who know how to repair, install, and maintain heating, cooling, ventilation, and refrigeration systems. HVAC is a crucial part of our everyday lives, and when problems arise, you'll need to take quick action. In other words, you'll rarely experience a dull moment working as an HVAC tech. Read on to learn more about the benefits of working in this growing field.
Learn more about our HVAC Technician program and begin your journey with Penn Foster Career School today!
Statistics found in the United States Department of Labor Occupational Outlook Handbook are based on national data, so job growth in your area may be different, and post-graduation salary depends on educational background, level of experience, and geographic area of the country.