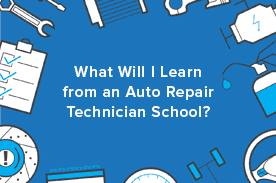 Whether you're looking to expand upon your existing knowledge of auto repair or learn its fundamentals, receiving formal training in automotive repair can help you expand your knowledge and skills in this industry. Before enrolling in training, you'll probably want to know exactly what you're getting yourself into. Here are a few things you'll learn from auto repair school that you can apply to your day-to-day work life.
Auto repair schools often help prepare students for the certifications required by employers throughout the auto repair industry - specifically, the National Institute for Automotive Service Excellence (ASE) Certification Tests. The ASE Certification Tests cover a wide range of topics, but as an aspiring auto mechanic you'll want to make sure that your school's curriculum is aligned with the following concentrations:
Engine repair
Automotive transmission/transaxle
Manual drive train & axles
Suspension & steering
Brakes
Electrical/electronic systems
Heating & air conditioning
Engine performance
One of the benefits of pursuing an education in auto repair is that you can take online auto repair courses. Learning is a smart solution for those looking for flexibility - and in some cases, affordability - in their automotive repair training. If you decide that online learning is right for you, be sure to choose an online auto repair program that offers a work experience option for the opportunity to gain hands-on training in a field that is largely hands-on.
Want to learn more about becoming an auto mechanic? Check out these resources to help you gain a better understanding of the industry: