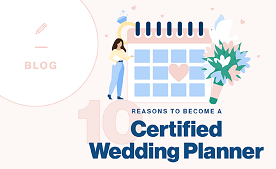 The flowers, the lighting, the table settings – there's nothing quite like a beautifully designed wedding. Now imagine a career that allows you to create these fairy tale weddings year-round. As a certified wedding planner, you'll play a key role in your clients' lives as you work to make their big day one they'll never forget. If you're still considering if becoming a wedding planner is the right career move for you, check out these 10 reasons that a job in this field could be the one!
1. Be your own boss
As a wedding planner, you can work for an established company or start your own business! If you're independent, have a clear vision, and know you don't want to work for someone else, becoming a certified wedding planner can allow you to be your own boss.
2. Planning a wedding is a rewarding project
Besides seeing your creative vision come to life, planning a wedding is rewarding because you have helped make a couple's most important day be the best you possibly can. As a wedding planner, you'll work with clients to make sure their wedding is exactly what they dream of, from contracting with vendors to ensuring the day-of goes smoothly.
3. You can make as much as $3,000 to $10,000 for each wedding
Being a wedding planner can be a lucrative career! Weddings are often expensive and planning a ceremony, from client consultation to the wedding day, takes a lot of work. In general, the starting rate wedding planners charge is $3,000 for a full event. That means you're working with the client from day one. Depending on where you live, what kind of wedding you're planning, and other factors, wedding planners can charge as much as $10,000.
You can also charge for different services if you're not planning the entire wedding. Most wedding planners charge an hourly consultation fee from the first time they meet with a prospective client. That fee can be anywhere from $40-$60 per hour.
For day-of coordination only, in which your only involvement with the wedding is to ensure everything goes smoothly during the event, wedding planners can charge anywhere from $500-$2,500 on average depending on the size of the event and the location.
4. Flexible work schedule
As a wedding planner, you won't necessarily have a 9-5 job. Most wedding planners work flexible schedules, and work hours can often depend on the client's needs. As a planner, you'll also work weekends and nights during wedding season.
5. The wedding industry is on the rise
More people than ever are utilizing wedding planners for their big day and the number of weddings is expected to increase in 2022. In fact, this year it's predicted there will be at least 2.5 million weddings, the highest number of ceremonies since 1984. That means there are plenty of opportunities to build a career or business as a wedding planner going forward.
6 Build a network
Doing the work of a wedding planner requires making connections. In doing your job, you'll be able to build a strong network of other professionals in the field, vendors, and event venues. Building a strong network as a wedding planner can help you get your clients the best services and products possible for the ceremony.
7. Opportunity for travel
Wedding planners will regularly be required to travel, whether that's to a venue three hours away or to a different country for a destination wedding. That means that one of the perks of the jobs is that you can see new and exciting places!
8. The wedding industry is a $57.9 billion a year industry
The wedding industry is one of the highest-grossing industries in the country, bringing in about $57.9 billion in the last year. Because so much goes into the industry as a whole, a career as a wedding planner offers a lot of job security.
9. Create a variety of different wedding types
Wedding planning is a creative career. Throughout your work in the field, you'll create and coordinate a variety of different wedding types such as
Destination weddings
Traditional or religious ceremonies
Elopements
Trendy weddings
10. The wedding industry has a great support system
As you connect with clients, build relationships with vendors, and work with other wedding planners, you'll find that the wedding industry – though sometimes stressful – has a great support system. Besides the support of your colleagues, you can find professional support through many organizations including the Association of Bridal Consultants (ABC). Through ABC, you can connect to others in the industry from around the globe and build relationships that can help you grow your business.

Become a certified wedding planner from home
If you love love and want to make the most of your creativity, becoming a certified wedding planner could be the perfect career for you. Through Penn Foster's online ABC® Certified Wedding Planner Program, you'll build the industry knowledge and skills necessary to a successful wedding planner career. You'll also sit for the ABC® Professional Wedding Planner Certification Exam. You'll also get a six-month novice membership to the Association of Bridal Consultants (ABC) at no additional cost! To learn more about starting your wedding planner career, call our dedicated Admissions Specialists at 1-888-427-6500!