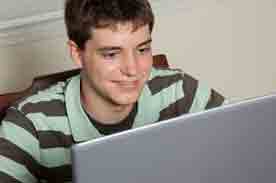 Blog revised on February 24, 2022.
One of the benefits of online high school classes is that you can study and take tests whenever it works best for you. But if you're new to online school, you may be wondering when the best time to study is, if there's any particular time you need to get started each day, and how much time you should work on your program. Here's what you should know.
Do I need to start online high school in the morning?
You don't need to start your online high school classes in the morning, but for some, it's easiest to concentrate then. The dogs aren't yet barking, lawnmowers are idle, and traffic is light. It's an ideal time to recite Shakespeare or outline the impact of the Industrial Revolution without distraction. It's also a great time to set goals for the day, or exercise, to boost energy and focus.
If you consider yourself a morning person, starting your class work and studying bright and early can be the best way to make sure you remember what you're learning. It can also help you set a regular schedule if you like to keep your life organized. By studying in the morning, you can get school out of the way first thing and then have the rest of the day to work on hobbies, volunteering, a job, or chores.
Can I take online high school classes at night?
If you're a night person, you find it easier to focus after the sun goes down. Whether or not you wake up early or in the afternoon, your brain may be wired to do its best work later in the day, so taking advantage of that time to study can be beneficial.
With online high school classes, you don't have to work on a set schedule – instead, you're able to login and work on your courses when you feel most ready to do so. For night owls, that means you can make the decision to work on your studies at night when you're able to focus more. Instead of barely concentrating on lectures in class because you're tired or just not ready, you can make sure you have the best environment possible to succeed in school.
Are online classes flexible?
Online classes offer tons of flexibility when it comes to when and for how long you should study. As an online high school student at Penn Foster, you can adapt your high school schedule to your life and preferences. Whether you have family responsibilities during "normal" school hours or just can't study on a consistent schedule, the flexibility of online classes make it easier to work on your courses a few hours here and there , when you can. As long as you're making progress in your studies, there's nothing wrong with starting school at noon or even later.
Depending on your family's commitments, starting school later in the day can reduce stress. For example, it leaves the morning wide open to get doctor's appointments, housework, grocery shopping, and other tasks out of the way. There's no rush to finish a class in fear of being late.
Don't stress over trying to meet 'normal' or "socially acceptable" schedules.
Start online high school when you're ready
Whether you're an early bird or a night owl, online high school through Penn Foster caters to your individuality and your schedule. You can earn your high school diploma your way, whenever you're ready. A traditional high school setting and schedule isn't right for everyone, so if you want flexibility, self-paced classes, and the ability to take control of your education, Penn Foster High School could be the perfect option for you. To learn more about our regionally and nationally accredited High School Diploma Program, speak to our dedicated Admissions Specialists today at 1-888-427-6500!