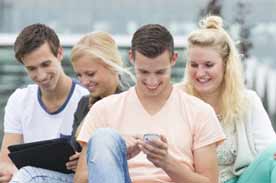 Earning an education through online high school courses can be a rewarding experience. However, having the right tools at your disposal is an integral part of maximizing your grades and having the best possible shot at your first choice college. Fortunately, there are a number of great, affordable high school apps available for your phone or tablet. Here are a few of our favorites:
Evernote Peek
Evernote is known as one of the premier cloud-based document storage apps for phones and tablets. And Evernote has continued to innovate with Evernote Peek, a digital version of the flashcard. This app works great on both phones and tablets, and can help online high school students memorize important facts and figures.
Graphing Calculator
In the past, high school students were forced to spend $100 or more on a graphing calculator that they would likely only use for a couple of classes. Fortunately, the Graphing Calculator app allows online high school students to get all the functionality of a traditional graphing calculator at a fraction of the cost. Graphing Calculator currently costs just $1.99 in the Apple App Store (both for phones and tablets).
SAT Up
Like it or not, the score you get on the SAT can have a huge impact on the college and even career prospects you'll have later in life. SAT Up gives online high school students the tools they need to study for the SAT as effectively as possible, with more than 3,000 practice questions, personalized workouts, progress cards, vocabulary games and more.
Essentials by Accela Study
In our increasingly interconnected world, learning a foreign language is less a luxury and more a necessity for the most successful people in the working world. Individuals who choose to get their diploma from an online high school can benefit from the additional tutoring that an app like Essentials by Accela Study can provide. The app supports a number of foreign languages, including Spanish, Chinese and more. The app itself supports study by providing flashcards, diagnostic quizzes, and a wealth of other resources designed to improve spelling and pronunciation.
Penn Foster Study Planner
And let's not forget about our own iOS app, the Penn Foster Study Planner. This app assists students with planning your Penn Foster exam schedule and keep you on track through your learning progress. The app will update your calendar to help you schedule your exams and your course materials. You can select the pace you want to progress through your course and this will be reflected in your calendar. We also synch this information to your Student Portal so that all your dates and schedules are updated across Penn Foster.
These are just four of our favorite apps for students. However, we encourage all online high school students to look online to see what other resources they can use to achieve their academic goals. There are literally thousands of high-quality education apps available right now!