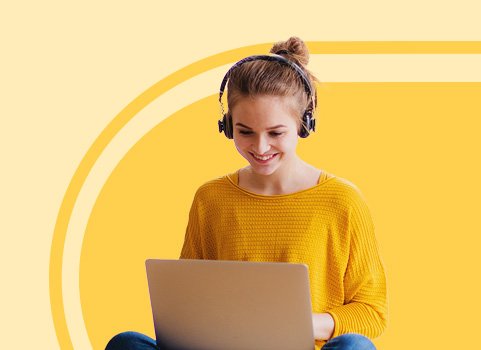 High School
How to Choose an Online High School
If you're considering transferring to an online high school, this blog can help you choose the right school for you. Learn more about how to transfer schools, what to look for in an online school, and more!
These days, online school is an accepted alternative to attending a traditional high school. There are several good options out there, but how do you choose the one that's the right fit for you? Here's everything you need to know to help you pick the best online high school option!
How do I choose a good online high school?
An important thing to look for when choosing an online high school diploma program is whether or not that online high school is legitimate. Being a legitimate school means being accredited and licensed. Penn Foster High School, for example, is regionally accredited by the Commission on Secondary Schools of the Middle States Association of Colleges and Schools and nationally accredited by the Distance Education Accrediting Commission (DEAC) and Cognia. These accreditations show that the school and curriculum meet the standards set by these accrediting bodies, ensuring that students receive a good education!
Besides accreditation, you'll also want to look at reviews and student stories to learn more about how the program works from a student and alumni perspective. This can help you determine if the school is a good fit for you.
What should I look for in an online high school?
When you're checking out and comparing different online high schools, you'll also want to look for a few things to make sure that the program is the best fit for you and your goals. These include things like
Curriculum
Learning more about what the online high school has to offer in the curriculum is important to make sure that you are studying what you need to. An online high school curriculum should have the standard courses that are offered in any school, whether it's a public, private, or online one. These include classes like English, math, science, and social studies.
You'll also want to learn more about what kind of electives the school offers. Do they have classes that you'd be interested in? Do they offer any courses that can help you prepare for a future career? Are there classes that can help you prepare for college?
Tuition
In general, most online high schools will have tuition costs. When choosing the right online school for you, you'll want to make sure that the tuition is affordable and fits your budget (or your parent's budget)! Check to see if there are payment plan options, as well, so you don't need to pay the full tuition upfront if that isn't something you're able to do.
Admissions requirements
Some schools may have different admissions requirements to enroll. These could be things like a minimum age to enroll, a maximum age to enroll, transfer policies, and more. For example, with Penn Foster, you'll need to be at least 13 to have a parent enroll you into the high school program and you must have completed at least the 8th grade. There's no maximum age limit, so whether you're 13 or 85, you can become a Penn Foster student!
If you're an adult looking to finish your high school diploma, you can enroll online whenever you're ready to get started. If you're a student under 18, you'll need your parent or guardian to enroll you.
Read more: A Parent's Guide to Online High School
Program deadlines and schedules
Another important thing to consider when choosing an online high school is their semester start dates, enrollment deadlines, and class schedules. Many online schools may have set schedules and classes that you need to attend at certain times. Others, like Penn Foster, are completely self-paced. That means that there are no deadlines to enroll or certain times of year you have to start.
Demetria, a Penn Foster graduate, mentioned in the Alumni Spotlight Podcast that she loved the flexibility online high school offered her.
"The flexibility. That was amazing. I would not have been able to obtain a high school diploma at all if I had not had the flexibility to be able to do it on my schedule, on my time, just being at home."
Read more: When Should I Start Online High School Each Day?
How do you know if online school is right for you?
So, you've narrowed down your online high school options, but how do you really know if online school is right for you? An online high school diploma may not be for everyone, but it does tend to be a great fit for students who
Like to work at their own pace.
Are independent and can learn on their own.
Don't want a set schedule and prefer to learn when it works best for them.
Find sitting in a classroom distracting.
If you're someone who can manage your own time and likes being able to take the lead in your education, online high school could be the perfect fit for you!
One parent, Patricia, had both of her children enrolled in Penn Foster High School and said that being able to work on their studies at their own pace made a big difference for her students.
"The self-paced environment makes students feel like they don't have to stress if they don't get to a test on Friday. Because it's self-paced it accounts for what's going on, because things can come up."
Read more: Going Back to School as an Adult (FAQs)
What are the pros and cons of online high school?
Like anything, there are pros and cons to attending high school online. But, when choosing an online school, you'll want to weigh the benefits against any potential cons. Are there more benefits than disadvantages?
The pros of going to high school online include
Being able to study on your schedule
No set class times or test due dates
Being able to study wherever you are as long as you have access to the internet
Being able to take your time when you're struggling with a subject
Having access to help from teachers through email, phone, and chat
The cons of going to high school online include
No deadlines and due dates, which means you have to have good time management skills
No live classes
Teachers don't lead classes, you're in charge of your own education
No extracurricular activities
For Penn Foster High School graduate, Adrianna, earning her diploma online when in-person classes weren't working for her helped her succeed.
"Going to Penn Foster to finish high school, I had to make sure to have correct time management skills so I could complete my assignments. Using those time management skills have definitely helped me throughout my college career."
Read more: 6 Advantages of Having a High School Diploma
Does online school look good for college?
Online school doesn't necessarily look better or worse than a public high school when you're applying for college. At the end of the day, colleges all have different things they look for when reviewing applications so some may appreciate that you didn't go the traditional route for high school while others may be unsure about it. If you know you want to attend college after graduating, it's a good idea to reach out to the admissions department of some schools you may be interested in to make sure they accept an accredited online high school diploma like Penn Foster's.
Besides that, colleges will mostly focus on your grades, GPA, and things your admissions essay, if they require one. It's also a good idea to start adding some volunteer work to your experiences, which can help you stand out a bit when applying to colleges. When you're enrolled in an online high school that is self-paced, you'll be able to make time for different activities – like volunteering or a part-time job – that could look good on your applications.
Can you go to technical school or trade school with an online diploma? 
Just like with colleges, trade or technical schools may have different requirements for enrollment, so it's important to check in with schools you're interested in to make sure an online high school diploma will work. However, if the diploma is legitimate and accredited, most trade or technical schools are likely to accept it.
Are online schools worth it?
An online school can be a great experience for many students. It's definitely worth it if you're someone who wants to have a more flexible schedule and learn at your own pace.
How does online school affect GPA?
For many students, transferring to an online high school helped them improve their GPA! Online schools will have similar grading systems, so it won't hurt your GPA just by attending. Your GPA is all dependent on how well you do and what grades you get. However, since you're able to take your time and study at your own pace, online high school can offer the opportunity for you to improve your grades and, ultimately, your GPA.
Is online high school self-paced?
Not all online high schools are self-paced. Some follow a similar class structure to a traditional public high school, which means having to start your day at a certain time and attend classes at a certain time. Others are completely self-paced, allowing you to choose when and where you study and take exams.
How to switch to online school in the middle of the year
Because online high schools are often flexible and don't have set enrollment or semester start dates, you can transfer whenever you'd like. To transfer to Penn Foster, for example, you'll need to enroll and then fill out any necessary paperwork with your previous school to make sure you have everything taken care of. You'll also have your previous school send us an official copy of your transcripts. With your transcripts, we can take a look at what classes you've already completed and transfer in those classes that match up with our curriculum. That means, basically, you'll pick up where you left off when you start your online classes.
If you're transferring to a school like Penn Foster in the middle of the year, you'll follow the same steps but it's important to note that the classes you've started may not transfer to your new school. Generally, if you transfer in the middle of the year, you haven't fully completed the classes so therefore haven't earned a credit or credits that could be applied to your online classes. Any courses you've full completed can still transfer in.
For example, if you finished 9th grade and decide to transfer to online school in the middle of 10th grade, you could transfer in those 9th grade classes but may have to start your 10th grade classes from the beginning.
Read more: How to Transfer to an Online School
Learn more about online high school today
If an online high school sounds like it could be the perfect fit for you, you can learn more about how to get started and how Penn Foster works by reaching out to our expert Admissions Specialists at 1-888-427-6500! They'll be able to answer all of your questions, help you get started, and walk you through the process of transferring from your current school!