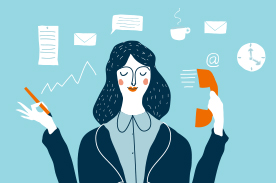 If you have the ambition, drive, and desire to own your workday, you've probably thought starting your own business or setting up freelance services. Maybe you're looking for a side hustle to bring in extra income when you're not at your full time job. Whatever the case, you know you want to change something. You're not sure if you're crafty enough to open an Etsy shop, you don't think you want to sell product for makeup or clothing companies on Facebook… So, what can you do? While there are options out there to suit every sort of personality and business goal, something that more and more people are looking into is becoming a virtual assistant. Here's what they do and why being a virtual assistant can be an interesting and lucrative option for those who consider themselves self-starters!
What is a virtual assistant? Like an administrative assistant, a virtual assistant performs a variety of clerical and administrative duties to assist a company or employer with efficiently running their organization. Depending on the client, you may be responsible for scheduling and updating calendars, handling documents and emails, writing and editing professional letters and memos, as well as organizing and maintaining company paperwork. As a virtual assistant, you perform all of these duties remotely, generally from your home.
How can you be your own boss working for others? Unlike working in an office environment, being a virtual assistant allows—and even requires you—to be an independent contractor. As such, you control the clients you take on, your schedule, and how much you should charge for your services. However, since you're starting and operating your own business, you take on the responsibility of managing your time, your workload, and even marketing and selling your services. What you do will directly impact your business and your income.
What are the benefits of being a virtual assistant? If you're the kind of person who prefers to make the rules rather than follow someone else's lead, you could be a successful virtual assistant. In the profession, you're able to call the shots, take the clients you'd like to, and plan your day however works best for you. The autonomy of answering to yourself and your clients only is benefit in itself, but being able to take in as much work as you like to or as little is the biggest plus. If you're interested in a firsthand account of the benefits of becoming a virtual assistant, check out this interview with Carmen Abascal.
If this sounds like the kind of career or side hustle you've been looking for, check out an online virtual assistant course to learn the ropes. While it may sound easy to start up this sort of business, it can require extensive planning and the ability to put together a firm business plan and marketing plan. And, if a virtual assistant role is of interest to you, you may also be interested in becoming an administrative assistant.