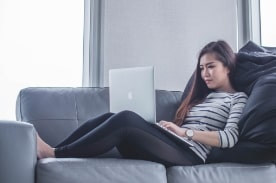 Why working from home might be right for you.
You've got a lot on your plate. You're a parent, a friend, a caregiver. With all of your responsibilities, it often feels as if you have no time left over to chase your own goals. How can you start a career when finding a babysitter is always a struggle and the cost of professional childcare is more than what you make at work? If you've got an internet connection and a working computer, finding a job you can work remotely might be the right move for you. Here are the top work from home careers you can prepare for, all on your schedule.
Creative careers you can do from home.
Working from home, also called working remote, is becoming more popular. In fact, there's been a 115% increase in remote jobs since 2005. More employers than ever are offering employees the option to work outside of the office, and flexible, remote careers can be found in a variety of industries. That includes creative jobs that let you set your own schedule and use your artistic skills! You can build a work-from-home career as a
Graphic Designer. A graphic designer creates images and designs for logos, social media posts, posters, websites, and more. With the majority of the work being done on your computer with design programs, completing your work from home isn't much different from working in the office.
If you're creative, love technology, and have an analytical mind, studying to become a graphic designer could be the next step toward starting a remote career you enjoy.
Besides having the option to work from home in these careers, many designers and writers also pursue work as freelancers. Freelancing can be something you do to earn extra income, or you can freelance as a full-time career, but it's important to be excellent at time management so you don't miss client deadlines.
Healthcare jobs you can do remotely.
Working from home isn't limited to creative jobs! There are several administrative healthcare roles that allow you to work remotely, while also keeping a flexible schedule.
Medical Transcriptionist. A medical transcriptionist translates voice-recorded notes from doctors to typed documents that are added to a patient's file. Transcriptionists can work for insurance companies, doctors, or other healthcare companies and often work remotely, since they can access files from anywhere with a working computer and internet connection.
Studying medical transcription online can prepare you to work with patient notes, files, and more.
Medical Billing and Coding. Billers and coders work for physicians, insurance companies, and hospitals to prepare bills for patients and doctors based off of treatment they receive.
Medical Billing and Coding classes can help you build the skills and knowledge to be successful in the role and prepare to sit for industry-standard certification exams. While many medical coding professionals can work from home, they most often do start working in an office to begin with.
Administrative and travel careers that allow you to work from home.
You want to work from home, but you also aren't that interested in creative careers or jobs in the healthcare industry. Finding work in a more administrative or customer relationship capacity could be what you're looking for. If you're an organized people person, you might be interested in becoming a travel agent or a virtual assistant.
Travel Agent. As a travel agent, you'd help customers create travel plans, make transportation arrangements, and more. With the necessary reservation software and a computer, you can talk with clients, book flights, and plan family vacations from home. Many travel agencies do hire remote workers, so you don't necessarily have to start your own business - unless you want to!
An online travel and tourism course can help you prepare to work in a variety of settings as an agent, while getting comfortable with different vacation packages and computer reservation systems.
Virtual Assistant. As a virtual assistant, you can work nearly anywhere. A virtual assistant is the digital age version of a personal assistant, working to help clients organize their schedules, their lives, and their business appointments. You can work from home, taking on several clients or working for one business.
Penn Foster's flexible virtual assistant program covers the basics to get started in the field, including professional communication, writing for the web, and appointment scheduling.
Prepare to take the next step toward a work-from-home career with Penn Foster.
If you're interested in working from home because you need a flexible schedule, training for a career you want in a traditional school setting isn't an option. With online courses that can be completed around your schedule, wherever you are, you can take the next step toward reaching your goals. Even better, learning online can help you become more comfortable with time management and working independently. Get started today online or call an Admissions Specialist at 1.888.427.6500 to find the right program for you.