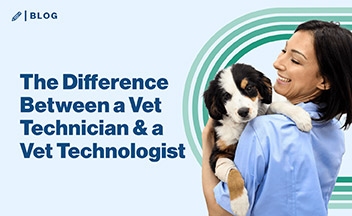 You know you want to make a career of helping animals and their humans. Making sure a pet is healthy and happy is your number one goal. But you might not be sure what options are out there in the veterinary medicine industry, outside of becoming a veterinarian, or what education you need to get the job you want. From your research, it seems like becoming a veterinary technician is the job for you, but you've also run into information about becoming a veterinary technologist. What's the difference between them and which job is right for you? Here's what you need to know.
Veterinary technician vs. veterinary technologist: the difference is a matter of degree
While it may seem that technician and technologist are different words for the same profession, the difference is a matter of degree — specifically a Bachelor's Degree in Veterinary Technology. Credentialed veterinary technicians in the United States graduate with a Veterinary Technician Associate Degree, pass the Veterinary Technician National Exam (VTNE), and fulfill all the requirements to become certified, licensed, or registered by their state. Credentialed veterinary technologists graduate with a Bachelor's Degree in Veterinary Technology, then follow the same steps taken by a credentialed veterinary technician to become credentialed in their state. Currently, there is only one state Veterinary Practice Act (Missouri) that recognizes the difference between credentialed veterinary technicians and credentialed veterinary technologists.
Having a bachelor's degree — whether it is in veterinary technology or another subject – opens up different opportunities for work outside of the traditional clinic or hospital setting. For example, most jobs in laboratory settings or research facilities require a bachelor's degree. As a veterinary technician or technologist in research, you work under the guidance of a scientist or veterinarian administering medications to animals, preparing tissue samples for study, or recording detailed information on the animals cared for.
Veterinary technician vs. veterinary technologist: How are they alike?
You'll find both veterinary technicians and veterinary technologists working directly with animal patients in many different clinical settings, from your neighborhood veterinary clinic, to the specialty practice, to the veterinary school, to the farm, and even to the zoo! Veterinary technicians and veterinary technologists serve a critical role on the veterinary health care team by performing skills ranging from basic animal care to specialized skills like assisting in surgery, performing CPR, placing bandages and splints, and performing dental care. Veterinary technicians and technologists are responsible for many different duties in the veterinary clinic or hospital like drawing blood, collecting samples for laboratory testing, taking radiographs, and much more.
Credentialed veterinary technicians and veterinary technologists can also choose to specialize in one of the sixteen specialty academies recognized by National Association of Veterinary Technicians in America. Specialization can provide an additional career path for credentialed veterinary technicians and veterinary technologists, opening even more opportunities such as writing for veterinary journals and magazines, authoring textbook chapters, and speaking at veterinary continuing education conferences. Becoming a Veterinary Technician Specialist (VTS) demonstrates your commitment to providing the highest levels of care for your patients, and to life-long learning.
Veterinarians rely on educated, trained, and skilled veterinary support staff to help them effectively see and treat their patients, and the demand for credentialed veterinary technicians is projected to grow 20% by 2031.
How do I get started earning my veterinary technology degree?
Whether you're hoping to become a technologist or you are interested in starting out as a vet technician and seeing what happens next, enrolling in and completing your vet tech associate degree is the first step. The associate degree incorporates both the required general education classes and specific veterinary courses, and includes externship hours for hands-on learning. After completing your degree in veterinary technology, you'll be eligible to sit for the VTNE and go from there!
The requirement to begin an AVMA-accredited Bachelor's of Applied Science Degree in Vet Technology is often the completion of a similarly accredited program that grants an Associate degree in Veterinary Technology. No matter what your career goals are, there are benefits to earning your bachelor's degree like additional job opportunities and the potential to increase your earning potential. It is certainly a step worth taking to build your career.
Penn Foster's online Veterinary Academy can help you prepare for a career you love.
With classes that cover industry topics that are relevant to the veterinary field today and a dedicated faculty of vets, vet techs, and educators, Penn Foster's AVMA-CVTEA fully accredited vet tech associate and bachelor's degrees can prepare you for your next move. Learn about the animals you love and working with them day-to-day at your own pace, from home, or on the go. Want to know more? Talk to an Admissions Specialist at 1.888.427.6500 or enroll online today.
Read more: Vet Tech Student Receives Raise and Promotion at BluePearl