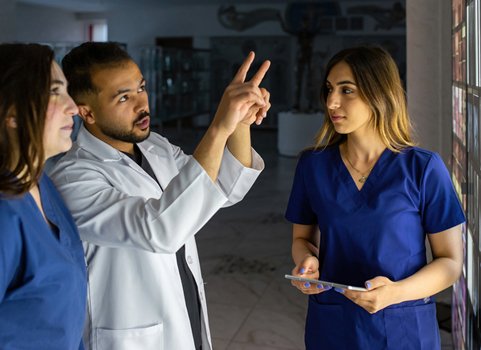 Veterinary
Student Stories
Vet Tech Student Receives Promotion and Raise at BluePearl
A veterinary technician student and BluePearl Pet Hospital employee, Erica Torres was promoted to supervisor at the pet hospital. With over 10 years of experience in the veterinary field, Erica is putting into practice what she learns in her online program and stresses the importance of becoming licensed.
Erica Torres moved to New York City and began working with BluePearl Pet Hospital in September. She started as a veterinary assistant level 2 working in the ICU.
As a student in our online veterinary technician degree program, Erica took what she learned in her coursework and applied it to her role. While in the ICU, she said the lessons from her program helped her perform her job, especially when it came to anatomy, as she assisted techs with drawing blood from patients.
Having been working in the veterinary field for over 10 years, when a supervisor position opened up, she felt ready for the next step.
"A supervisor spot opened and although I was only there for six months… I finally felt confident enough to go for a supervisor position," she said.
Erica started her new role in February and is now managing the flow of the floor. As supervisor, she oversees employees, checks in on them, and makes sure the staff is equipped with what they need to perform their jobs. If they're short-staffed, Erica will be an extra set of hands. She will also have partial responsibility of scheduling and recruiting. Now, Erica believes the computer skills she's gained in her courses will help in her new role.
"With me being supervisor, [working with computers] will be a big part of my job and those [lessons] have even helped me," she said. "I'm just really grateful, in general, to have resources available to me and be at Penn Foster."
Erica's promotion came with an approximate $4 per hour pay raise, a bump she says helps.
"That monetary gain, I think, will help me have a better quality of life as a veterinary professional," she said. "...I'm already noticing a difference."
Attending school online allows Erica to have a career and continue her education.
"Having a set schedule has helped me be able to maintain [doing] a few hours a day of studying and just the fact that it is online, and I don't have to do any commuting to a brick-and-mortar facility has helped greatly," she said. "With the flexibility, I don't have a set time that I need to log on in case I get called into work or have a doctor's appointment or something like that."
Erica believes Penn Foster's veterinary program has helped launch her career.
"[Penn Foster] came up several times throughout my interview processes, for both assistant and supervisor," she said.
Read more: How This Vet Tech Grad Balanced Working Fulltime and Parenthood with School
Acknowledging the school's partnership with BluePearl, Erica mentioned how the program may help students become licensed veterinary technicians, something she believes is important especially in a growing field.
"The industry is leaning towards wanting to have standardized care as far as veterinary technicians go," she said. "Having everyone be licensed, or license eligible, or on the track to be licensed is definitely going to elevate the profession. [BluePearl] is definitely more on board to bring people on to the team if they know they're going to be a licensed professional and be able to deliver the quality of medicine that we need to uphold."
For now, Erica is concentrating on growing at BluePearl and finishing her degree program, understanding the importance of becoming licensed and passing the Veterinary Technician National Exam.
"After being unlicensed for 10 years and now being a student, to students that are interested in veterinary medicine or being a veterinarian technician as a career, I would definitely encourage them to get their license," she said.
A Student Ambassador at Penn Foster, Erica works with a number of fellow Penn Foster students and helps motivate her coworkers as they all continue working through the program.
"We occasionally give each other the motivation to keep going," she said. "[Being a Student Ambassador] helps bump up my confidence, especially in a way that I feel more confident speaking to other students on a professional level. Even sometimes saying I'm a Student Ambassador gives me a boost of confidence and I'm better at articulating what I'm saying at work."
Recently speaking to a class of seventh graders about what it's like to work in the veterinary field, in the future Erica hopes to teach and continue working with new technicians. Ultimately, she'd like to become a veterinary technician specialist. Having attended the Veterinary Meeting and Expo in 2020 and meeting Dr. James Hurrell, Director Emeritus of the Veterinary Academy at Penn Foster, she said she's inspired.
"Dr. Jim has been an inspiration as far as the kind of public speaker or educator that I would like to be," she said.
Valuing education, Erica plans to continue elevating the veterinary medicine profession.
"To me, there's no negative in getting your education," she said.
Learn more:
Train with Penn Foster
Penn Foster's online veterinary technician program offers a flexible way to learn in-demand skills. Our admissions specialists are here to help answer your questions. Call us at 1-800-275-4410 to get started.