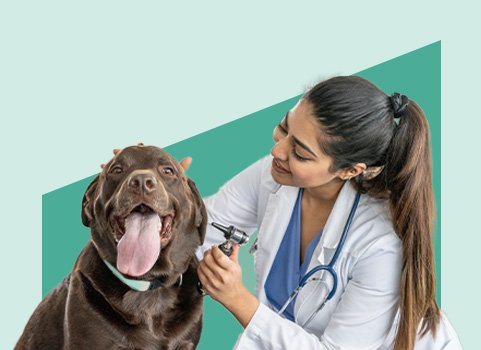 Veterinary
Earning Your Vet Tech Degree Online vs. On Campus
Transform your love for animals and explore the rewarding world of veterinary medicine. Learn the pros and cons of online and on-campus vet tech degree programs, and let your passion guide you to the educational path that fits your life and career goals.
Is it your dream to work hands-on with pets, exotic animals, reptiles, or livestock? Turning your love for animals into a career is a no-brainer for you, but deciding on your education path is a bit more complex. From online courses to in-person learning, universities to technical programs, veterinary students have more options than ever. But how do you decide which is the right fit for you and your goals?
What to know before looking into veterinary technician programs
Before applying to a vet tech program, you should review your state's vet tech requirements to make sure you enroll in a program that will help you reach your goal. Most states require veterinary assistants and technicians to have at minimum a two-year technical or associate degree. You will also be required to pass state board exams before working as a tech under a licensed Doctor of Veterinary Medicine (DVM). This applies to all veterinary technician or technologist positions– from your neighborhood vet to the zoo. You can get your degree and become a certified vet tech online or in person.
Knowing how you prefer to learn is the first step to setting yourself up for success. In-person classes are the way to go if you like a more structured learning environment, or you can choose the flexibility of online courses. Some schools and technical programs offer hybrid learning for the best of both worlds.
Ask yourself:
Can I make time to do an online class, or do I need to have dedicated time to attend class?
Do I learn better in a self-paced, self-guided environment, or do I absorb information easier with in-person lectures and labs?
Will I support and contribute to my online community of peers, or am I more social and engaging in face-to-face settings?
Obtaining a degree is time-consuming, so the number one factor to consider is which program will be manageable for you to complete with time to study. Thankfully, there are veterinary technician degree programs to fit nearly every learner's life and preferences.
Read more: Vet tech grad Nicole Gonzalez shares how she made it through her online studies
Top 5 reasons to earn your vet tech degree online
With an overwhelmingly positive reaction to traditional colleges going remote during the pandemic, it isn't a surprise that over 70% of college students have taken at least one online class, and 15% of degree earners have chosen to pursue their degrees entirely online. You could complete your vet tech program online and get your degree without entering a classroom. Online programs are an excellent option for many learners, so let's dive into the benefits of self-paced courses.
1. Flexibility
When you're earning a vet tech degree online, you can study at your own pace and adapt your learning schedule to fit around your personal, work, and family commitments. A flexible learning program ensures you balance your responsibilities while pursuing your dream career.
2. Accessibility
With an online program, you don't need to worry about the hassles of commuting, relocating, or finding parking on campus. As long as you have an internet connection, you can access your courses from anywhere. Watch lectures in your pajamas with your fur baby in your lap!
3. Affordability
The cost of a vet tech degree can vary widely depending on factors such as the institution, location, and program duration. In the US, the average cost of an on-campus experience can range from $1,300 per semester for in-state tuition alone, all the way up to $8,000 for out-of-state tuition. Online programs often have lower tuition fees than traditional on-campus programs, as you won't need to pay for campus resources, housing, or transportation. Many online degree programs start at $2,999 for the entire program.
Read more: 5 Ways to Earn More Money as a Vet Tech
4. Broader course offerings
Gain access to a wider range of elective courses covering various aspects of veterinary medicine and animal care. These courses suit your interests or career goals, such as specializing in exotic animal care, wildlife rehabilitation, or veterinary practice management. By enrolling in an online program, you can explore unique niches within veterinary medicine that may not be readily available in a local in-person program.
5. Support
Connect with like-minded individuals who share your passion for animals. You'll have access to virtual forums, discussion boards, and social media groups where you can ask questions, share experiences, and make lasting connections with fellow students and professionals worldwide. These communities are built into online programs, so you are instantly part of a cohort of your peers from day one.
Read more: How stay-at-home mom Kristy Donovan earned her vet tech degree online
Top 5 reasons to earn your vet tech degree on campus
Choosing an in-person, on-campus vet tech program can provide you with an enriching educational experience and prepare you for a fulfilling career. Let's explore some of the perks of choosing an on-campus program as you embark on this exciting journey to care for our furry, feathered, and scaly friends!
1. Immersive learning environment
By attending classes in person, you'll have the opportunity to engage in hands-on learning experiences with your instructors, classmates, and, of course, animals! This immersive environment can help you develop practical skills and build confidence in your abilities.
2. Face-to-face interaction
Even in our virtual reality, there's something special about connecting with your instructors and fellow students in person. On-campus programs offer the chance to build lasting relationships, collaborate on projects, and gain valuable insights from your teachers and peers.
3. Access to campus facilities
As an on-campus student, you'll have access to state-of-the-art facilities, including veterinary labs, libraries, and computer labs, providing the resources and tools you need to excel in your studies and prepare for your career. Being part of an on-campus program allows you to participate in a variety of extracurricular activities, such as clubs, social events, and volunteer opportunities. These experiences can help you develop valuable skills, make new friends, and contribute to your personal and professional growth.
4. Structured learning
In-person programs offer a more structured learning environment, with set class schedules and deadlines that can help keep you on track and motivated. This structure can benefit students who thrive on routine and find it challenging to self-motivate online.
5. Direct mentorship
Get the opportunity to learn directly from experienced veterinary professionals. These mentors can offer personalized guidance, share their expertise, and help you refine your skills in various aspects of veterinary medicine, such as diagnostics, surgery, and anesthesia. This direct mentorship can be invaluable in developing your abilities as a tech and preparing you for real-world challenges.
Read more: How this working parent went from vet assistant to veterinarian technician
Finding the right vet tech program for you
When deciding between online and on-campus vet tech programs, weighing the pros and cons of each option is crucial. Online programs, like Penn Foster's, offer flexibility, affordability, and immediate application of skills, while on-campus programs provide increased interaction, access to facilities, and a structured learning environment.
Ultimately, the choice depends on your needs, learning style, and career goals. No matter which path you choose, a career as a veterinary assistant or technician can offer a rewarding future, with competitive vet tech salaries and opportunities to make a difference in the lives of animals and their owners.
Ready to take the next step in your veterinary career? Penn Foster's Online AVMA-Accredited Veterinary Technician Degree is self-paced and affordable, allowing you to learn on your schedule. To learn more about Penn Foster's program and start your journey today, reach out to our expert Admissions Specialists at 1-888-427-6500!