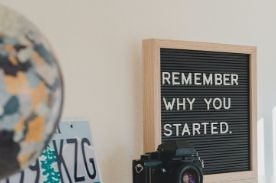 Staying motivated to finish high school can seem tough when you have a long list of other responsibilities to take care of, but it doesn't have to be. Whether you're a traditional high school student finishing your studies online or an adult learner finishing your diploma for better career opportunities, try these tips and tricks to stay on track with your studies.
Get inspired
Read, watch, and listen to how other students have overcome challenges to succeed. Here are some of our favorite Penn Foster stories:
Set goals, make plans, and improve study habits
When do you want to graduate? How many tests do you want to complete per week? Setting daily, weekly, and even monthly goals for your studies can help you stay on track. Having a map to guide you gives you something to reference when you're feeling unmotivated or like you just can't move forward. Each time you meet your daily goals, you'll feel a small sense of accomplishment that can help you build up your confidence.
You can also learn more about breaking bad study habits to help you improve your motivation!
Connect with instructors and students
It might seem like you're alone when you're working on an online high school diploma program. But while instructors and classmates might be far away, you can connect with them through several online resources. Reaching out to your instructors through your Student Portal or email can help you when you're stuck on a subject and connecting with fellow students and alumni on the Student Community or Facebook can help you stay motivated to reach your goals.
Remember what you're working toward
You started your online program for a reason. Whether that's so you can graduate high school early and prepare for college or technical school, or because you want to qualify for a promotion at work or a new career, something inspired you to take the next steps toward graduation. Whatever it is, remember it when you're feeling unmotivated. Even if you just repeat it to yourself like a mantra or have a post-it note with your reason stuck on your laptop as a reminder, reaffirming why you're working so hard can give you the push you need to move forward.
Self-paced learning can help you finish high school your way
A traditional school setting can seem stifling, especially when you learn at a different pace than others around you. Penn Foster's online, self-paced
high school program
allows students like you to choose how fast you move through your classes. If you want to be in charge of how you finish your high school diploma, reach out to our Admissions team today at
1-888-427-6500
.