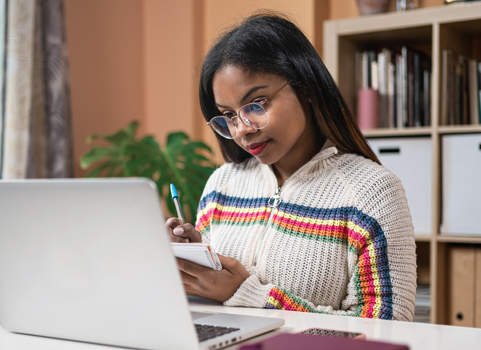 High School
How to Prepare for College in High School (A Checklist for Online Students)
If your goal is to attend college after graduating high school, you want to start preparing as soon as possible. Preparation for college is more than just completing your courses and earning passing grades; you want to make sure that the work you're doing is applicable to your future goals! While you're working on earning your high school diploma online, here's what you should know about getting prepared for the next step: college.
If your goal is to attend college after graduating high school, you want to start preparing as soon as possible. Preparation for college is more than just completing your courses and earning passing grades; you want to make sure that the work you're doing is applicable to your future goals! While you're working on earning your high school diploma online, here's what you should know about getting prepared for the next step: college.
When should high school students start preparing for college?
High school students should start preparing for college in their freshman year – or at least start considering whether or not they want to pursue college after graduation. Preparing for college doesn't necessarily mean knowing exactly what career you want to pursue or even what you want to major in in college. It's more about ensuring you start building the skills that can help you find success in school – and work – as soon as possible.
Does high school actually prepare you for college?
It depends! What you get out of your high school experience can be different for every student based on what they study, the school they go to, and even the good and bad habits they build – that goes for both online and traditional high schools. However, online high school often offers the opportunity to develop specific skills you may not get the chance to learn in a traditional, in-person school. These skills include
Time management. In a traditional high school setting, your time is managed by due dates, class schedules, and the expectations of teachers and parents. A self-paced, online high school diploma, however, allows you to work on your classes at the speed that works best for how you learn. That means that you have to manage your own time to be successful. Time management skills are essential to preparing for college and are often sought after by employers in many industries.
Adaptability. Adaptability is a skill that is valued and vital in both college and the workplace. You need to be adaptable in order to effectively deal with the challenges that college classes can present. Through online school, you can develop strong adaptability skills because no two days are ever really the same.
Independence. In college, there's no one telling you to get up on time for classes, complete your assignments by the due date, or reminding you to study for that big exam. Instead, you're responsible for making sure you get to class and get work done. An online high school program can help you build independence by setting reasonable goals and following through on them. You set your own schedule and decide when and how to study.
School alone can't prepare you for college, though; it's also important to decide what you want to take away from your classes and experience. If you're dedicated and willing to work towards your goals, it's likely you'll find more success in preparing to earn your college degree.
College prep checklist for high school freshmen
As a freshman, you can start preparing for college in a few ways. The following checklist may not contain everything you can, or need, to do to get ready but can be a helpful guideline to starting the process!
Get to know your guidance counselor. They'll be your go-to for navigating thoughts on college, technical school, or going straight into the workforce after graduation. They're also there to help you decide what classes are the best for you to take to help you reach your goals!
Consider extracurricular activities. Besides being great on college applications, extracurriculars can help you build friendships and life skills. Whether you're enrolled in a traditional high school or an online program, you can get involved in the arts, sports, or helping your community through volunteering.
Learn more about what interests you. Are you more interested in creative pursuits or do you prefer more analytical tasks? Learning about what interests and excites you can help you begin to narrow down what kind of future you want after graduation.
Keep your grades up. Good grades can make a big difference when you're looking to apply to colleges. If you find that you're struggling with a subject or assignment, reach out to your teachers as soon as possible! They can help you better understand what you're learning or set you up with a tutor that can help you become more comfortable with your classes.
Start thinking about what you want to do after high school. Do you want to go to college? Is a technical school going to be a better fit? Or do you just want to jump right into working after you graduate high school? Start thinking about what path interests you most so you can take the appropriate steps toward your goal in the following years.
College prep checklist for high school sophomores
Freshman year gave you a start on deciding what your future will look like, and it's important to keep that progress going into sophomore year. As a sophomore, you should start doing the following to prepare for college:
Decide if college is right for you. While you don't have to stick to your decision if something else comes your way in the next year or two, knowing whether or not you want to go to college after high school can help you start focusing more on what you need to do to get there.
Start exploring some colleges you may want to attend. You can start with schools in your area and learn more about admissions requirements, classes, and more!
Meet with your guidance counselor to stay on track. Let your counselor know what your goals are so they can help you stay on track with your classes and determine which classes are the best ones to take for you.
Gather information about potential future careers. Some colleges have a reputation for the best English department or a strong science department. By having a clearer idea of what kind of career you'd like, you can better determine which colleges will be the best fit.
College prep checklist for high school juniors
As you get closer to graduation, you'll want to focus more on college.
Attend college fairs. College fairs are a great place to find out more about colleges you may want to attend. Usually, these fairs will have representatives from dozens or even hundreds of colleges from across the country. You'll be able to ask about admissions requirements, what you should do to prepare, and more about college specifics like teacher to student ratio.
Start preparing for and register to take standardized tests. Most colleges require SAT or ACT scores when you apply. In your junior year, you should start preparing for the exam and sign up to take it. Generally, you will take either the SAT or the ACT, not both, so it's important to find out which test is preferred by the colleges you want to apply to.
Make a list of colleges you're considering. Your list can be as long as you like, but you should have at least a handful of colleges so you can submit several applications when the time is right. You can also take some time to consider options like a career diploma or certificate, which may take less time to earn.
Start looking into scholarships and financial aid. While you won't fill out a FAFSA application until later on, it's helpful to know what you might qualify for! You can also start applying to some scholarships that accept applications from juniors to get a head start on funding your degree.
College prep checklist for high school seniors
Senior year is the final countdown. You want to make sure you're as prepared as possible for college by this point.
Go on college visits. College visits can help you decide if the culture and campus of a school is right for you and narrow down your list of potential applications.
Finalize the colleges you'll apply to. You can't apply to every school, even if you want to, so it's important to have a solid list of colleges you would want to attend.
Retake the ACT or SAT. You should retake your standardized exam at least once, just to improve your score. However, many colleges prefer you don't retake the exam more than twice.
Start preparing your applications. This includes gathering recommendation letters from teachers and coaches, writing admissions essays, and making sure you know your application deadlines. Some schools have firm deadlines for consideration while others have rolling admissions, which allows you to apply whenever you're ready.
Submit your applications. Get your applications into the schools you're interested in before the deadlines, if applicable.
Fill out your FAFSA application. Whether or not you think you'll need financial aid, you should fill out a FAFSA just to be sure.
Choose the school you want to attend. Once you start receiving acceptance letters, you'll want to consider which is the best fit based on several factors such as location, tuition cost, and financial aid packages. You'll need to notify the school you choose and fill out enrollment paperwork before May 1st for Fall enrollment.
College prep checklist for online high school students
While you'll need to complete many of the same tasks to properly prepare for college whether you're in a traditional or online high school, online school may come with a different timeline. With a self-paced online high school, you might finish your classes earlier than the standard four years. You may also take longer, depending on the speed that fits your needs. Additionally, a school like Penn Foster isn't broken down into freshman, sophomore, junior, and senior years; when you complete a class, you don't have to wait for the next year or semester to start on the next.
With that in mind, it's important to have some idea of when you aim to graduate so you can complete your college prep checklist on time. Setting a graduation goal can also help you create an effective study schedule!
Prepare for college with Penn Foster High School
Online high school offers a lot of flexibility while also helping you build essential skills. Whether you're considering enrolling in Penn Foster High School because you want to finish your diploma early or because a traditional school setting isn't for you, you'll find that you can make your high school experience your own. With the freedom of self-paced courses, you'll determine how fast you take the next steps toward graduation and earning a college degree.
Even better, if you know college is your eventual goal, you can start preparing through our High School Diploma with Early College Pathway. Through this option, you'll take the standard English, science, math, and history courses other high school students do, while also taking more academically challenging and advanced classes that can help you take the first steps toward preparing for college-level work. Not sure which high school diploma is the best option for you? Reach out to our expert Admissions Specialists today at 1-888-427-6500 to learn more about online high school, Penn Foster High School FAQs, and tips for succeeding in your online diploma program!