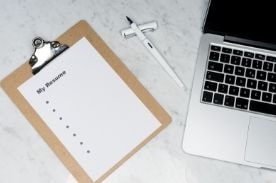 Congratulations! You've finished your studies and earned your high school diploma. Long hours of studying and focus have led to you accomplishing something big! Now, you're ready for the next step. But you may be wondering "what's next?" What, exactly, comes after graduating from your online high school program? Here's what you should know to prepare for the next chapter of your life.
How to decide what to do after high school
Whether you're an adult learner just finishing up your diploma or a traditional student that knew online high school was the better option for your learning needs, deciding what you're going to do after graduating can feel stressful. It doesn't have to be! Deciding what comes next starts with figuring out what you want for your future. Is it a promotion at work? Do you want to head to college to further your education and prepare for a career? Is a career school to gain job-ready skills the better option for you? Or do you just want to jump right into a job after graduating? From there, you can figure out what steps you have to take to reach that goal.
Whatever your goals are, the first next step toward the future you want is preparation and research. You've already got one step out of the way—finishing your high school diploma—so you've got a solid foundation to start from. To decide what you want to do next, think about these questions.
What do you want to do with your future?
What job are you hoping to get?
What careers interest you and what do you need to do to prepare for those?
What to do if you want to go to college
The first step is deciding what college you want to go to. Think about these questions to narrow down the schools you're interested in.
Do you want to attend a traditional college or is online school still the best fit for you?
Do you want to relocate to attend school?
What do you think you may want to major in?
Do you want to enroll in a two year program or is a four year degree the best option for you?
Answering these questions, or at least considering them, can help you decide what schools you should look at. If you've decided to attend a school that requires you to submit an application for consideration, it's important to take your time filling that application out. When applying, make sure to include your high school GPA, as well as any other accomplishments, from jobs to awards.
What to do if you want to go to career or technical school
Just like going to a traditional or online college, you should decide what you're looking for in a school before enrolling in a career or technical school. Most career and technical schools offer courses in particular careers, from training to become an auto repair technician to learning the skills you need to become an HVAC technician.
If you aren't 100% sure what career you want to prepare for, research several options that you may be interested in first. Using sites like the Bureau of Labor Statistics or information from job sites like Indeed or Glassdoor, you can get an overview of different careers, their average salaries, and the training you might need to qualify for a job in that field. Once you've narrowed down what you want to do, you can look into that specific career training program at the schools you're interested in.
What to do if you want to jump right into the workforce
Not everyone wants to go to another school after graduating high school and that's okay! If you know you're ready to jump right into the workforce, you want to make sure to update your resume and prepare cover letters for the jobs you're interested in applying to.
When you're updating your resume, it's important to list your education! Since you're new to the workforce, or are applying to new jobs, your education should be noted at the top of your resume under your name and contact information. Include your Penn Foster High School completion like this:
Penn Foster High School - Scranton, PA
Diploma, Year of graduation
GPA: Include your grade point average here
Additionally, if you have any "honors" or other special skills and awards from school, include them here.
From there, list any work experience you've had and any volunteer work. If you need help with your resume, make sure to reach out to our career services team!
Prepare for the next steps with Penn Foster
You've finished your high school program and have figured out what's next. Since you're an online school expert now, you may think that another online program would be a perfect fit for you. Penn Foster's career school and college offer a range of online training programs and degrees that can be completed on your schedule, at home. Learn more about furthering your education with Penn Foster by speaking with our expert Admissions Specialists today at 1-888-427-6500!