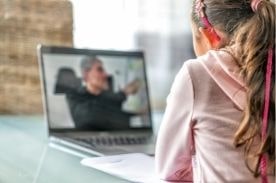 Over the last year, parents have had to face challenging times and tough decisions regarding when and how to send their children to school due to the pandemic. Unfortunately, with the ongoing threat of the Delta variant, we don't seem to be out of the woods yet. Though many parents were hopeful their children would return to in-person school full time, attending high school can still provide a beneficial alternative that will help ease the burden of uncertainty.
Why online high school can be beneficial this year
Parents throughout the country and world were hopeful that the upcoming school year would look a bit more like "normal". However, with rising Delta variant cases, it seems we may be in for another wave of Covid-19. That may be a risk that makes your family uncomfortable with in-person schooling right now. This is where an option for completing high school online like Penn Foster can help. Your child can continue their studies, uninterrupted, and from the safety of their own home.
Switching from in-person learning to online learning might seem like a big change, but it can work for almost any student. If you're asking yourself how, as a parent, you can effectively manage a high school education online with everything else on your plate, including work, don't worry. The High School Diploma Program is supported by certified teachers, so you don't have to stretch yourself further by suddenly becoming a teacher, too. You can track your child's progress and help them reach milestones with progress-tracking and goal setting tools found in the student portal.
Many parents also worry about the transition from public, in-person schooling, to online school and how equipped or skilled an online school may be. Though the concept of online school is relatively new, Penn Foster has been in the business of distance learning for more than a century. We've spent countless hours helping over 25,000 students from all over earn their high school diplomas each year without ever stepping foot in a classroom.
What your child will learn in Online High School
In addition to the peace of mind you'll receive, your child will have the flexibility to learn on their own time. Together, you'll set the pace that works best for them, with course work broken down into manageable lessons. They'll work on the same materials and subjects found in brick-and-mortar public schools, following regional and national accreditation requirements. They take 16.5 general education credits in subjects such as English and math, as well as elective options. For these credits, students interested in higher education can opt into college prep courses or, if they have their sights set on a job, they can choose from career focused courses to gain hands-on experience. Whichever track they choose, they don't have to miss a beat when it comes to a well-rounded high school education that can help prepare them for college and beyond.
Study comfortably with Penn Foster
The new school year is fast approaching, but with no enrollment deadlines you still have plenty of time to call an Admissions Specialist to answer any questions you may have. Learn more about affordable, interest-free online high school education by calling 1-888-427-6500 or get ready to enroll online today.