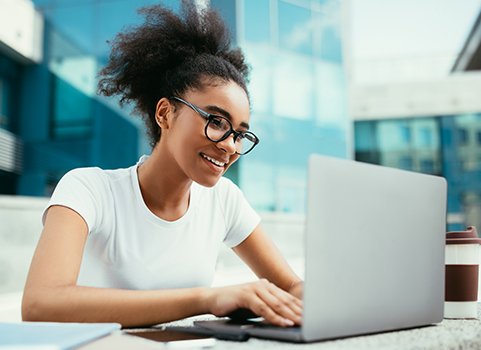 Online Learning
How Do Online Classes Work?
Schools like Penn Foster, which offer a variety of courses from high school to college degrees, allow students of any age to further their education and reach their goals on their terms. You can study without a set schedule, daily commute, or deadlines. But how do online classes work and what can you expect? Here's what to know before getting started.
How does online school work?
Online school works almost like a traditional education experience - without the set schedule, the daily commute, or deadlines for exams and projects. Schools like Penn Foster, which offer a variety of courses from high school to college degrees, allow students of any age to further their education on their terms. But besides knowing that your classes will be online, what can you expect from your courses? Here's what to know before enrolling in online classes and some answers to some frequently asked questions.
What to expect when taking online classes.
If you haven't taken online classes before, you may not be sure what to expect or how things work - and that can seem intimidating! It doesn't have to be. There are several things you can expect when you enroll in a self-paced online program with Penn Foster.
Many new online students wonder: is there a "classroom"? That could be a physical classroom you visit or a virtual classroom that you "attend" by logging in at a specific time. While some online schools do have a virtual "classroom" that students must attend and engage with, since Penn Foster's courses are flexible and self-paced you decide when and where you want to learn!
You have the freedom to choose your own study time and space. If you like to be around others, you can study in your favorite coffee shop. Want peace and quiet? A secluded home office could be your perfect environment. Your "classroom" is wherever you are.
That means that you're not responsible for reporting to a teacher or professor when you've completed an assignment or exam. Your Student Portal acts as your hub to your study guides, lessons, tests, and resources. While you don't have to speak with your instructors, though, they are available to help you! Penn Foster's Academic Advocates and expert instructors are available by message and email through the "help" section of your Student Portal or by calling 1-888-427-1000 Monday through Friday, 9AM to 5PM Eastern.
Another thing most students often wonder about is how graduation from online school works. As an online student, do you simply receive your diploma through the mail? No matter your program, whether you're finishing high school or completed a four-year degree, your diploma is sent to you as soon as you meet all academic and financial requirements. But, for those who are hoping to mark this milestone with a celebration, Penn Foster holds an in-person graduation ceremony in the Spring.
How does Penn Foster work?
When you've got a schedule that's packed tight with taking care of your family, working, and taking care of yourself, online classes often are your best option for squeezing in time to finish or further your education. So, how does Penn Foster work?
If you're not sure what you're interested in doing, the first step is reaching out to our Admissions Specialists to go over the different programs that might be the right fit for you. Depending on your goals, once you've decided on the program you want to take, you can enroll right away. There's no specific start date or enrollment date; you can start as soon as you are ready and work through your courses on your timeline.
Get started on your path toward being career confident and learning on your terms by calling 1-888-427-6500 today.