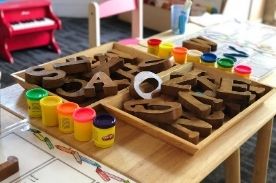 Working with children can be a joyful, rewarding career, but it's not enough to just like the company of kids or relate well to them. To have a successful childcare career, it's important to have the credentials and skills to back up your natural talent. Penn Foster offers two different paths to get you on track to work with children.
Do I need to go to school to work with children?
Sometimes people wonder if a formal education is really necessary to work with children. The answer is that it depends on what type of work you're looking to do, but a strong educational background can help you gain important skills. Working with children, especially younger children, can present many challenges, so it's best to learn the latest techniques, tricks, and developments in psychology and education to know how to handle different personalities, family structures, and challenges you may face while working with children and their families.
What kind of courses does Penn Foster offer for working with children?
Not everyone has the same goals and interests, so Penn Foster offers two types of programs for those looking to make a career out of working with kids.
Early Childhood Education Associate Degree. If you're interested in preparing young minds to start school, our Early Childhood Education Associate Degree (ECE) might be right for you. You'll learn to work with preschool and elementary aged children, preparing them to develop language, literacy, and other necessary skills. Often, graduates look forward to careers working in childcare centers, preschools, and in elementary schools as teachers' aides and special education support staff.


Child Care Professional Career Diploma. For those looking to work with children at an entry-level position, our online Child Care Professional Career Diploma has two different specializations from which to choose. Students have the option to study a family home-based childcare curriculum in preparation for careers working as nannies or within an individualized environment. For those preferring to pursue a career working within a center or school with a larger group of children, there's a center-based childcare track.
Whichever program and track you choose, Penn Foster offers an optional work experience through our official partnership with Bright Horizons Family Solutions and The Learning Care Group where you can work with children in their licensed childcare facilities. This additional experience gives you practical, real-world experience to help prepare you for your future career.
Read more: Top 10 Reasons to Become an Early Childhood Care Provider
What will I learn in a childcare program at Penn Foster?
Though the coursework varies from program to program, the main goal of Penn Foster's ECE degree and Child Care Professional program is to improve early childhood learning, including the organization of developmentally appropriate activities in areas like math, science, and language. Additionally, childcare providers look out for the health and safety of children including their emotional wellbeing. A good childcare provider has the ability to connect with children from a variety of backgrounds with all different types of personalities, creating a comfortable, stable environment in which they can learn and grow.
Start preparing for the future.
With parents' lives becoming increasingly busy, they're relying heavily on qualified people to help their children. As a childcare provider, you can have the opportunity to choose from more than one environment in which to work, helping to nurture future generations at one of the most important stages of development. If you're ready to start shaping your own future with a rewarding, fulfilling career, call an Admissions Specialist at 1-888-427-6500 to learn more or enroll online today.