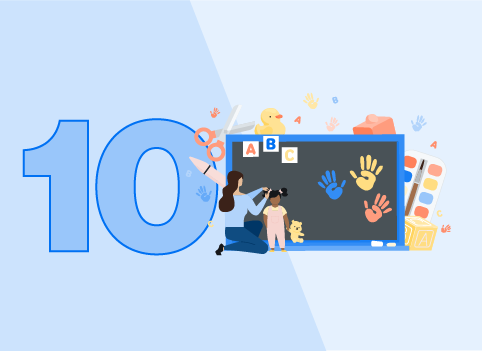 Child Care and Education
10 Reasons to Become a Child Care Professional [Infographic]
Love kids? Like watching them grow up and learn about the world? View our top 10 reasons to become a child day care provider.
If you love working with children and want a career that allows you to make a difference, a job in child care could be the perfect fit for you! But what are the benefits of becoming a child care provider? Here are the top 10 reasons to work in child care!
1. Child care is a stable career
Working in child care allows you to have a career that is stable. Parents who work will always need reliable child care. Additionally, early childhood education is widely recognized as essential to the growth and development of young children, meaning there will be plenty of job opportunities in the field. With 62% of children regularly attending a daycare, preschool, or participating in center-based care, the need for skilled and compassionate child care professionals is only expected to grow.
Read more: How to Get the Education to Work With Children
2. Child care jobs are on the rise
The Bureau of Labor Statistics predicts that the need for child care workers will grow 8% over the next decade, adding 150,300 new roles in the field each year. With more and more working parents needing safe, reliable care for their children and a need to replace positions that were affected by the COVID-19 pandemic, there will be a variety of child care and early education jobs available over the next few years.
Read more: Everything You Need to Know About Your CDA Credential
3. Help your community
Child care professionals make a difference in the communities they live and work in. As a child care provider, you can work in daycares, YMCAs, churches, after-school programs, and corporate daycares, helping parents ensure their children are safe and meeting developmental goals.
Read more: 5 Personality Treats of a Great Teacher
4. Be a good role model for children
As a child care professional or daycare teacher, you'll be responsible for making sure that the children in your care learn important lessons that will impact them throughout their lives. Since the children you work with look up to you, they're more likely to follow your behavior. Teaching them about sharing, playing well with others, and picking up after themselves can help them grow into responsible and thoughtful adults.
Read more: How to Write a Preschool Lesson Plan
5. Keep up with trends in education
Education is an industry in which things are often updated or rethought, meaning that your career won't be boring! As a child care provider, you'll be able to keep up with the recent trends in education and what interests children in order to make sure they're getting an up-to-date and engaging education.
Read more: Benefits of Dramatic Play in Early Childhood Education
6. Be an educator and caregiver
Besides looking after the children in their care, child care professionals are also responsible for teaching important fundamental lessons. In order to set up children for future success, they need to learn fundamental skills. As a child care professional, you'll teach kids about colors, numbers, letters, and more to build a foundation for their future education.
Read more: Early Childhood Grad Thrives in Field
7. The joy of working with kids
Working with kids can be one of the most difficult, yet rewarding, careers. As you look after and teach the children in your care, you'll build strong bonds that you'll carry with you forever. You'll also make an impact on their lives, helping them grow and learn about the world around them!
Read more: Early Childhood Education Teacher Sarah Helps Future Teachers Learn
8. Form bonds with families you care for
In the field, you'll not only work closely with the children in your care – you'll also build relationships with their families over time. Working in a child care facility allows you to meet and form bonds with families in your community.
9. Explore your creativity
Being a child care professional allows you to be creative! Routines and activities will change on a regular basis in a daycare setting, so you'll need to constantly come up with new lesson plans and ideas. Having to create new activities that also teach your kids important lessons will make work challenging and rewarding.
10. Not a desk job
A desk job isn't something everyone wants to do. If you know you want a career that doesn't keep you locked at your desk each day, working in child care could be a great option. Every day, you're constantly moving, chasing kids, and playing outside. You will also have larger rest periods during the time when your children are napping or eating lunch.

Start a career that makes a difference
Take the first steps toward a rewarding job in child care through Penn Foster's online Child Care Professional Training Program. You'll learn the essential skills necessary to become a successful child care provider on your schedule, from home, while earning the 120 education hours you need to qualify for your Child Development Associate (CDA) credential. To get started or find out more about the program, call our Admissions Specialists today at 1-888-427-6500!